MOVIE REVIEW: The King's Speech
How many Spots do you think our SPOT.ph movie reviewer gave this Academy Award-winning film?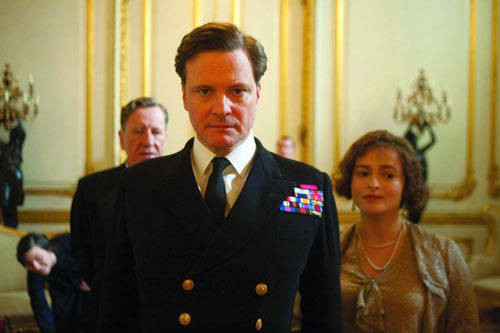 Colin Firth won Best Actor at the Academy Awards for his role as Prince Albert
Good news and bad news for cineastes. The good news is that ten weeks after winning four Academy Awards (Best Picture, Director, Actor, Original Screenplay) during February's Oscars, The King's Speech is finally in Metro Manila theaters. The bad news is that the celebrated film is being screened in only three cinema houses-Greenbelt 3, Glorietta 4, and Trinoma. The distributors of the film probably believe that the movie has already been seen by much of its target audience-albeit illegally-when word of mouth about it was at its peak in the weeks surrounding the Oscar telecast. If you haven't seen the film yet, head down to a theater ASAP before it's gone forever. If you've already watched it on dvd or downloaded it via torrent file, do make an effort to see it in a movie theater, where a rich and rewarding cinematic experience awaits you.
Watch the Trailer

Set primarily in England in the mid 1930s, The King's Speech is based on a true story and shows how Prince Albert or Bertie (Colin Firth) dealt with his debilitating stammer with the help of an unconventional speech therapist, Lionel Logue (Geoffrey Rush). The film dramatizes how the death of King George V (Michael Gambon) and the scandalous abdication of Albert's older brother Prince Edward VII (Guy Pearce) resulted in Albert being put on the throne as King George VI. It concludes with the new monarch's valiant effort to address his subjects via radio when England declares war on Germany-without stuttering or buckling.    

As should be expected of any film which waltzes away with the Oscar for best picture of 2010, The King's Speech is smartly visualized, tantalizingly scored, insightfully scripted and wonderfully portrayed.

Only on a large theater screen can the film's unusual photographic style cast its spell on attentive viewers and make them wonder about the thinking that went behind its stylized images. Why, for instance, did director Tom Hooper and cinematographer Danny Cohen use image-distorting wide angle lenses in many shots in the film? Why are the film's characters lit to make their faces look cold and pale, as opposed to warm and friendly? And why is Colin Firth sometimes framed with lots of empty space above his head?

Being a film about a public figure trying to find his unfettered voice in an era when radio was at its zenith, the soundtrack of The King's Speech is every bit as rich as the film's visual palette. As scripted by David Seidler, the words which Firth's Bertie utters are spare and insightful, the moments when he stutters as significant as the occasions when he doesn't. The music score is also commendable for its range, alternating between the understated, plaintive grace of Alexander Desplat's melodies and the rousing opuses of greats like Mozart and Beethoven during crucial points in the narrative. Among my favorites is the scene where Prince Albert recounts painful memories from his childhood to Logue as they work on a model airplane, and the scene where the newly-crowned King George VI professes admiration for Adolf Hitler's oratorical gifts as he watches the German dictator in a newsreel.

As the stuttering monarch who can't even force himself to tell his two little girls a bedtime story properly, Colin Firth  won a much deserved Oscar for his heart-wrenching performance as Prince Albert-Bertie-King George VI. It's a knockout portrayal that's even more powerful on a theater screen that multiplies the impact of every facial twitch and grimace tenfold.

But Firth isn't the only one who gives an award-worthy performance here. As the therapist who's hired and fired then hired again by Bertie, Geoffrey Rush brings a wonderful wounded dignity to the role of Logue, who bears the brunt of the Royal Family's low opinion of actors in the story, particularly those who come from Australia.  

As Prince Albert's loving wife and the future Queen Mother Elizabeth, Helena Bonham Carter was, like Rush, also nominated for an Oscar in the supporting category. She deftly underplays it here, in stark contrast to her role as the crazed evildoer Bellatrix Lestrange in Harry Potter and The Deathly Hallows Part One (which she filmed, remarkably, the same time as The King's Speech). In giving her stammering husband the love his parents and older brother deprived him of, Bonham-Carter etches an indelible portrait of a woman who loves her spouse the way a protective mother loves a frightened son. But as the movie shows so eloquently, it was Bertie's immediate family that he truly needed to be protected from.   

The portrait which the movie paints of Prince Albert and his parents and brother is far from idealized. But as stories about flawed members of the Royal Family go, The King's Speech is a flawless, pitch-perfect film.
ADVERTISEMENT - CONTINUE READING BELOW
Watch Colin Firth's acceptance speech at this year's Academy Awards (jump to 3:40)

Rating: 5 out of 5 Spots •••••


CONTINUE READING BELOW
Recommended Videos
Share this story with your friends!
---
Help us make Spot.ph better!
Take the short survey
Load More Stories