MOVIE REVIEW: Kung Fu Panda 2
Find out why SPOT.ph movie reviewer Paul Daza gave this sequel two very enthusiastic thumbs up.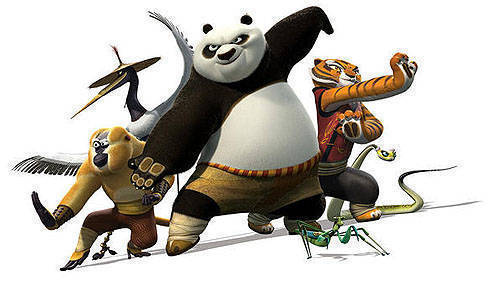 Jack Black returns as Po the Dragon Warrior with fellow kung-fu masters Tigress (Angelina Jolie), Mantis (Seth Rogen), Monkey (Jackie Chan), Viper (Lucy Liu), and Crane (David Cross)
Posters and print ads for Dreamworks' Kung Fu Panda 2 promise a sequel that has "Twice The Awesomeness" of the first blockbuster, which was released in 2008.  Having seen Kung Fu Panda 2 in 3D at SM North Edsa's IMAX theater, I can declare that this is a rare instance when the spinners of Hollywood's publicity machine are actually making an understatement. Ripe with spectacular action, hearty comedy, touching revelations and gorgeous computer animation, the 2D version of Kung Fu Panda 2 does double the awesomeness of the first movie in some respects, especially with regards to the quality and quantity of  the action and spectacle. But if it's the 3D Imax version of Kung Fu Panda 2 that's being discussed, I'd say the sequel triples or even quadruples the pleasures provided by the first movie.
ADVERTISEMENT - CONTINUE READING BELOW
Watch the trailer of Kung Fu Panda 2
In the years since he was named Dragon Warrior, Po (Jack Black) has been enjoying his role as panda protector of the Valley of Peace with the help of his fellow kung fu masters, The Furious Five-Tigress (Angelina Jolie), Mantis (Seth Rogen), Monkey (Jackie Chan), Viper (Lucy Liu), and Crane (David Cross). The valley's serenity, however, is shattered when the villainous peacock Shen (Gary Oldman) unleashes a deadly new weapon that can destroy kung fu and consequently, allow him to conquer China. Po and the Five must now try to thwart Shen's plan to bring China to its knees, a task made more difficult by virtue of the peacock's possession of a key that can unlock details about Po's murky past.
CONTINUE READING BELOW
Recommended Videos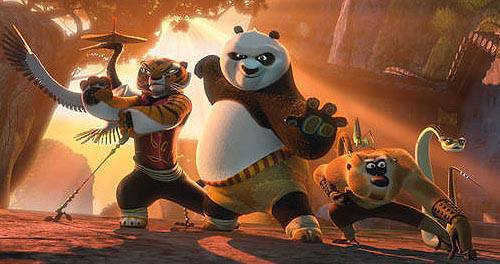 Po with his fellow kung fu masters
Kung Fu Panda 2 is a gem of a movie primarily because of its wonderful story and script, which among other things answers THE most hilarious question posed by the first film, namely, "How can a panda have a goose for a father?" The brilliance of the sequel is that it deals with what could have been a ridiculous revelation in an unexpectedly poignant way, with frightening, biblical allusions as well. That's another cool thing about Po's latest adventure-it cleverly and consistently allows viewers to feel one emotion now, and a contrasting one just a few heartbeats later. Something as poetic as the sight of Po being the poster boy for inner peace, for example, is quickly followed by an image of him in utter panic, a serenely poetic moment giving way to a slapsticky routine. Just as surprising are pint-sized mentor Shifu's (Dustin Hoffman) nuggets of fortune cookie wisdom, which start out as edifying words in praise of Po one second, and wordy insults mere moments later.
ADVERTISEMENT - CONTINUE READING BELOW
The script's only shortcoming is that it doesn't give some of the characters, both old and new, much to say or do. '80s martial arts star Jean-Claude Van Damme, for example, hardly makes an impression as Master Croc. And though David Cross' Crane, Seth Rogen's Mantis and Jackie Chan's Monkey see more action in this adventure, they're not given many punchlines either. I can only remember one verbal exchange between them in the climax that actually made me giggle. The exception among the Furious Five is Angelina Jolie's Tigress, who is given meatier scenes in the sequel. Her reaction to Po's realization that he's not the biological "sonofagoose" is one of the movie's funniest lines.
There are, however, two new characters who make an indelible impression: The Dark Knight's Gary Oldman as the power-hungry peacock Shen, and Crouching Tiger, Hidden Dragon's Michelle Yeoh as Soothsayer, a fortune-telling goat. Oldman plays Shen with a yummy, over the top British accent that oozes with sophisticated evil, while Yeoh's vocalizations as a four-legged oracle reveal a previously untapped and unheard gift for comedy.
As vibrant as the voice acting is the astonishing animation, which is even more dazzling when viewed in 3D on an all-encompassing Imax screen. The scenes where Po and The Furious Five leap off mountains as they race to save China from Shen are so realistically rendered in 3D that those who have a fear of heights may feel their stomachs lurch during these vertiginous shots. Similarly, the battle scenes in Kung Fu Panda 2 dwarf  even the ferocious beauty and majestic scale of the skirmishes in the Lord of The Rings trilogy, which were filmed in 2D "only." Also a feast for the eyes are Panda 2's flashbacks, which, in marked contrast to the "present-day" computer-rendered images, are exquisitely "drawn" using centuries-old inks on papyrus-like surfaces.
ADVERTISEMENT - CONTINUE READING BELOW
With its alluring, fanciful depiction of an ancient China that's populated by non-human creatures that are all too human, not to mention a delicately-lit, goosebump-inducing climax that begins at night and ends with the birth of a new day, Kung Fu Panda 2's unique blend of spectacle, comedy, wisdom, heart, and optimism will leave you a very satisfied moviegoer indeed.
Rating:
2D version: 4 out of 5 Spots ••••
3D version: 4 ½ out of 5 Spots ••••.
3D Imax version: 5 out of 5 spots •••••
Check to see where the movie is showing.
Photos from Dreamworks Animation

Share this story with your friends!
---
Help us make Spot.ph better!
Take the short survey
Load More Stories