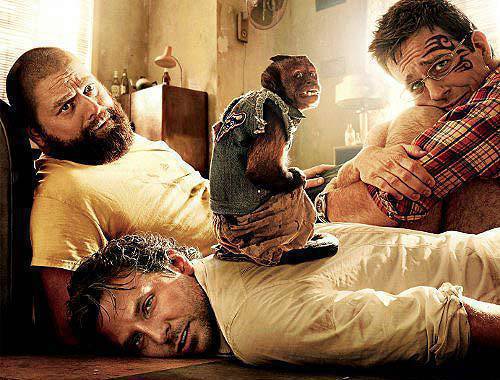 The boys are back with new adventures in Bangkok
Though it's being sold as an adult comedy, The Hangover Part II isn't an easy movie to classify. In my book, comedies are movies that make you laugh from start to finish, the louder and more frequently, the better. Among my favorites from decades past are Annie Hall, Young Frankenstein, Airplane, and There's Something About Mary.  But if a "comedy" also has many scenes that make you uncomfortable and recoil in disgust, can that film still be called a comedy? I think it's time to coin a new label for the  kind of entertainment that Todd Phillips, director of both Hangover movies and last year's Due Date, has formulated and fed the public with great success (especially in the USA) in the last few years. For me, calling the repellent Hangover Part II a "comedy" simply won't do. A couple of scenes did make me laugh out loud (LOL!), but they were few and far between.
ADVERTISEMENT - CONTINUE READING BELOW
Watch the trailer of The Hangover Part II
Fans of the first movie might already know that this sequel is a remake/rehash of the first Hangover, which was a blockbuster hit and winner of the Golden Globe for Best Motion Picture-Musical or Comedy-of 2009. This time though, Bangkok replaces Las Vegas as the sin city where the "wolf pack" wakes up after another bachelor party gone wrong. Phil (Bradley Cooper), Stu (Ed Helms), Alan (Zach Galifianakis) and Doug (Justin Bartha) go to a paradise-like beach resort in Thailand for Stu's wedding. Two nights before the wedding, Stu agrees to have a campfire beer party with his buddies, together with Teddy (Mason Lee), his overachieving, future brother-in-law. The next day, Phil, Stu, and Alan find themselves in a dingy Bangkok apartment, with no idea of how they got there. But that's not all-Stu has a tattoo on his face, Alan has lost much of the hair on his head, and Teddy is nowhere in sight. To make matters worse, what appears to be Teddy's severed finger is now in the hands of a creepy monkey wearing a vest. The guys must now try to find Teddy by piecing together the clues left in the room and on their bodies, all while trying to survive attacks from angry Russians, stick-wielding silent monks, and other scary surprises.
ADVERTISEMENT - CONTINUE READING BELOW
Recommended Videos
The mixed feelings I have about this sequel, which is now the most commercially successful adult comedy ever released in the USA, can best be summed up in the more memorable predicaments the main characters find themselves in.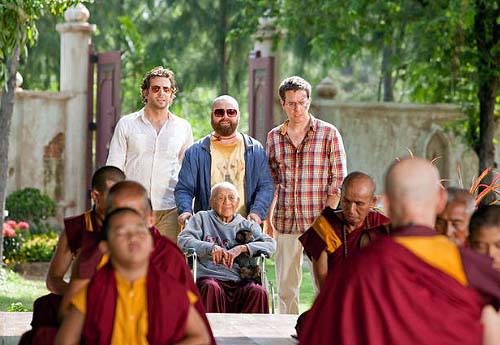 Bradley Cooper, Ed Helms, Zach Galifianakis, and Justin Bartha star in The Hangover Part II

ADVERTISEMENT - CONTINUE READING BELOW
Let's start with Phil, the character played by Bradley Cooper. He plays the cute but naughty American who glues the group together. As in the first movie, Phil has a penchant for stealing things. But where what he stole in the previous movie-thousands of dollars from his students-was vital to the plot, what he takes in the sequel is Stu's medical prescription pad. This isn't funny in itself- it only becomes funny when Stu asks Phil if he stuck the sheets inside his pants, "right next to your scrotum." I kid you not, this is as funny as it gets for Phil in the movie, whose only other notable scenes consist of him getting whacked on the shoulder with a large metallic ball and being shot by another assailant on the streets of Bangkok. Are you splitting your sides from laughing yet?
Stu, played by Ed Helms, is the straight guy who loves prostitutes and has a run-in with the worst kind Bangkok has to offer to straight men. The revelation of what happened to Phil and the hooker-"They don't call it 'Bang-cock' for nothing," she exclaims- is both funny and disgusting, much like the hair gel gag from There's Something About Mary. The Hangover Part II, however, goes one step further than Mary by repeatedly showing the source of Stu's dehumanizing discomfort, which I'm guessing is the main reason why this film was given an R-18 rating by our MTRCB (no cuts, though). While the gag is hilarious at first, it becomes nearly as disturbing as Ned Beatty's infamous rape scene from Deliverance as new details emerge. What saves it from being the worst joke in the film is the scene where Stu accepts that it's happened, and all he can do is sing about it.
ADVERTISEMENT - CONTINUE READING BELOW
Last and certainly least in the film's funny meter is the character of Alan, played by Zach Galifianakis. Though he was hailed as the breakout star of the first Hangover, in Part II he's just annoying. It's his character's selfishness and fear of the very smart, very Asian Teddy  that gets everyone in trouble... again. But while all that Alan loses is his hair, Teddy loses a finger and his chance to be the brilliant surgeon his father wants him to be. The best thing that can be said of Alan is that he shows that writer/director Todd Phillips is an equal opportunity offender who can show us the ugly side of American tourists as much as he can poke fun at certain types of people in Thailand.
The anti-Thai, anti-Asian sentiment which runs throughout The Hangover Part II, however, is undeniable, and I'm very curious to know what the Thai government thinks of the film. In addition to making fun of Bangkok's monks and monkeys, prostitutes and poverty ("Hola, city of squalla!," says the flamboyant Mr. Chow), the script is also downright sloppy in its attempts to portray Stu's future father-in-law and future brother-in-law as believable human beings. From strongly disliking Stu from the start, the father of Stu's bride-to-be suddenly accepts him at the end after Stu makes a speech about how colorful his life is. And what of the super smart Teddy? After losing his ring finger and perhaps saying goodbye to a career as a brilliant surgeon, the Stanford student  sums up his experience by saying that he woke up from Stu's nightmarish bachelor party feeling "happy," apparently for the first time in his life. Really, now.
ADVERTISEMENT - CONTINUE READING BELOW
The success of The Hangover Part II at the US box office surely means that we'll see more "comedies" from Todd Phillips that have situations and characters that are good for a belly laugh or two, but are also annoying, violent, and repulsive. If this is the new direction that comedy is heading for, I'd rather not board the bandwagon.
RATING: 2½ Spots out of 5 ••.
Check to see where the movie is showing
Photos from Warner Bros. Pictures
Share this story with your friends!
---
Help us make Spot.ph better!
Take the short survey
Load More Stories