MOVIE REVIEW: Amigo
SPOT.ph movie reviewer Paul Daza calls this John Sayles film "insightfully scripted, powerfully acted and sumptuously filmed."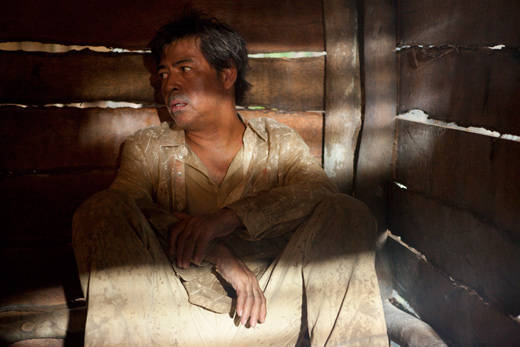 Joel Torre stars as the Kapitan del Barrio in Amigo
Amigo is reportedly the first film ever made about the little-known Philippine-American War. Insightfully scripted, powerfully acted and sumptuously filmed, Amigo is the work of writer-editor-director John Sayles, acknowledged as one of the godfathers of independent cinema. And yet, despite everything it has going for it, Amigo isn't quite a war masterpiece like Platoon, Apocalypse Now, or Saving Private Ryan. Compromised (perhaps) by its below-average production budget-$1.2 million, according to the Internet Movie Database-the film's confining barriotic setting and the absence of spectacular  battle scenes give Amigo the lower-tier veneer of a superb made-for-television movie.
Watch the trailer
It's the year 1900, and the USA has just bought the Philippines from Spain. Throughout the archipelago, battle scarred Filipino rebels are resisting the new colonizers and protecting their newfound independence. San Isidro is one of many barrios in Luzon caught in this tug-o-war between subjugation and freedom. When Colonel Hardacre (Chris Cooper) orders Lieutenant Compton (Garret Dillahunt) to establish an American garrison there, the town's Kapitan del Barrio, Rafael Dacanay (Joel Torre), is placed in the difficult position of enforcing the US' new policies in San Isidro vis-a-vis heeding the nationalistic fervor sweeping the land. Making Dacanay's situation even more precarious is the fact that his son Joaquinito (James Obenza) and brother Simon (Ronnie Lazaro) are members of the resistance that will stop at nothing to rid the country of another wave of white invaders.


There's no doubt that Amigo is a passion project for Sayles, whose meticulously-researched script steadfastly refuses to take sides on the Fil-Am conflict even though he himself is an American. The predicaments the characters find themselves in always feel authentic, the lines they deliver never hitting a false note. It must be acknowledged, though, that Sayles' screenplay got an immeasurable boost from the ever eloquent, award-winning Pinoy scriptwriter Pete Lacaba, who translated Sayles' English dialogue into perceptive Tagalog for the story's Filipino characters. Among the script's many quotable quotes are Dacanay's remark about how he can't wait to see democracy in action when the Americans are gone, and Hardacre's admonishment to Compton that the latter's job is to make war with the people of San Isidro, and not to live with them.
ADVERTISEMENT - CONTINUE READING BELOW


Sayles' gift for irony and knack for magnifying certain details also enrich the narrative tremendously. Quick scenes showing Americans recoiling at the sight of a daing and being baffled by the nonstop rain humanize them considerably, and add much-needed humor to the tale. With regards to the war, Amigo shows us that the rebels hid messages in coconuts, and sometimes killed their fellow Filipinos, albeit unintentionally. In one pivotal scene, it is a son's action which results in the death of his father.


Sayles also edited Amigo, and the film hums with a pace that feels right most of the time. There is, however, a moment where a Filipina extra is clearly seen laughing when she's supposed to be terrified as she runs from the Americans who have just  arrived in town.  The shot may be brief-thank goodness it happens early in the story-but it stains the film.
CONTINUE READING BELOW
Recommended Videos


Sayles' direction is likewise efficient and admirably unadorned for the most part, but there are instances where his "indie movie cred" is marred by the use of overused, obvious images: violence is foreshadowed by a flame being extinguished; a prisoner draws lines on his wall to count the days of his jail sentence; a gun battle between the Americans and the Filipinos is likened to a cockfight.


The film's other technical and artistic contributions, however, are flawless. Lee Meily's golden-hued cinematography is vibrant and standard-setting. Gino Gonzales' costumes and Rodell Cruz's sets look and feel authentic, instantaneously transporting viewers back 111 years to this previously hidden chapter of our country's story. Mason Daring's music is quietly beautiful, making splendid use of the guitar and other rondalla instruments to convey the magnitude of Spain's nearly four-century hold on the Filipino psyche.
ADVERTISEMENT - CONTINUE READING BELOW


Allowing us to feel every beat of the escalating tension in San Isidro is the wonderful  ensemble of Filipino and American actors. As the film's main character, Joel Torre is as  superb as ever, his soulful, expressive eyes serving as polished mirrors to Dacanay's inner turmoil. As the pacifist lieutenant who has to wage war with people he has nothing against, Garret Dillahunt is also excellent, while Oscar winner (for Adaptation) Chris Cooper brings a sympathetic weariness to his role as Col. Hardacre. Rio Locsin, Bodjie Pascua, Spanky Manikan and Irma Adlawan provide solid, affecting support as the helpless but good-humored folk who are caught in the conflict's crossfire. Ronnie Lazaro, Bembol Roco, Pen Medina and John Arcilla also have their menacing moments as members of the cave-dwelling resistance.


Ultimately though, it is this vivid portrayal of life in San Isidro-from the squabbles over trespassing pigs to the celebration of the town fiesta-that proves to be Amigo's boon and bane. It's the best thing about the movie and the very aspect that might prevent those watching Amigo from grasping the enormity of the conflict it depicts. Fewer than 20 people are seen being killed in Amigo's skirmishes, even though the death toll of the actual Philippine-American war was reportedly in the hundreds of thousands on both sides. Stating an important fact like this in a card during the end credits would have helped drive the point home, but no such info is given after the final fade out. Such an oversight is all the more surprising considering that John Sayles himself said in an interview that people have a tendency to believe only what they see on the screen. "War is hell," as the cliché goes, but anyone watching Amigo might conclude that the Philippine-American War wasn't that hellish. Not many people were killed, and the townsfolk from the film's fictional barrio even had time to joke about their colonizers, hold cockfights, and party on their town's feast day.     

Rating: 3½ spots out of 5
ADVERTISEMENT - CONTINUE READING BELOW
Photos from ioncinema.com
Share this story with your friends!
---
Help us make Spot.ph better!
Take the short survey
Load More Stories