MOVIE REVIEW: Crazy Stupid Love
SPOT.ph movie reviewer Paul Daza called this Steve Carell-Julianne Moore starrer "one of the most satisfying romantic comedies to grace the big screen in years."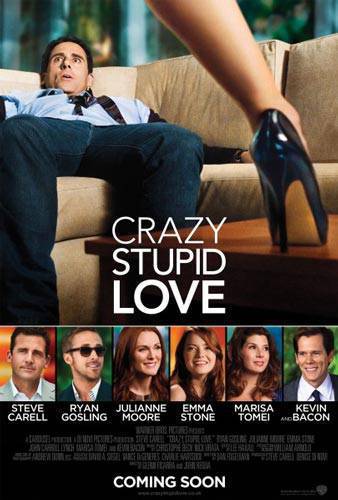 A seasoned script, captivating direction and a luminous cast add up to make Crazy Stupid Love one of the breeziest, most satisfying romantic comedies to grace the big screen in years. Whether you're discovering puppy love, currently in a relationship, or nursing a broken heart, you'll find lots to laugh and cry about in this sparkling confection about the lives and loves of teens and grownups in a California suburb.
Watch the trailer
At the heart of Crazy Stupid Love are several love stories involving three generations of boys and girls, men and women. For teens and teenagers at heart, there's the cute tale of first love involving 13 year-old Robbie (Jonah Bobo), who's infatuated with his 17-year-old babysitter Jessica (Analeigh Tipton). Jessica, however, has googoo eyes not for Robbie, but for his fortysomething dad, Cal (Steve Carell). Though it doesn't sound terribly original, this generic puppy love tale shines like new thanks to the wonderful  performances of Bobo and Tipton, whose portrayals go beyond standard cookie cutter emoting. Bobo is a natural child actor, his earnestness never coming across as cute or cloying. He's as charming justifying his love for an older girl as he is staring down the guy who's destroyed his parents' marriage. With her eye-catching large eyes, lanky frame and long limbs, Tipton is a refreshing, offbeat presence. She aces all her scenes as the bewitching and bewitched babysitter, and makes an indelible impression in the rib-tickling sequence where she assumes slutty, seductive poses for a pictorial that's meant to bring out the woman in her.

Oddly enough, Crazy Stupid Love is the second consecutive film I've seen (following last week's The Beaver) that features a graduation speech that's vital to the story. In one of the movie's big scenes, Robbie declares his love for Jessica in a speech he's delivering at  his graduation from middle school. It's the one point in the movie that flirts dangerously with formulaic phoniness, until it's mercifully cut short and saved by an interruption from Steve Carell's Cal.

No such flaw mars the love story of twentysomethings Jacob (Ryan Gosling) and Hannah (Emma Stone). Their slice in the film's pie is another romcom cliché- the handsome, hunky lothario who can have practically any woman he wants falling hard for the pretty and smart lady who isn't attracted to him. The part where Hannah does begin to like Jacob, however, is handled exquisitely and is the movie's best scene. It starts out, predictably enough, with an expectation of purely physical "banging," but soon becomes something else entirely...a bed scene that's sublimely beautiful and tender, thanks to first-rate scripting (Dan Fogelman), sensitive direction (Glenn Ficarra and John Requa), and the glowing alchemy generated by Stone and Gosling.  

Last and certainly not least storywise is the film's main thread, which tracks the progress of the middle-aged Cal as he tries to move on after his wife Emily (Julianne Moore) tells him she wants a divorce. Cal drinks his sorrows away in a bar and gets the attention of ladies' man Jacob (Gosling), who takes it upon himself to school Cal in the art of attracting women and reclaiming his manhood. We know from other movies that this will involve getting a haircut and going on a shopping spree for more stylish clothes, but since the filmmakers behind Crazy Stupid Love aren't interested in recycling clichés, they make men- not women- the stars of their makeover montage. They even throw in an unexpected homoerotic gag involving nudity for good measure. Similarly innovative is a bravura shot lasting a minute which shows the "new" Cal chatting up several women at the bar over the course of several nights, but done in one seemingly uninterrupted take. It's the kind of technically complex, computer-aided shot one rarely sees in romantic comedies, but it works splendidly as a cinematic device to underscore how far Cal has gone under the tutelage of Jacob.

Much of Crazy Stupid Love's pleasures, however, have nothing to do with visual effects, and everything to do with the engaging script and the superb cast. That Cal's very painful predicament is always captivating despite its initial redundancy is a testament to Carell's skill as an actor. Even as Cal whines at the bar for the umpteenth time that his wife is divorcing him, the character per se never becomes irritating because of Carell's unerring gift for delivering his lines sympathetically. And because Carell also handles the dramatic aspects of the role so well, viewers will undoubtedly feel his pain and shed a tear or two for him during the film's touching moments, which he shares with the always magnificent Julianne Moore.

Crazy Stupid Love isn't perfect. The richness of the main characters, for example, results in a couple of supporting characters getting the short end of the stick. After an attention-grabbing introduction, the character played by the delightful Marisa Tomei quickly gets relegated to the sidelines. The same goes for acclaimed crooner Josh Groban, who makes his movie debut here as the young man Hannah crushes on before Jacob enters the picture. Aside from the fact that he's only in one scene, what's puzzling about Groban's appearance is that he isn't even made to sing in the movie- not one note. Why cast one of the world's best romantic balladeers in your romantic comedy if you're not going to make him sing?
ADVERTISEMENT - CONTINUE READING BELOW

These quibbles aside, though, I still found Crazy Stupid Love irresistible. It's that rare  love story that stays with you long after you've seen it, a movie you'd be crazy- maybe even stupid-  to miss.
Rating: 4 out of 5 spots ....



CONTINUE READING BELOW
Recommended Videos
Share this story with your friends!
---
Help us make Spot.ph better!
Take the short survey
Load More Stories