Movie Review: Johnny English Reborn
Paul Daza calls this "irresistible laugh-a-minute James Bond spoof" an "explosive, action-packed comedy worth the price of admission."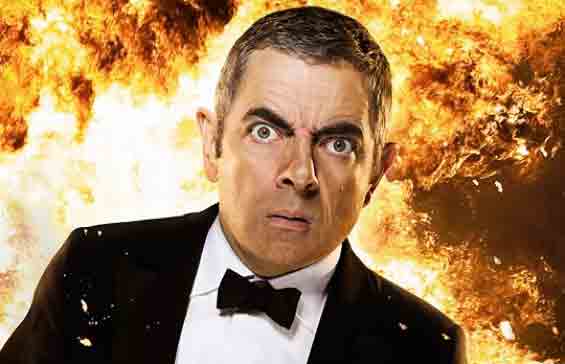 Last seen on the big screen in 2007's merely serviceable Mr. Bean's Vacation, British comedian Rowan Atkinson returns in fine form in Johnny English Reborn, a familiar but irresistible laugh-a-minute James Bond spoof that's for moviegoers of all ages. While it may not be as crammed with eye-candy as the similarly-themed but more spectacular Cars 2, Reborn is an explosive, action-packed comedy that's worth the price of admission.
ADVERTISEMENT - CONTINUE READING BELOW
CONTINUE READING BELOW
Recommended Videos
After he fails to prevent the assassination of the president of Mozambique in 2006, Johnny English (Rowan Atkinson) is fired by British Intelligence agency MI7. Humiliated, he retreats to the mountains of Tibet, where he learns how to use his mind to master control over his body. When MI7 learns of a plot to assassinate the premier of China, its lady boss Pegasus (Gillian Anderson) reluctantly reinstates English because he's the only man their informant will talk to about the plan to kill the Chinese leader. Aiding English in his one shot at redemption are fellow agent Tucker (Daniel Kaluuva) and behavioral expert Kate Summer (Rosamund Pike). Also in his lethal arsenal are MI7's latest superspy gadgets, which include a laser-firing digital camera and a voice-activated Rolls Royce that would shame James Bond's Aston Martin. All this help, however, might not be enough to save English, who realizes during his investigation that the threat on the Chinese premier's life  involves not only the KGB and the CIA, but his very own agency, MI7.
ADVERTISEMENT - CONTINUE READING BELOW
The worst that can be said of Johnny English Reborn is that none of its gags are original. We've all seen similar displays of clumsy slapstick and British buffoonery before, not just in the Austin Powers movies and the gifted comedian's classic TV series Mr. Bean, but in movies dating back to the genre's early years. Reborn, for example, has not one, but two scenes where Atkinson has difficulty with a chair, and another where he has trouble putting on a pair of pants in the presence of a lovely lady... nothing new there. There are also situations and predicaments that are from more recent funny fests. The Tibet sequences that open Reborn, for instance, mirror not only Po's quest for inner peace from Kung Fu Panda 2, but also the first few minutes of Ace Ventura 2: When Nature Calls, which also featured Jim Carrey's pet detective communing with Tibetan monks. Also unoriginal is English's "mistaken identity" tussle with Queen Elizabeth, which echo scenes from last month's Cars 2 and the Naked Gun movies from the 90s.
ADVERTISEMENT - CONTINUE READING BELOW
Familiar as the jokes are, they're still undeniably hilarious. Atkinson is wonderful in Johnny English Reborn, his deadpan expressions in the most absurd situations superb special effects unto themselves. Part of the delight (and surprise) of watching Reborn in a theater is hearing very young children react to Atkinson's antics. Listening to their peals of laughter, you'd think they were watching a Disney animated adventure like Aladdin or Hercules. Among the many rib-ticklers which the kids giggled through in the screening I went to were the scenes which showed Atkinson stroking an imaginary cat, and bouncing around blindly in a body bag. Also a hoot was the sequence where English uses old-fashioned techniques to apprehend a bad guy through the rooftops, streets and harbors of Hong Kong.
And speaking of bad guys and Hong Kong, Johnny English Reborn also has a scary supporting villain in the guise of a grey-haired Chinese woman with a vacuum cleaner. In the tradition of such unforgettable James Bond henchmen as Oddjob and Jaws, this "supporting villain" from Reborn will also be in your mind's eye long after the movie is over. If it weren't for the comedic punchlines that punctuate her scenes with Atkinson in the film, she'd probably end up in some viewers' nightmares as well.
ADVERTISEMENT - CONTINUE READING BELOW
Scary villains, exciting action, exotic locations, a hilarious performance from the beloved Mr. Bean- Johnny English Reborn has it all.  From the mountains of Tibet to the Swiss Alps, this globe-trotting superspy adventure may be low on innovation and inventiveness, but it's high on laughs and spectacle, and definitely worth the price of admission. Enjoy it with friends and family.
Rating: 3½ out of 5 Spots •••.
Load More Stories