Catch Película Pelikula: The 10th Spanish Film Festival, October 5 to 16
Catch 26 topnotch flicks from our Spanish <em>amigos</em>.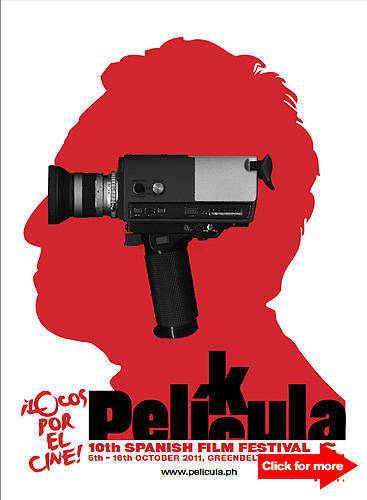 To see the lineup, schedules, and synopses, click for more.
(SPOT.ph) This year, Película, the annual Spanish film festival held in Manila, celebrates a full decade of bringing acclaimed films from Spain and Latin America to Pinoy cinephiles. Happening from October 5 to 16 at Greenbelt 3 Cinema 1, the lineup features 26 picks from different genres. 
ADVERTISEMENT - CONTINUE READING BELOW
Provocative drama films  La vergüenza (The Shame), Biutiful, Amador, Buried (Enterrado), También la lluvia (Even the Rain), Didi Hollywood, and Habitación en Roma (Room in Rome) will tug at your heartstrings. From the genre of comedy comes Gordos (Fat People), Morirse está en ebreo (My Mexican Shivah), Mal día para pescar (Bad Day to Go Fishing), and Mil cretinos (A Thousand Fools).

Bring a date to the screenings of these romance flicks: Primos (Cousins); Todas las canciones hablan de mí (Every Song Is About Me); Yo, también (Me Too); and Chico & Rita. Also check out the biographical drama picks this year-Lope and El Gran Vázquez (The Great Vázquez).
Aside from the featured films, the festival brings back Audience Choice winners from 2004 to 2010: En la ciudad sin límites (City of No Limits), Mar adentro (The Sea Inside), Elsa & Fred, La vida secreta de las palabras (The Secret Life of Words), Fuera de carta (Chef's Special), La zona (The Zone), and El secreto de sus ojos (The Secret in their Eyes).
ADVERTISEMENT - CONTINUE READING BELOW
Plus, as an added treat, there will be special screenings of films like Raya Martin's Buenas noches, España (Good night, Spain) and the classic 1961 Golden Palm Cannes Film Festival winner, Viridiana.
Vote for your favorite film and help it win the Audience Choice Award this year. The screening of the winning film is on October 16, 9:30 p.m.
Tickets are at P65 each. For more information and updates, log on to pelicula.ph.
Recommended Videos
Load More Stories