MOVIE REVIEW: Friends With Benefits
Paul Daza says that despite being formulaic and predictable, this Justin Timberlake-Mila Kunis romcom is still enjoyable thanks to the two leads' charmingly fearless performances.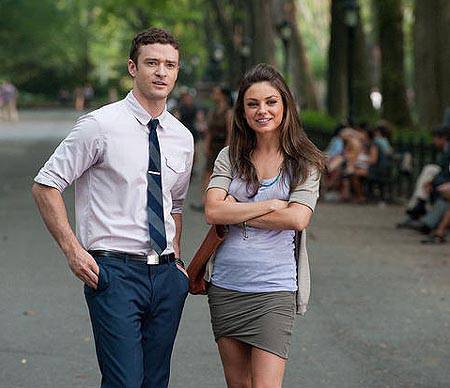 Justin Timberlake and Mila Kunis star in Friends with Benefits
Because the trailer of Friends With Benefits has its female lead scolding Hollywood for making cookie cutter romantic comedies about searching for one's true love, you'd think that the new adult romcom would avoid these very same clichés. But no, Friends With Benefits is just as clichéd and romanticized as the movies which the character played by Mila Kunis criticizes. And yet, despite being formulaic and predictable, Friends With Benefits is still an enjoyable movie, one that's elevated by the charmingly fearless performances of its two leads.

Los Angeles blogger Dylan (Justin Timberlake) and New York headhunter Jamie (Mila Kunis) become fast friends when she gets him a high-paying job at GQ magazine in the Big Apple. Having just come from bad breakups, the two liberal singles bond one day over their mutual decision to become "emotionally unavailable"-they've had it with love and all the complications it comes with. One night, they decide to add sex to their friendship, on the grounds that it's a purely physical act, "like playing tennis." They soon realize, however, that getting physical always leads to complications.
ADVERTISEMENT - CONTINUE READING BELOW
Watch the trailer


Friends With Benefits comes with all the staple ingredients you've come to expect from the genre: attractive male and female in the lead roles,  quirky supporting characters in the periphery, magic moment/s in a beautiful cosmopolitan city, enough pop love songs to fill up a "music from and inspired by" soundtrack, etc.

It doesn't hurt Friends With Benefits either that in title and in content, it also evokes memories of the sitcom Friends, most notably in the New York setting and the character of Jamie. As played by the captivating Mila Kunis, Jamie wouldn't have been out of place in the Central Perk gang- she's not only witty and attractive, she also comes with relatable flaws. As a young and successful New Yorker, Mila Kunis is delightful, bringing new textures and colors to a complex character who also has a paradoxical relationship with Hollywood love stories: she can't stop watching them even though she knows that the portrait of love they paint is romanticized and idealized. At one point in the film, she even yells, "Katherine Heigl, you liar!" when she sees a poster for the film The Ugly Truth.

But where Friends was suitable viewing for all audiences on TV, only those who are 14 years old and above can see Friends With Benefits in local movie theaters. That's because the MTRCB gave the movie an R-13 rating owing to the frequent use of the "f" word and the many sex scenes Kunis and Timberlake perform. And though I shouldn't have been surprised by how daring she is here after her unforgettable liplock with Natalie Portman in Black Swan, I still wasn't prepared to see how much she bared in Friends With Benefits.

The real shocker here, though, is the amount of nudity involving Justin Timberlake. The  guy started his showbiz career as a member of the Mickey Mouse Club, for goodness' sake! And yet, here he is in a very sexy flick, baring his buttocks and being pleasured by Kunis in several scenes. And since this IS a post-Hangover adult comedy, there are also a couple of bathroom jokes which come at his character's expense. These include a disgusting scene where he's heard having difficulty peeing after making love, and another one showing the allergic reaction he sometimes has as he approaches sexual climax. Such is the bewildering career path of the former *NSYNC singer in 2011: after proving that he could act in The Social Network, he now has to prove that he's not squeamish about nudity and playing a character who has physiological quirks that manifest themselves in the bedroom and bathroom.  

Similarly quirky are the supporting characters surrounding Kunis and Timberlake as they try to hurdle the ho-hum romantic obstacles the script throws their way. As the sassy Tommy, GQ's gay sports editor, Woody Harrelson is good for a few chuckles, even though the former Cheers star doesn't exude a gay vibe at all. (It's actually Timberlake's Dylan who exudes more gayness than Harrelson's Tommy.) Patricia Clarkson is a hoot as Jamie's sexually liberated mom, Lorna, and it's a blast to watch the character actress have fun in a film for a change. Prior to Friends With Benefits, I remembered her most as the dying wife in The Green Mile, and it's a treat to see her in a role where she gets to laugh and drop a punchline or two as a man-hungry, middle-aged mother. As Dylan's dad, Richard Jenkins is wonderfully affecting as the film's proverbial provider of worldly wisdom.        

As for the other movie clichés, I rather liked the scene where Jamie takes Dylan to her secret New York rooftop hangout. It seems like Manhattan will never run out of magical places for sensitive youngsters to discover. I could, however, have done without the "mass dancing" scene in Times Square. It was already contrived to begin with, but it became downright unbearable in tandem with a certain pop song.

At 100 minutes, Friends With Benefits is as long as four episodes of the sitcom Friends. In terms of scripting, though, any four episodes of Friends are funnier and more observationally insightful than this movie about the pleasures and pitfalls of sex without love. But days, maybe weeks from now, those who can still recall Friends With Benefits will remember it not because it had a great story, but because it was the movie where Mila Kunis and Justin Timberlake got naked and did the nasty...a lot.  

Rating: 3 out of 5 SPOTS ...
ADVERTISEMENT - CONTINUE READING BELOW
Click here to check the movie schedule.
Photos from Columbia Pictures
Recommended Videos
Load More Stories