MOVIE REVIEW: Tower Heist
Ben Stiller and Eddie Murphy headline this new heist comedy. Paul Daza weighs in on it's a must-watch or not.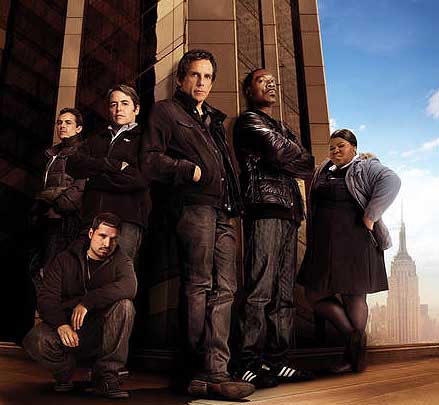 Eddie Murphy and Ben Stiller headline Tower Heist
(SPOT.ph) You won't get bored by the new heist comedy Tower Heist, but chances are you won't remember much about it afterwards either. Though it's good for a few chuckles and thrills, what it lacks is the ingeniousness and sheer star power that made the 2001 remake of Ocean's Eleven such a stylish, unforgettable outing. Comparisons to the George Clooney-led ensemble caper are inevitable, since Tower Heist was reportedly originally conceived by Eddie Murphy to be an all-black, blue-collar version of Ocean's Eleven.
ADVERTISEMENT - CONTINUE READING BELOW
Josh Kovacs (Ben Stiller) is the security manager of The Tower, a luxurious New York high-rise condo whose clock-punching workers have all lost their pensions to swindler Arthur Shaw (Alan Alda), one of the building's tenants. To get their retirement money back, Kovacs hatches an insane plan to steal $20 million in cash from the safe hidden in Shaw's penthouse unit. Helping Kovacs with the heist are evicted Tower tenant Mr. Fitzhugh (Matthew Broderick), and fellow Tower employees Charlie (Casey Affleck), Enrique (Michael Peña), and Odessa (Gabourey Sidibe). But because no one in the team knows how to steal, Kovacs convinces a thief named Slide (Eddie Murphy) to help in the caper for a share of the spoils.
Watch the trailer
Though the movie seems as timely as the Occupy Wall Street protests and the Bernie Madoff scandal, the best way to enjoy Tower Heist is to simply approach it as a brainless piece of entertainment. Though it's about a multimillion dollar investment scam which results in unemployment and at least one attempted suicide, Tower Heist has about as much to do with reality as other Brett Ratner-directed comedy misadventures like the Rush Hour trilogy. Among the instances where the Tower Heist script plays loose with facts is in its portrayal of the weight of gold, and the ease with which someone who passes the bar exam can become a licensed lawyer. Also, if something similar to the caper hatched by Stiller and his cohorts in Tower Heist was attempted in the real world, the perpetrators wouldn't last five minutes against the police.
ADVERTISEMENT - CONTINUE READING BELOW
For those who are willing to surrender their brains at the theater entrance, however, the movie does offer more than five minutes of witty wisecracks and spectacular, over-the-top action. It's a treat to see Eddie Murphy back in loud-mouthed, fast-talking Beverly Hills Cop mode again after a slew of recent, more wholesome projects blunted his once razor-sharp comic edge. That Tower Heist is rated PG-13 by our MTRCB is due in large part to the "colorful" language Murphy uses with the white men involved in the caper. For me, the most amusing scene in the film is the one where Murphy dares Stiller, Affleck and Broderick to steal at least $50 worth of merchandise from a mall to prove that they're manly enough to see the mission through.
There are also more quiet but no less effective comic gems involving the non-white members of the ensemble, like Michael Peña and Oscar nominee Gabourey Sidibe. The best one-liner is arguably Peña's terse reply to Stiller's question about what it's like to work in a fast-food joint after being fired from The Tower. Likewise, the scene where the plus-sized Sidibe flirts with Eddie Murphy as they both try to open a safe using their fingers "to find the entry point" is also a howler.
ADVERTISEMENT - CONTINUE READING BELOW
What ultimately makes Tower Heist such a popcorn popper, however, isn't merely the interplay of the talented cast, but the extravagant spectacle of the heist itself. In setting the climax during the magnificent Macy's Thanksgiving Day parade, the filmmakers serve up a logic-defying but nonetheless satisfying cinematic setpiece. Among the images which give the sequence its razzle and dazzle are the sight of a beautiful vintage automobile dangling from the side of a skyscraper, and fleeting glimpses of humongous balloons of Snoopy and Kermit the Frog floating above a crowded Manhattan avenue. If only for the novelty of seeing these two beloved pop culture icons sharing the screen with seasoned comedians like Ben Stiller and Eddie Murphy as 21st century Robin Hoods, Tower Heist makes the grade for being a funny and uniquely satisfying thrill ride.
RATING: 3 out of 5 Spots ...
Click here to see Tower Heist's movie schedule.
ADVERTISEMENT - CONTINUE READING BELOW
CONTINUE READING BELOW
Recommended Videos
Share this story with your friends!
---
Help us make Spot.ph better!
Take the short survey
Load More Stories