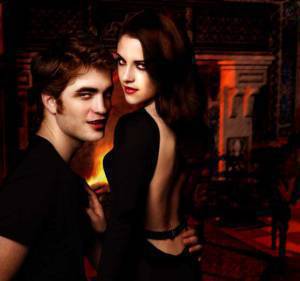 Following the action-packed "allegro" that was The Twilight Saga: Eclipse, the penultimate movie in the series, The Twilight Saga: Breaking Dawn Part One, feels like the slower, second movement of a symphony, its "andante." And what a dreamy, swoony second movement it is. With  Oscar-nominated director Bill Condon (Dreamgirls) calling the shots, Breaking Dawn Part One turns emerges as another satisfying installment in the supernatural soap opera that has captivated teens and tweens worldwide.
ADVERTISEMENT - CONTINUE READING BELOW
If Eclipse was all about the high drama involving revenge and alliances that finally prompted vampire Edward Cullen (Robert Pattinson) to ask mortal sweetheart Bella Swan (Kristen Stewart) to marry him, then Breaking Dawn Part One is about slowing down and allowing the couple to savor their relationship. The film shows them getting married, enjoying their honeymoon, and dealing with a confounding pregnancy. The story is that simple.
With not much plot and time-consuming exposition to feed the audience, director Bill Condon lavishes attention on his polished visuals, making this the most exquisitely photographed Twilight movie yet. There's a mesmerizing dream sequence involving the soon to be married couple that crumbles into a blood-splattered nightmare in a matter of seconds, and a stylish, 1930s flashback that comes with a gay subtext that alludes to Interview With The Vampire and Condon's acclaimed 1998 film, Gods and Monsters.
I suspect, though, that it's the cinematic depiction of Bella and Edward's wedding and honeymoon that the series' predominantly female fans are most eager to see, and the filmmakers have clearly busted the budget and gone the extra mile in an attempt to please them. With the immeasurable assistance of cinematographer Guillermo Navarro and production designer Richard Sherman, Condon captures onscreen a magical dream of a forest wedding and reception that will surely inspire real-life copycats. Also breathtakingly beautiful is the island paradise off Brazil where the new Mr. and Mrs. Edward Cullen go for their honeymoon, there to challenge one another intellectually at chess games, skinny dip under the moonlight, and make passionate & destructive love in their beachfront cottage.
ADVERTISEMENT - CONTINUE READING BELOW
Recommended Videos
Don't expect too much heat from the love scenes, though. Reportedly, the film's first edit was slapped with an R rating in the USA because of the intensity of Bella and Edward's bed scenes. And so, the filmmakers had to re-edit, taking out some of the passion and sizzle to get the more desirable PG-13 rating.
Despite all the editorial tampering with the love scenes, however, Bella still gets pregnant, and it's at this plot juncture that Breaking Dawn Part One dials up the tension and conflict that were absent in the film's first half. Bella's precarious condition also allows the film's visual effects artists to turn actress Kristen Stewart into a disturbingly emaciated shadow of her former self, utilizing the same trick (I guess) that was used to transform Chris Evans into the skinny Steve Rogers in Captain America.
The emaciated Bella, however, is the only convincing visual effect in Breaking Dawn Part One. Jacob's computer-animated wolf pack, for instance, looks as fake as ever, even though the film's production budget of $127 million is nearly double that of Eclipse's $65 million budget.
ADVERTISEMENT - CONTINUE READING BELOW
Mediocre visual effects aside, though, the last few minutes of Breaking Dawn Part One come with enough dread, horror, danger and anticipation to make one forgive such technical lapses and move on to more important matters, such as waiting for the saga's finale.
Rating: 3½ Spots out of 5 •••.
Click here to see the movie schedule.
Share this story with your friends!
---
Help us make Spot.ph better!
Take the short survey
Load More Stories