MOVIE REVIEW: Mission: Impossible - Ghost Protocol
Our movie reviewer calls this four-quel, a "cinematically satisfying thrill ride."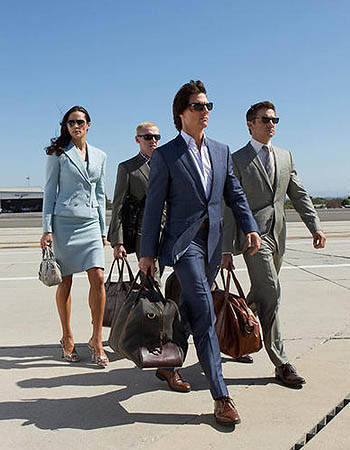 Tom Cruise, Simon Pegg and Paula Patton star in the newest installment of Mission: Impossible.
(SPOT.ph) Most movie adventure franchises begin with addicting first installments (Raiders of the Lost Ark, Spider-Man), which are then followed by sequels that are either inferior (Indiana Jones and the Temple of Doom) or better (Spider-Man 2) than their  predecessor. Regardless of how the first sequel fared, however, it's common for said series to have lost much of its charm by the third (Spider-Man 3, X-Men 3) or fourth outing (Indiana Jones and the Kingdom of the Crystal Skull).
Watch the trailer
As such, Tom Cruise's Mission: Impossible superspy series is quite the anomaly, defying gravity and becoming better with each new outing. It all started with the narratively incoherent franchise launcher that was directed by Brian de Palma in 1996, which was then followed by the more stylish and more comprehensible John Woo-directed sequel in 2000. Millions of fans flocked to the third chapter in 2006, embracing the three-quel for its explosive action and involving love story as Ethan Hunt/Tom Cruise went on a frantic mission to save the life of his wife-to-be. Directed by emerging hotshot filmmaker J.J. Abrams, M:I.3 was then hailed as the best in the series. And now, 15 years after the first M:I. movie, the franchise has reached a new pinnacle. Directed by Oscar winner Brad Bird, Mission: Impossible-Ghost Protocol is a massively satisfying, age-defying four-quel involving sci-fi flavored gadgets, murderous females, and world-threatening nuclear secrets.
ADVERTISEMENT - CONTINUE READING BELOW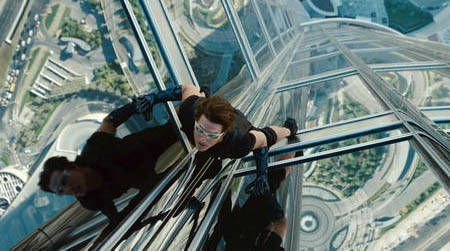 CONTINUE READING BELOW
Recommended Videos
The latest Mission: Impossible film is an age-defying four-quel, says Paul Daza.
It begins with Impossible Missions Force (IMF) agent Ethan Hunt (Cruise) being rescued from a maximum security Russian prison by fellow agents Benji (Simon Pegg) and Jane (Paula Patton). Before they can get back to the USA, however, they are implicated in the bombing of the Kremlin, resulting in the closure of the IMF. Disavowed, Ethan, Benji and Jane try to clear the organization's name with the help of IMF analyst Brandt (Jeremy Renner). Together, they embark on a perilous mission to obtain vital information that will take them from Moscow to Dubai and Mumbai.
Everyone who works on Pixar's computer-animated projects learns that the three most important ingredients in any of their movies are story, story, and story. Making his live-action feature film directorial debut with Ghost Protocol, Pixar director Brad Bird (Ratatouille, The Incredibles) invests the same level of care and attention to M:I 4's narrative that he'd give to his Pixar projects. This level of focus makes Ethan Hunt's latest globe-trotter a franchise best, with a narrative unfettered by the confusing double agent betrayals and info-overloaded details which made the first Mission: Impossible as enjoyable as a college entrance exam. Stripped of such baggage, Ghost Protocol becomes an efficiently plotted espionage thrill ride that's propelled by just a handful of characters, with a couple of good guys in its fold who are motivated by very human, very relatable concerns.
ADVERTISEMENT - CONTINUE READING BELOW
It's this carefully orchestrated balance between illuminating, character-driven scenes and   eye-popping, larger than life spectacle that make Ghost Protocol such compelling viewing from start to finish. When Ethan and Benji try to infiltrate a heavily guarded Kremlin office using a beguiling holographic device, the audience is with them every sweaty step of the way because of the goodwill they've earned and carried over from this and earlier M:I movies. Likewise, when high-tech gadgets fail Jane and Brandt as they prepare to meet the bad guys in the world's tallest building in Dubai, and when a blinding sandstorm threatens the success of Ethan's most important hunt, the audience is emotionally invested in the outcome because of information that's been revealed earlier about their pasts.
Simply put, Mission: Impossible- Ghost Protocol is an audacious, supremely enjoyable adventure that's at par with the best James Bond movies. It offers the complete package-engaging story, relatable characters, sumptuous locations, high-tech (but unreliable) tools and outlandish action sequences-making it the most cinematically satisfying thrill ride since...The Adventures of Tintin.
RATING:
4 Spots out of 5 for regular theater release••••
4 ½ Spots out of 5 for Imax (2D) release••••.
Click here to see Mission: Impossible-Ghost Protocol's movie schedule
Photos from Paramount Pictures
Share this story with your friends!
---
Help us make Spot.ph better!
Take the short survey
Load More Stories