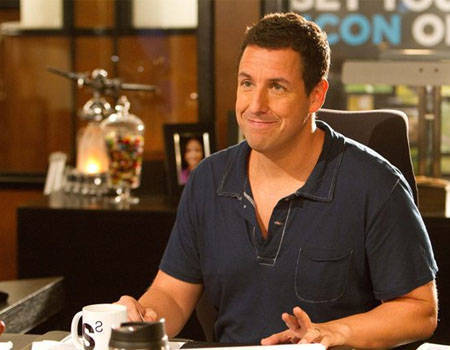 Adam Sandler is also Jack and Jill's director.
(SPOT.ph) So here I am, finishing up this review of the execrable new Adam Sandler comedy Jack and Jill, when news breaks on the web that the movie has received a record-breaking 12 Razzie nominations! Among its nods are worst picture of 2011, worst actor (Sandler as Jack), worst actress (Sandler as Jill), worst script, and worst director. I couldn't agree more with the Razzies--watching and reviewing this god-awful, mean-spirited flick during Oscar weekend was pure torture.
Watch the trailer

And Sandler isn't the only casualty of this dreck. Jack and Jill is now exhibit A for the worst movie Oscar winner Al Pacino has ever appeared in. Why in heaven's name did he agree to appear as himself in this juvenile comedy, playing a downward spiraling Al Pacino who pines for the attention of an obnoxious woman? Could it be that the actor in him was intrigued by the challenge of convincing moviegoers that he could seriously fall in love with a charmless woman who looks like Adam Sandler in a wig? Or was it just an attempt to do something to confound fans who aren't used to seeing him in a comedy? Whatever the reason, I doubt if Pacino's decision to play himself in Jack and Jill will earn him any new admirers.
ADVERTISEMENT - CONTINUE READING BELOW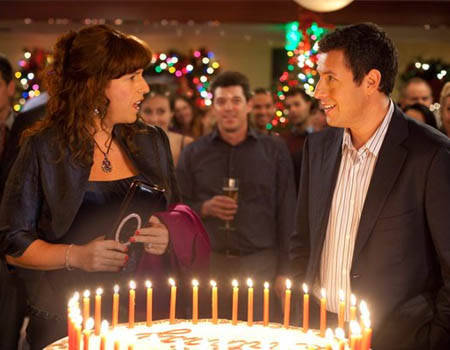 Sandler plays dual roles as Jack and Jill.



In Jack and Jill, Adam Sandler is Jack, a successful advertising executive in Los Angeles who dreads the annual visit of his annoying twin sister Jill (also Sandler) for the holidays. Currently, though, Jill is the least of Jack's problems, since his biggest client, Dunkin' Donuts, is threatening to take its business elsewhere unless Jack can convince Al Pacino to endorse its new product. When Pacino becomes obsessed with Jill after meeting her at a Lakers game, however, Jack tries to convince Jill to give Pacino some lovin'.   Jill, however, will have none of Al, and Jack must now find a more creative solution to the Pacino situation.


Sandler's passionless performance as the title characters is the movie's chief problem. As Jack, he comes across as a tired, mean dad who has nothing good to say to anyone, especially his sister. He's an unlikable human being who wouldn't think twice about pimping his own sibling to solve a business crisis, or insulting the ethnicity of one of his adopted children. Sandler's Jill, on the other hand, is slightly more likable, being more talkative and more fun-seeking than her brother. Her quirks include insulting homeless people and laughing loudly in a movie theater. With such appalling human beings on display as the film's protagonists, who's the audience supposed to root for?


Similarly repulsive are the scripted "gags," which try to earn guffaws at the expense of birds, ponies, senior citizens, Mexicans, Jews, Indians, and even Al Pacino's lone Academy Award. However, because a mean-spirited tone snakes through the entire film, none of the many cruel verbal attacks and slapstick assaults trigger even a polite chuckle. The film's biggest loser is Pacino himself, who is humiliated by a scene involving him reacting ecstatically to the sweat stains Jill has left on her bed.
ADVERTISEMENT - CONTINUE READING BELOW


There are only two nice things I can muster to say about Jack and Jill, both of which have nothing to do with Sandler. First, the visual effects showing the twins interacting seamlessly during the jump-rope scene were well-done. Two, it was a treat to hear The Go-Go's' 1982 bonbon "Vacation" in the scene where Jack and Jill are on a holiday cruise.


Believe the Razzie nominations and avoid this movie at all costs. Jack and Jill is as disgusting as the sounds Jill makes in the bathroom after eating Mexican food for the first time.

Rating: 1 out of 5 spots •
Photos from Columbia Pictures
Share this story with your friends!
---
Help us make Spot.ph better!
Take the short survey
More Videos You Can Watch
Load More Stories