MOVIE REVIEW: Marvel's The Avengers
Our SPOT.ph movie critic Paul Daza assembles his movie review of Marvel's finest.
It's time to bring out the superlatives for another super movie: Marvel's The Avengers is arguably the finest, grandest, most entertaining comic book-inspired movie ever made. Spectacularly mounted, smartly scripted, and arrestingly performed by a first-rate cast, this first-in-a-lifetime superhero ensemble is a colossally entertaining epic that sets the bar very high indeed for any and all future superhero team-ups.
Three ingredients make The Avengers soar like no other comic book-inspired movie has ever soared: the mesmerizing visual effects, the involving plot, and the colorful interrelationships among its characters.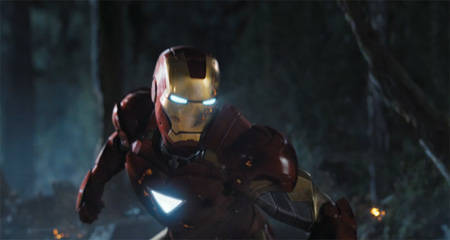 ADVERTISEMENT - CONTINUE READING BELOW
Iron Man (Robert Downey, Jr.) gets ready to rock and roll.
You want extravagant action and large-scale destruction? No expense is spared to tell the story of how global peacekeeper Nick Fury (Samuel L. Jackson) convinces Iron Man (Robert Downey Jr.), the Hulk (Mark Ruffalo), Captain America (Chris Evans), Black Widow (Scarlett Johansson), Hawkeye (Jeremy Renner), and Thor (Chris Hemsworth) to unite and save the planet from the threat of intergalactic villain Loki (Tom Hiddleston) and his army. With flawless visual effects from Weta Digital and Industrial Light and Magic, The Avengers is an eye-gouging, mesmerizing 3D experience... even more so in IMAX. Startlingly detailed shots of buildings being pulverized and heroes being chased by biomechanical giants through the canyons of New York are just some of the images that make The Avengers the best live-action 3D epic since Avatar. For a movie that  reportedly cost $220 million to produce, The Avengers looks more like a $300 million epic.
ADVERTISEMENT - CONTINUE READING BELOW
Watch the trailer of Marvel's The Avengers here.
That the viewer actually cares about whether or not all the good guys (and gals) are still standing after every life-and-death conflagration is a tribute to the meticulously calibrated story by Zak Penn and Joss Whedon. And just how good is the plotting and scripting? In addition to giving every major Avenger at least one indelible moment to shine, the script manages this miraculous feat without appearing contrived. It even gives seemingly minor characters and second-tier heroes like Hawkeye and Black Widow their fair share of shining, defining moments.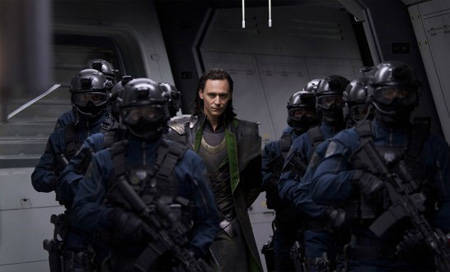 Bad guy Loki (Tom Hiddleston) assembles an anti-Avengers army.
ADVERTISEMENT - CONTINUE READING BELOW
Which brings us to the engaging banter of the movie's heroes and villains. Thanks to writer/director Joss Whedon's crackling dialogue, scenes where men and women are merely trading barbs become as enjoyable as visual effects-fuelled action sequences. Among the film's numerous verbal homeruns are Tony Stark's laser-sharp wisecracks that spare no one, not even the pompous Loki.  Stark describes Thor and Loki's battle royale in a forest, for instance, as "Shakespeare in the Park." Also rib-tickling is Thor's terse explanation of how he and Loki ended up on opposite ends of the goodness spectrum, and the almost homoerotic degree of hero worship Captain America receives from a S.H.I.E.L.D agent. As for lengthier dialogue exchanges, there's a brilliant sequence reminiscent of the Hannibal Lecter-Clarice Starling "quid pro quo" chat from The Silence of the Lambs between Loki and Black Widow that has a beguiling, unexpected conclusion.
Don't think for a moment, though, that the writer in Whedon has made him wary of  slapstick humor. Two of the film's funniest moments -- both involving the Hulk -- attest to the fact that the Avengers are men of action who prefer to use their fists rather than their tongues to settle disputes.
ADVERTISEMENT - CONTINUE READING BELOW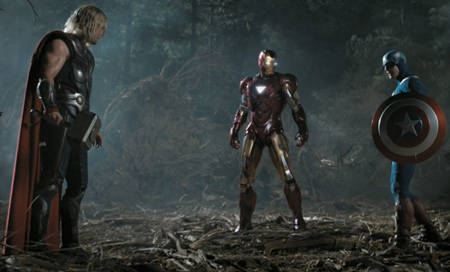 Thor (Chris Hemsworth), Iron Man (Robert Downey, Jr.), and Captain America (Chris Evans) make a terrific trio.
Adding immeasurably to the film's long list of winning ingredients is the fact that most of the disputes our heroes must often settle are the ones they have among themselves. And watching Robert Downey Jr.'s narcissistic Tony Stark square off against Chris Evans' earnest Steve Rogers, Mark Ruffalo's tired Bruce Banner, and Chris Hemsworth's self-righteous Thor proves to be the best ingredient of all in Marvel's ultimate cinematic concoction.
ADVERTISEMENT - CONTINUE READING BELOW
Rating: 5 Spots out of  5 .....
Images: (C) 2012 Marvel Studios
CONTINUE READING BELOW
Recommended Videos
Share this story with your friends!
---
Help us make Spot.ph better!
Take the short survey
Load More Stories