MOVIE REVIEW: What To Expect When You're Expecting
Our movie guru Paul Daza presents the pros and cons of this film adaptation.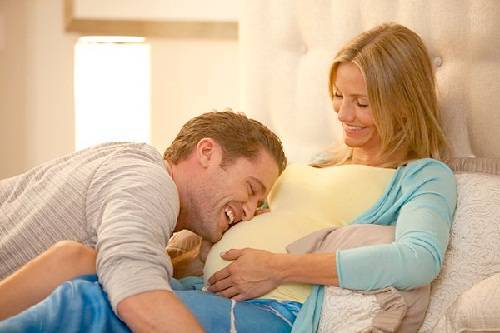 Cameron Diaz and Matthew Morrison play dance partners who get involved with each other.
(SPOT.ph) A contemporary dramedy set in Atlanta that follows five couples-married and unmarried-whose intertwined lives are rocked by the exciting and frightening prospect of impending parenthood.
Watch the trailer here.
Pluses:
With Cameron Diaz, Jennifer Lopez, Elizabeth Banks (last seen as Effie in The Hunger Games), Matthew Morrison (Glee's Will Schuester), Anna Kendrick (the younger best supporting actress nominee from Up in The Air), Chace Crawford (Gossip Girl's Nate), Dennis Quaid, Chris Rock and many others, the film has no shortage of star power. The standout is Banks as a woman whose idealized portrait of motherhood (she even owns a  breastfeeding boutique) is shattered by the experience of actually being pregnant for the first time. The public meltdown she has as a result of the hormonal hell she has to endure while in her last trimester is the film's comedy highlight.
There are also other memorable scenes and scenarios, including a "cinema in the park" screening of Dirty Dancing which proves to be a potent aphrodisiac for two of the story's couples, and a cathartic father-and-son yelling match that's resolved by racing buggies on a golf course. There's also a culturally illuminating look at an adoption ritual in Ethiopia that deserves its own National Geographic special, not to mention an eye-opener about the USA's fiercely competitive gourmet food truck industry.
ADVERTISEMENT - CONTINUE READING BELOW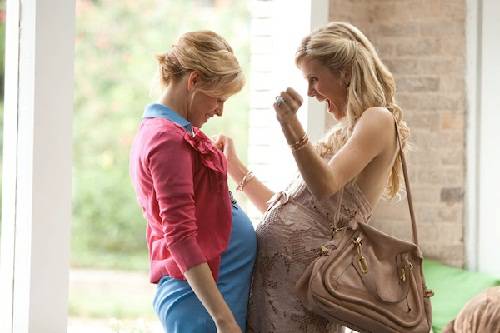 CONTINUE READING BELOW
Recommended Videos
Brooklyn Decker and Elizabeth Banks
Minuses:
The talented cast is squandered by a script that wants us to care about people who are hardly as universally relatable as the bestselling pregnancy guide the film is based on. Cameron Diaz, for example, plays a reality TV fitness guru turned dance show contestant who gets knocked up by her TV dance partner, played by Matthew Morrison. Ben Falcone plays Banks' husband, who was once a contestant on Diaz's Biggest Loser-type show. For the older set, there's Dennis Quaid as an over-the-hill NASCAR champ who has a gorgeous trophy wife (Brooklyn Decker) that's young enough to be his daughter.
There are only a few laughs to be had in the film's 100-minute running time, and none of them are LOLs. A running gag about a clumsy African-American boy is more mean-spirited than funny. A cameo appearance by the great Will & Grace star Megan Mullally (playing herself) earns only a polite smile. And you know you're really in trouble when you have Cameron Diaz in your cast, and the biggest laugh you can get from the star of There's Something About Mary is to make her throw up on an acrylic trophy.
ADVERTISEMENT - CONTINUE READING BELOW
The contrived situations which director Kirk Jones uses to make his characters interact with one another make What To Expect When You're Expecting feel like a poor man's version of Valentine's Day and New Year's Eve.
Lackluster scripting, uninspired direction, and the presence of the stars of such TV favorites as Glee, Gossip Girl and American Idol-not to mention references to such reality shows as The Biggest Loser and Dancing With The Stars-make What To Expect When You're Expecting look and feel like nothing more (or less) than a superbly cast made-for-TV movie. A bundle of joy that's best experienced in a movie theater, this unfunny comedy is not.
RATING:
2 out of 5 spots ••
Share this story with your friends!
---
Help us make Spot.ph better!
Take the short survey
Load More Stories