MOVIE REVIEW: The Bourne Legacy
Movie guru Paul Daza finds out that Manila's role in the much-awaited action flick is even bigger than the filmmakers let on.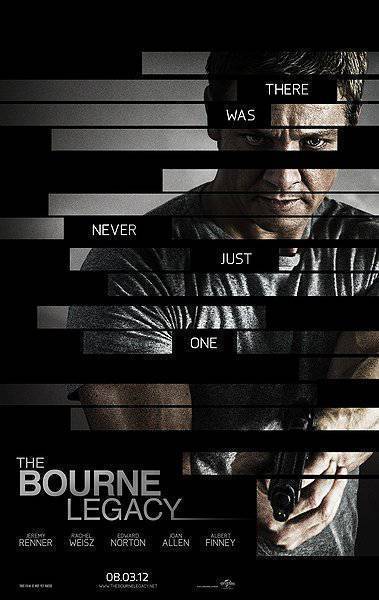 (SPOT.ph) The Bourne Legacy is an action-adventure-thriller whose events take place concurrently with those depicted in 2007's The Bourne Ultimatum. As Jason Bourne (Matt Damon, shown only in Legacy through photographs) unearths clues in London and New York about the secret government project that turned him into a ruthlessly efficient killer, his "creators" try to terminate the program and all those who know about its darkest secrets. Among those targeted because they know too much are virologist Dr. Marta Shearing (Rachel Weisz) and the program's fifth guinea pig, Aaron Cross (Jeremy Renner). Shearing and Cross' fierce desire to stay alive brings them to the atmospheric streets of Manila, where a vital piece of the Bourne puzzle is located.
Pluses

The scenes shot in the Philippines...duh! Manila's role in The Bourne Legacy is even bigger than the filmmakers let on; the movie's entire third act is set in its streets, homes, alleyways, and rooftops. If you've ever wondered what our beloved city would look like on the big screen were it photographed using the best lights, lenses and cameras Hollywood has in its filmmaking arsenal, wonder no more. The crowded city's gritty, sweaty charm has been captured wonderfully and honestly by cinematographer Robert Elswit, who lights Manila for the silver screen exactly the way we "Manilans" see it for real every day and night.


And don't think that our fair city plays only herself in the film. An establishing shot that purportedly show Pakistan looks suspiciously like Manila. There's also a flashback set in a war-torn city featuring Edward Norton and Jeremy Renner that appears to have been filmed here, too. The Bourne Legacy gets one spot solely for the scenes shot in the Philippines.
ADVERTISEMENT - CONTINUE READING BELOW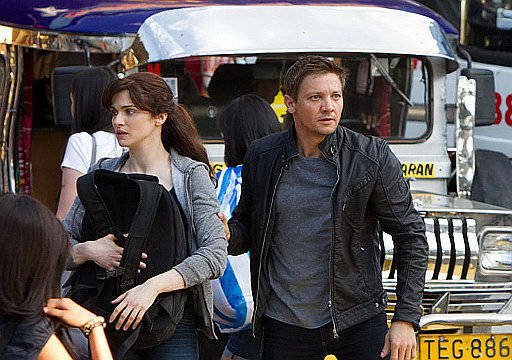 CONTINUE READING BELOW
Recommended Videos
Jeremy Renner's finally a star and a leading man! After making a splash through his Oscar-nominated work in the little-seen Academy Award-winning flick The Hurt Locker, Jeremy Renner began appearing in more mainstream Hollywood fare than arthouse indie flicks. The last few months alone have seen him provide crucial support in worldwide mega-hits like Mission Impossible: Ghost Protocol and Marvel's The Avengers. With his captivating work in The Bourne Legacy, Renner is now a bona fide star whose charisma has taken the Bourne franchise into exciting new territory.
Minuses
The talky first act. The Bourne Legacy begins with a haunting, underwater image that evokes the first shot of the franchise's launcher, 2002's The Bourne Identity. In Legacy, that shot paves the way for some quietly beautiful winter scenes in a mountain in Alaska that introduce Renner's Aaron Cross character. And then boredom sets in. The Alaska sequences are in turn intercut with scenes showing Retired Col. Eric Byer (Edward Norton) in a secret facility following Jason Bourne's trail. With lots of expository dialogue delivered by Norton, coupled with hardly any action in Renner's Alaska scenes, this has to be the dullest opening to a Hollywood action thriller ever. Only the addition of another character in Alaska (one who brings much-needed suspense and tension) and the anticipation for the Philippines-shot sequences will keep you from dozing off.  


ADVERTISEMENT - CONTINUE READING BELOW
There isn't enough action. What I especially admired about director Paul Greengrass' last two Bourne movies with Matt Damon was that they featured wall-to-wall action, the dialogue-heavy expository sequences always kept considerately short. The action in those movies- whether they were car chases or scenes showing Matt Damon exchanging gunfire with the bad guys or breaking their bones- would always be presented in a hyper-kinetic editing style that stitched together dozens of split-second shots for arresting visceral impact. In The Bourne Legacy, director Tony Gilroy, described in production notes as "the narrative architect behind the Bourne film series," reveals himself to be more comfortable with words than with whiz-bang action. As such, there's lots more chatter and less white-knuckle action here compared to the earlier Bourne movies. The good news is that the best action sequence- and by far the most memorable- is the climactic chase that takes place on the streets of Manila.        

The most beautiful shots showcasing the Philippines aren't identified as such. It's hard to imagine foreigners watching The Bourne Legacy and coming away thinking that Manila is a "beautiful" city they'd like to visit, considering what's shown of it in the movie. Legacy, however, tries to balance things out by showing a lovely aerial shot of our gorgeous islands and emerald waters at one point in the story. Alas, these shots aren't identified as having been taken in good ole' RP.
In brief:
Jeremy Renner proves himself a worthy successor to Matt Damon, and the effectivity of the Philippine sequences guarantee that The Bourne Legacy will perform spectacularly well at local multiplexes. Non-Filipino fans of the franchise, however, may be left wanting by director Tony Gilroy's "more talk less action" filmmaking philosophy.    


ADVERTISEMENT - CONTINUE READING BELOW
RATING:
4 out of 5 spots ••••
Check out the movie schedule for The Bourne Legacy here.

Share this story with your friends!
---
Help us make Spot.ph better!
Take the short survey
Load More Stories