5 Wilson Phillips Songs We Can't Wait to Hear
Who's excited about the 90s girl-group's Manila concert?
(SPOT.ph) It was the time before Adele-or iTunes, for that matter-and teenagers of the early 90s had one source for catchy chick music laden with angst: Wilson Phillips. The three-girl group, made up of Carnie and Wendy Wilson and Chynna Phillips, churned out songs about love and heartbreak that were so easy to relate to that most of the tracks from their debut album became anthems for that generation's emo teens-imagine their glee when the pop group made a surprise appearance in the 2011 comedy, Bridesmaids.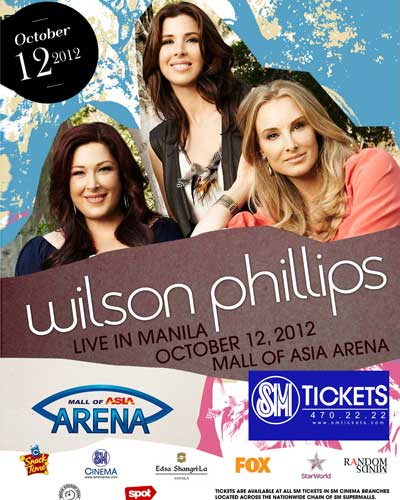 That's right, the group is coming to Manila on Octber 12 for a one-nighter. We list five songs we can't wait to hear them perform:

5. "Wouldn't It Be Nice" A track from Wilson Phillips' brand new album, Dedicated, which features covers of songs by classic pop rock bands, The Beach Boys and The Mamas & The Papas. Carnie and Wendy Wilson's father, Brian Wilson, was part of the Beach Boys, and Chynna Phillips' mama and papa, Michelle and John Phillips, were members of The Mamas & The Papas.

LSS-worthy Lyrics: "Wouldn't it be nice if we could wake up/In the morning when the day is new/And after having spent the day together/Hold each other close the whole night through."
4. "Release Me" If you've ever had an on-again, off-again relationship, this song is for you. This single, the second one released by the band, is one of the five tracks from their debut album that hit number one on the Billboard charts.

LSS-worthy Lyrics: "Come on baby, come on baby/You knew it was time to just let go/'Cause we want to be free/But somehow it's just not that easy."
ADVERTISEMENT - CONTINUE READING BELOW
3. "You Won't See Me Cry" It didn't work out, but that doesn't mean he has to see how sad you are about it. A track from the band's platinum second album, Shadows and Light, the song also made it to number one on the Billboard charts.

LSS-worthy Lyrics: "You won't see me cry/You know I decided that I'm gonna pull myself together/And find a way to fight it even if I have to hide it."

2. "You're In Love" The ultimate "dumped in the friend zone" song.

LSS-worthy Lyrics: "You're in love, that's the way it should be/'Cause I want you to be happy/You're in love, and I know/That you're not in love with me."

1. "Hold On" The first song the band ever released, this was a hit worldwide, probably because of its uptempo melody and "you go, girl" lyrics about holding on for one more day.

LSS-worthy Lyrics: "Someday somebody's gonna make you wanna turn around and say goodbye/Till then, baby, are you gonna let 'em hold you down and make you cry?/Don't you know things could change, things could go your way/If you hold on for one more day."


Photo by Jeremy Cowart, courtesy of Sony/Ivory Music and Video
Load More Stories