MOVIE REVIEW: The Campaign
Did SPOT.ph movie critic Paul Daza give this an aye or a nay?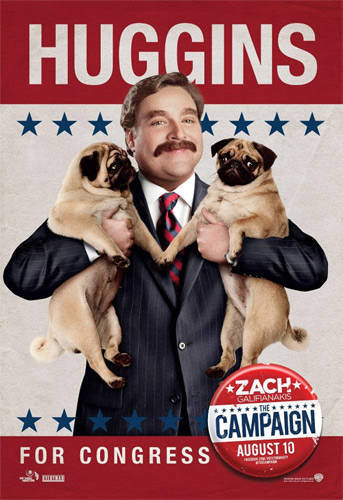 The prissy tourism director Marty Huggins is played by Zach Galifianakis.
(SPOT.ph) It's a few weeks before North Carolina elects a new congressman, and multi-term Democrat incumbent Cam Brady (Will Ferrell) is running unopposed. But when he accidentally leaves an obscene message on the answering machine of one of his constituents, the powerful businessmen who previously funded Brady's re-election abandon him and throw their support behind a Republican candidate with zero political experience:  the soft-spoken and prissy tourism director Marty Huggins (Zach Galifianakis). With the help of a ruthlessly efficient campaign manager (Dylan McDermott), Huggins becomes a surprisingly worthy opponent to Brady, who wants to win the election so badly that he'll use every underhanded trick in the book to discredit his rival.
Watch the trailer here.
Pluses:

The C3PO-R2D2 pairing of Will and Zach. Before this movie, I liked Will Ferrell as much as I despised Zach Galifianakis. Thanks to The Campaign, though, I've finally learned to appreciate the latter. The body language, posture, and voice Galifianakis  brings to his prissy portrayal of Marty Huggins is hilarious, perfectly complementing Ferrell's towering, foul-mouthed macho bully. And going back to the Star Wars droid analogy, it's the short and pudgy half of the duo who's the effeminate one this time.

The raunchy dialogue and situations. I don't normally like it when talky scenes take center stage in movies, but when foul and filthy lines are delivered by ace funnyman Ferrell, resistance is futile. Among the sewer-licking, lol lines here are the sexually-charged voicemails Ferrell leaves for his mistress, the trash talk he uses to intimidate Galifianakis in a public appearance, and the venom Ferrell spews when he's bitten by a snake at a religious gathering. Less vulgar but no less funny are the naughty dinner confessions of the plus-sized boys who play Galifianakis' sons. In the USA, The Campaign is rated R "for crude sexual content, language and brief nudity," and only those who are 18 years and older can see the movie. In the slightly more permissive Philippines, the movie is rated R-13 by the MTRCB, which means that viewers 13 years and older can watch it even if they aren't accompanied by an adult. (With or without an adult companion, however, those who are 12 and younger won't be allowed in the theater.)

ADVERTISEMENT - CONTINUE READING BELOW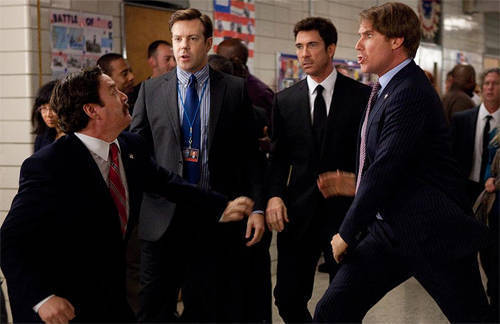 It's a Brady-Huggins war and it can get physical!
CONTINUE READING BELOW
Recommended Videos
Filipinos are again mentioned and seen in a Hollywood film! First, Sacha Baron Cohen did a really bad impersonation of us in his satirical comedy, The Dictator. Then three weeks ago, colorful, stinky, gritty Manila and hundreds of its inhabitants were showcased in the last 25 minutes of the thriller, The Bourne Legacy. Now comes The Campaign, a timely election-comedy starring two of Hollywood's funniest men. The good news is that a dozen or so Pinoys get a few seconds of precious screen time even before the title of the movie is displayed onscreen. The bad news? The one-note gag is already in the trailer.

The woman who talks outside her ethnicity. One of my favorite supporting characters in Adam West's Batman TV series from the '60s was the henchman of the cowboy villain, Shame. What was hilarious about this goon was that he was a Mexican who spoke with a British accent. In The Campaign, there's a character who similarly mines comic gold by speaking an accent that's absurdly incongruent with her ethnic background. She only appears three times in the movie, but all her appearances are rib-ticklers.

Dylan McDermott. As the scary campaign manager who gives Galifianakis' character a total makeover to give him a fighting chance at winning the election, McDermott makes quite an impression here. If Tim Wattley, the character he plays in The Campaign actually existed, he'd have no shortage of clients.

The dogs. Caught in the comedy crossfire of the Brady-Huggins war are three canines:  including an adorable pair of pugs who become ostracized because of their Asian heritage, and the dog that became famous for his role in Oscar-winning film The Artist. What befalls them is bound to make you say, "Awwww."

ADVERTISEMENT - CONTINUE READING BELOW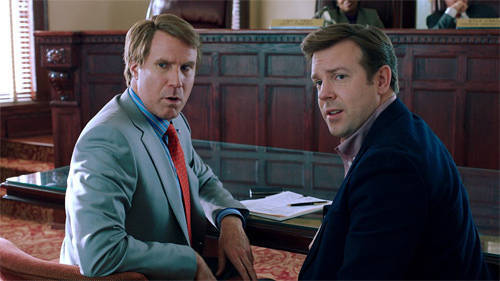 Cam Brady, portrayed by Will Ferrell, is the multi-term Democrat willing to do everything to win another election.
Minuses:

Some gags are too American. As an exaggerated, satirical riff on US election politics, of course there are gags and characters that non-American viewers (like me) simply won't get. The wealthy Motch brothers played by John Lithgow and Dan Aykroyd, for instance, are reportedly caricatures of a pair of true-to-life siblings who are influence peddlers in Washington, DC. Jews are also used as punchlines a couple of times. And as he did in Talladega Nights, Ferrell says things in the movie about Jesus which might upset Christians. In one scene, Ferrell tries to convince Christian voters that he knows the Lord's Prayer, when it's hilariously clear that he doesn't.

In brief:

The first ever pairing of Will Ferrell and Zach Galifianakis is a topical and timely comedy whose raunchy, slapstick gags hit more often than they miss. With 2013 election fever already dawning in good old RP, The Campaign provides a funny foretaste of the dirty tactics and scandalous revelations that will keep us riveted and entertained in the months to come.
ADVERTISEMENT - CONTINUE READING BELOW
RATING:
3½ out of 5 spots •••.


Check out the movie schedule for The Campaign here.
Share this story with your friends!
---
Help us make Spot.ph better!
Take the short survey
Load More Stories