I Do Bidoo Bidoo: All Together Now
It's the first Pinoy musical movie! It's APO! It's fun!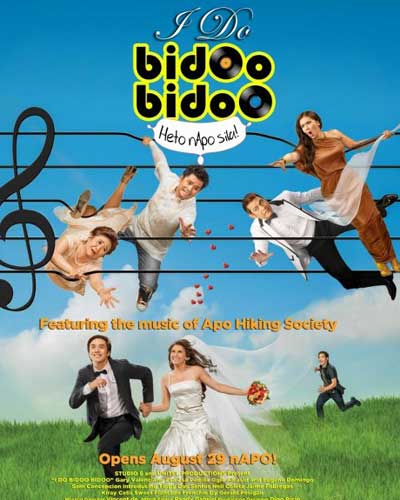 (SPOT.PH) Finally, an OPM musical! For a country that loves music and loves to sing and loves love-why did it take this long to come up with a movie with people bursting into song and dance in mid-conversation? (Don't you wish you could do the same in real life?)
Never mind about our fragmented cultural identity chuchu and the sad state of arts in this country. There's enough to worry about as it is, and so we seek comfort where we can get it.  There's something awfully comforting about knowing the music and lyrics of a song, and there's a random joy in being able to sing along.
This familiarity is the most powerful charm of I Do Bidoo Bidoo, the new musical inspired by the songs of the Apo Hiking Society written and directed by Chris Martinez (and produced by Unitel and Studio 5). It is, at the core, a common story with a simple plot: middle class boy falls in love with rich girl, their families clash, in the end there is a happy ending. Tension is a necessary ingredient for drama and there is a lot going on between the young lovers and their aggravated parents. Using this classic arc, Chris Martinez weaves in some of the best Apo hits and throws in a couple of really inspired musical numbers performed by a stellar cast. The results are thoroughly enjoyable. This is a fun movie-there's no need to over think it-and that should be its biggest draw.
ADVERTISEMENT - CONTINUE READING BELOW
I also happen to like the comedy writing of Chris Martinez and the comedic timing of Eugene Domingo, who plays Rose Polotan, hardworking caterer and wife to Pol (Ogie Alcasid), erstwhile composer who has all of one hit song ("Pumapatak Ang Ulan"). Their son Rock (Sam Concepcion) knocked up his adorably tisay sweetheart Tracy Fuentebella (Tippy Dos Santos) and so the Polotans have to meet the über-sosyal Fuentebellas: Nick (Gary Valenciano) and Elaine (Zsa Zsa Padilla) who live unhappily in a big house on a sprawling, multi-gated property. The two families could not be more different: the Polotans live in splendidly printed middle class bohemian chaos, while the Fuentebellas have a battalion of ballerina yayas collectively called Inday, wearing coordinated neutral outfits cleaning the spotless Filipino modern mansion.
The pamamanhikan scene is brilliant: there's Tracy's lolo, a retired general (Jaime Fabregas, in truly fine form) a master of old fashioned metaphoric speech, initiating an awesome salawikain battle that segues into one of the most charming numbers in the movie ("Salawikain"). Chris Martinez writes some wonderful characters, among them a lovable deadbeat dad with a poet's soul who is still hot for his sometimes shrewish wife, two women on the verge of a nervous breakdown, and an awesome gay best friend (Neil Coleta) who gets to sing "Mahirap Magmahal ng Syota ng Iba" in one of the movie's most poignant moments. The young romantic leads Sam Concepcion and Tippy Dos Santos are completely cute and ever so slightly bland-it could be youth that makes them so-but have lots of promise. OPM stalwarts Ogie A, Zsa Zsa P, and Gary V all look and sound fabulous, but it is the non-singer Eugene Domingo who distinguishes herself as she literally bares herself (overexposed ba talaga?) in this part-palengkera, part-dakilang ina turn. She makes a fierce angry misis. You don't want to get stuck in a cab with her.
CONTINUE READING BELOW
Recommended Videos
The rest of the movie is a fun ride, from the cheeky production design of Digo Ricio to the drunken karaoke bar stylings of John Lapus. Except for the slightly boring musical arrangements, everything else is in the right key-the key of let's all sing along.
OPM is so not dead. (Neither is disco.)  


Share this story with your friends!
---
Help us make Spot.ph better!
Take the short survey
Load More Stories