The Other Women: 10 Types of Movie Mistresses
These "third parties" seem to be regulars in Pinoy flicks.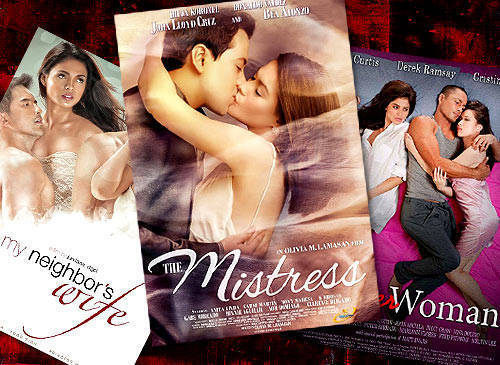 (SPOT.ph) For a country where most people are tagged as devout Catholics, we sure have a lot of movies about adultery. In these movies, the other woman gets to steal a lot of scenes. But relax, we're not out to glorify or demonize kabits. That fire-and-brimstone stuff isn't our job. We've just rounded up some of the most memorable movie kabits and categorized them for your convenience (in no particular order). Yes, folks, it's time for brainless fun once more. (Warning: This article contains some spoilers.)

ADVERTISEMENT - CONTINUE READING BELOW
CONTINUE READING BELOW
Recommended Videos
The Accidental Kabit
The set-up: In the 2011 flick My Neighbor's Wife, party animal Giselle (Lovi Poe) engages in a one-night stand with Bullet (Jake Cuenca), who is married to the saintly Jasmine (Carla Abellana). Bullet is also the friend of Giselle's husband Aaron (Dennis Trillo).
The analysis: It's a case of "familiarity breeds kabit" when it comes to Giselle. Jasmine didn't see her as a threat because she was married to Bullet's friend. Then, one night, the opportunity for infidelity presented itself to Giselle and Bullet and they took it. To be fair, Giselle is a hapless kabit who didn't plan on snagging her friend's man. It's just that her self-control and sense of right and wrong became "flexible" when she got drunk (conveniently so).

The Technical Kabit
The set-up: In 1982's Relasyon, working woman Marilou (Vilma Santos) shacks up with Type A personality Emil (Christopher de Leon), who is estranged from his wife with whom he has a son. Emil's wife and son know about Marilou and they're OK with her living with him. Even Marilou's parents know about their arrangement. There are no wife-versus-mistress confrontations in this movie.
ADVERTISEMENT - CONTINUE READING BELOW
The analysis: Marilou has accepted her "I'm almost his wife except his first marriage isn't anulled yet" status. She has no pretensions and doesn't demand much from Emil. In fact, she really is just like his wife. But then Emil suddenly dies. On paper, he's still married to his first wife so she gets to make all the decisions about his remains and his estate. This type of kabit is a "wife without benefits."

The Martyr Kabit
The set-up: In the 2007 flick A Love Story, a cougar-age doctor named Joanna (Maricel Soriano) hooks up with alleged reformed 30-something rake Ian (Aga Muhlach), who is married to a much younger flight attendant named Karyn (Angelica Panganiban). Ian tells Joanna he really loves her but he's still pretty much into his wife.
The analysis: Joanna chooses to let go of Ian because she feels that his wife needs him more. Besides, Karyn also used her tears (coupled with a pregnancy annoucement for good measure) to appeal to Joanna's good sense. For the record, Ian was prepared to leave his wife and yet-unborn child behind so that he could be with Joanna. The lesson we learned from Joanna is this: "It's easier to lose when you know you were actually supposed to win." Not that we're condoning infidelity or anything.

ADVERTISEMENT - CONTINUE READING BELOW
The Material Girl Kabit
The set-up: In 1999's Mister Mo, Lover Ko, voluptuous Maita (Glydel Mercado) has snagged businessman Ford Punongbayan (Eddie Gutierrez), who is married to quintessential lady-who-lunches Melody (Elizabeth Oropesa). Maita is an unapologetic vixen who wants Ford to ditch his wife and worship her and her alone.
ADVERTISEMENT - CONTINUE READING BELOW
The analysis: It's not that Maita's head-over-heels in love with Ford. She's just after his money. She wants all stereotypical mistress baubles (house, car, jewels) and is not afraid to ask. Her mistake is that she doesn't make sure that all the properties are actually in her name. When Ford dies, she is rendered destitute. Then again, you don't exactly feel sorry for her. (By the way, in real life, Glydel Mercado married Eddie Gutierrez's son by Liza Lorena, Tonton Gutierrez.)

The High Society Kabit
The set-up: In the 2011 movie No Other Woman, fiery heiress Kara (Anne Curtis) leads restless Ram (Derek Ramsay) into temptation. He says he loves his wife Charmaine (Cristine Reyes) and Kara just laughs it off. She promises him a no-strings-attached affair.
The analysis: Aside from engaging in illicit sex, Ram and Kara are also doing business together. Her family owns a resort and they're buying furniture from his company. Despite Kara's ballsy initial claim, she falls in love with Ram and even begs him not to leave her. Kara gets the standard wifely sabunot-sampal-sigaw retaliation from Charmaine. Ram still chooses Charmaine. Kara flies back to New York.

ADVERTISEMENT - CONTINUE READING BELOW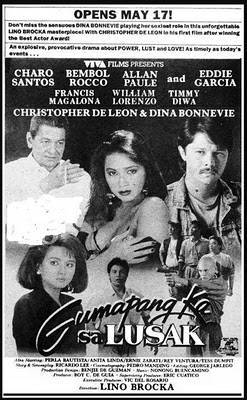 The Heavy Baggage Kabit
The set-up: In the 1990 movie Gumapang Ka sa Lusak, comely Rachel (Dina Bonnevie) is forced to be the mistress of Mayor Edmundo Guatlo (Eddie Garcia), who is married to the beautiful-yet-scary Rowena (Charo Santos-Concio), who is even more ambitious than he is. Rowena tolerates Edmundo's immoral shenanigans. Rachel is not a mistress by choice, as she only agreed to the arrangement because she was afraid Edmundo would make life a living hell for her.
ADVERTISEMENT - CONTINUE READING BELOW
The analysis: As the elections draw near, Rowena orders Edmundo to dump Rachel. Seeing the opportunity to make lemonade out of lemons, Rachel says she'll only go quietly if Edmundo makes sure that the man she loves, Levi (Christopher de Leon), is released from prison. Edmundo agrees to pull the necessary strings to get Levi out. Once that happens, Edmundo demands something in return for his "kindness." He asks Levi to kill his political rival. This type of kabit-without realizing it-specializes in making life more complicated.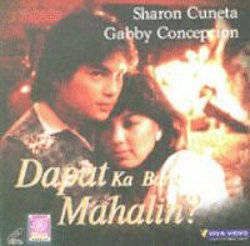 ADVERTISEMENT - CONTINUE READING BELOW
The Convenience Kabit
The set-up: In 1984's  Dapat ka Bang Mahalin?, Myrna (Sharon Cuneta) marries Lito (Gabby Concepcion). The stress of being a young husband gets to Lito, who's basically a spoiled brat. While Myrna grows up fast and makes wise moves, Lito resorts to whining. To escape domestic pressures, Lito runs to Glacilda (Chanda Romero).
The analysis: Lito doesn't love Glacilda, he's just using her to avoid his responsibilities. With her, he doesn't have to be the "man of the house" because she's not his wife. The foundation of their relationship is hedonism and that's all there is to it. At some point, Glacilda attempts to be more than just a forgettable kabit to Lito, but nothing materializes from it. She's not exactly the nurturing type.

Are you sure you want to delete this list?

Load More Stories