Pridyider : Or, Stay Away From The Fridge
Rico Maria Ilarde's full-length remake is a scary and deeply stylish horror movie that will stay with you long after you've left the cinema.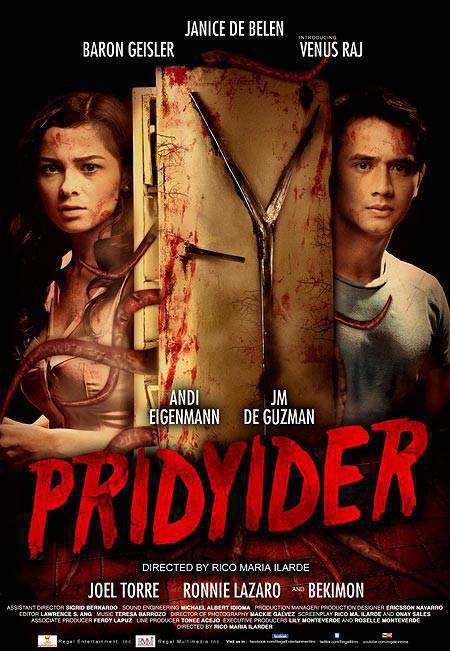 (SPOT.PH) I like to check the fridge in the middle of the night for some renegade snacking. After watching Poltergeist, I was terrified the television set would start talking to me, and now thanks to Pridyider the joy of late night fridge visits is much diminished for me. (This is actually a good thing because I have no business snacking in the dark.) Using the ol' haunted appliance story line underscored with a deeper, darker, and much more essayed explanation of evil, Rico Maria Ilarde's full length remake of the iconic Ishmael Bernal Shake, Rattle & Roll episode is a scary and deeply stylish horror movie that will stay with you long after you've left the cinema. You will remember it right before you open the fridge and peer inside.
Andi Eigenmann plays Tina Benitez, a young girl coming back from years of living in San Francisco with her aunt. Mysterious circumstances surround the disappearance of her parents, both presumed dead, and the only link Tina has with them is the old family house, always surrounded in mist, sitting on top of the hill. She comes home to a kind of cool 1970s house (as usual, Ericson Navarro's production design in spot on, kitschy and creepy, successfully recreating the old house from the 1984 version) with a big old refrigerator which begins to literally eat everything in sight, like the cat of her fabulous neighbour (Venus Raj playing a seemingly kooky version of her fabulous real self). Soon Tina seeks the help of her hunky construction firm owner slash childhood friend (JM de Guzman, who can do no wrong in my eyes) and even the local police, priest, and albolario-but the damned fridge is at it again.
ADVERTISEMENT - CONTINUE READING BELOW
It's not really a remake, I correct myself, because although it shares Janice de Belen (she's an icon after all and I'm so happy about the resurgence of her career) and the titular evil fridge-the new Pridyider stands on its own as a horror film.
While Bernal's Pridyider was a seedy psycho-sexual tale of a young girl's obsession with a haunted object-Ilarde's version is terrific: spilling with blood and guts and shadowy lighting, classic scares, and decent special effects. Nicely shot and intelligently staged, this movie is visually convincing and consistent, which is so hard to do for a horror film especially when you're working against the forces of time and budget. Ilarde's screen play, co-written with Rona Lean Sales (who also wrote the well-received Shake, Rattle & Roll 12 episode "Punerarya"), uses the ideal structure for horror, scaring at the right moment and unravelling at a great pace.
Every character is a caricature, but a lovable one: Joel Torre is the quintessential mysterious father figure; Ronnie Lazaro is the most amazing one-eyed renegade inspector living in the woods you will ever see. Baron Geisler is the douchiest douche bag of a boyfriend. And even Venus Raj and her gay maid (Bekimon) provide some weird camp factor-they are literally watching Joey Gosiengfiao's Temptation Island while the battle between good and evil rages on next door. Best of all, there's Andi Eigenmann, who has her father's acting genes and her mother's preternaturally calm and beautiful face. I hope she gets more roles-good ones-because she is the young actress to watch. Smart of them to cast her in this movie.
CONTINUE READING BELOW
Recommended Videos
And smart, smart, smart of Regal Films to keep making money off their old titles! They are learning to reuse and recycle. I mean, why not? They did it right with Temptation Island (the 2011 version of Chris Martinez was a hit) and they did it right with Pridyider. By hiring the underrated Ilarde and allowing him enough freedom (probably just enough) to exercise his horror film muscle, Regal has managed to infuse new life into the old ref-translating a classic of Philippine cinema into an entirely fresh haunting of its own. Go and see it this weekend!
P.S.  Remember Janice?


Share this story with your friends!
---
Help us make Spot.ph better!
Take the short survey
Load More Stories