MOVIE REVIEW: Ted
Rude, offensive, gross, and foul-mouthed...and uncut!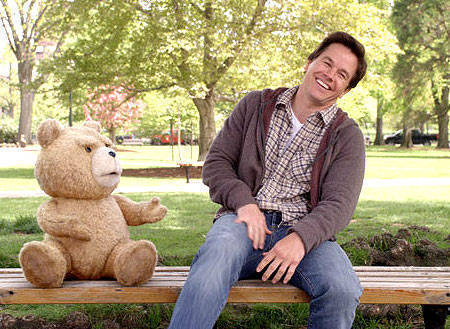 (SPOT.ph) Rated R-18 by the MTRCB, Ted is a raunchy, live action/CG animation hybrid. It begins at a Boston suburb in 1985 when a friendless 8-year-old named John Bennett wishes one night that the teddy bear he received for Christmas would talk. Miracle of miracles, Ted does start talking (and walking) the next day, and he and John quickly become best buddies. Fast forward 27 years later, to the present. Ted (voice and motion capture performance by MacFarlane) and John (Mark Wahlberg) are now adults though not necessarily more mature. They're still best friends and living in the same house. But John's long-suffering girlfriend Lori (Mila Kunis) isn't amused by the bromance. One day, she tells John that it's either her or Ted. Who will John choose- his girlfriend of four years, or his best friend of 27 years?
Pluses:
The Family Guy connection. Ted is co-written, produced, and directed by Seth MacFarlane, the enormously talented creator of the animated TV series Family Guy, which I adore. And so, I came to the film with high expectations and a clear idea of what to expect, and I wasn't disappointed. Rude, offensive, gross, and foul-mouthed, Ted is an outrageously original comedy from one of Hollywood's most creative contemporary talents.

Ted himself. The movies that stay with you are those that show you something you've never seen before. The 2004 marionette comedy Team America (from the creators of South Park) is in my mind forever because of that side-splitting sex scene involving the male and female lead puppets. After that, I thought that nothing a toy did in any movie could make me laugh so hard. Now comes the cute and cuddly but potty-mouthed Ted to prove me wrong. Animated by MacFarlane's voice and motion capture performance, the adorable bear made me lol repeatedly simply by saying four-letter words to his boss
and more elaborately, humping a human co-worker. You want something even more outrageous? Try not to laugh in the scene where Ted appears to be sprinkling himself with a sticky body fluid in slow-motion while flirting with a young woman.
ADVERTISEMENT - CONTINUE READING BELOW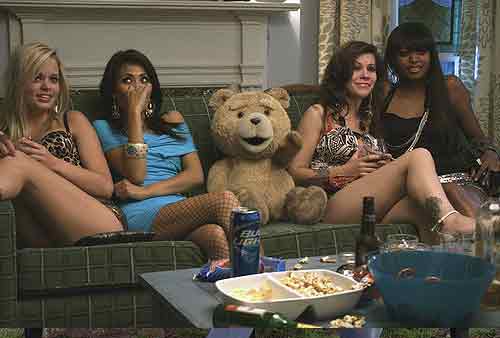 It's rated R-18...so there are no cuts! Following the deplorable cuts made to such recent theatrical releases as The Raid: Redemption and Dredd, let's all thank Solar Films for releasing Ted in all its raunchy, uncut, Rated R glory without cuts! I shudder to think what version of Ted we would have ended up with had Solar decided to release an R-16, R-13, or PG 13 version of Ted. Thanks to the MTRCB's R-rating, we can all see what a teddy bear simulating oral sex looks like, and contemplate such things as a prostitute's poop and a famous athlete's testicle.

It's not just a comedy. That writer/director Seth MacFarlane loves all kinds of movie genres is clear because Ted also comes with drama and suspense. One shot that sneaks up on you because of a kidnapping subplot is straight out of a horror movie and even made me jump in my seat!

Patrick Stewart's foul-mouthed voiceover. As absurdly hilarious as listening to a cute teddy bear drop a bunch of F-bombs is hearing the voice of Shakespearian actor Patrick Stewart spew four-letter words in his narration. Where else but in Ted can you hear the voice of Captain Jean-Luc Picard insulting a Twilight Saga superstar?

The nostalgic 80s references. The 80s are my favorite pop culture decade, and I'm thrilled when filmmakers I admire reveal their affection for the same things I enjoyed. The story of Ted- a lonely boy wishing for a best friend and getting one under extraordinary circumstances- is clearly inspired by E.T. The Extra-Terrestrial. E.T. aside, there are also nods to such 80s touchstones as Airplane, Indiana Jones, Flash Gordon, Johnny Carson's Tonight Show, and lots more.
ADVERTISEMENT - CONTINUE READING BELOW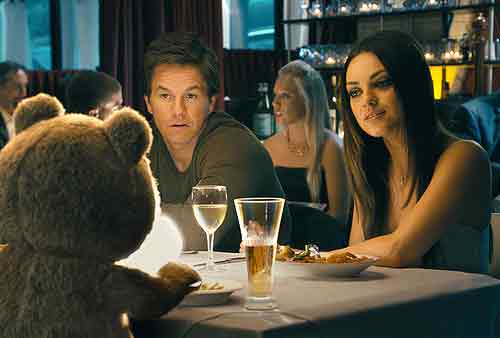 Minuses

The Family Guy connection. If you don't like Family Guy, no way are you gonna be amused by Ted.

Something here is bound to offend you. Sprinkled throughout Ted's 100 minute running time are punchlines directed at Jews, Christians, Mexicans, child stars, and faded Hollywood celebrities. There's even a scene where Mark Walhberg cites the 57 most commonly used white trash girl's names, and I shudder to think how a lady whose name was on that list would have reacted to the gag. As for me, the one celebrity putdown I didn't laugh at was the one about Brandon Routh, star of Superman Returns. I didn't laugh simply because I liked Superman Returns as much as MacFarlane despised it.

IN BRIEF: If you're an adult who enjoys PG-rated animated TV shows like American Dad and Family Guy, you're guaranteed to have a good time with Ted, which is what you get when you allow Seth MacFarlane to push the boundaries of what a "For Adults Only" comedy will allow.
ADVERTISEMENT - CONTINUE READING BELOW
Rating: 4 out of 5 •••
CONTINUE READING BELOW
Recommended Videos
Share this story with your friends!
---
Help us make Spot.ph better!
Take the short survey
Load More Stories