Give Up Tomorrow: Never Give Up
<em>Give Up Tomorrow </em> provokes strong reactions from the audience: anger, compassion, debate.
The documentary Give Up Tomorrow traces with clarity and detail the story of Paco Larrañaga, a boy who was convicted of a heinous crime committed in Cebu in July 1997: the rape and murder of two sisters, Marijoy and Jacqueline Chiong. It opens with a shot of Paco in jail. His calm demeanor belie the despairing eyes of a man who was arrested at 19 years old and a decade and a half later, is still imprisoned despite his professed innocence. "Who do you think framed you?" asks an off-screen interviewer. Drug lords backed powerful politicians, corrupt policemen, a flawed justice system-it all sounds like a bad action movie set in some banana republic-las Filipinas ultramar-but it is real. Welcome to the Philippines.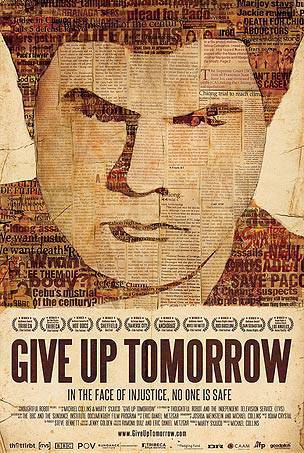 ADVERTISEMENT - CONTINUE READING BELOW
Larrañaga's story is shocking to this very day. Arrested in September 1997, the documentary presents in a compelling and linear manner a very controversial and complicated case. They use interviews, news footage, documents, and unexpectedly lovely shots of unlovely places like prison walls and shanties on the banks of the Pasig River. It was a painstaking process for first time director Michael Collins and producer Marty Syjuco. In 2004, Marty was shocked to find out that Paco Larrañaga's sentence-for kidnapping but not rape or homicide-was elevated to the death sentence by the Supreme Court. (His brother is married to Mimi Larrañaga, the sister of Paco.)
They decided to start on a documentary about the case, and it took them five years of shooting and research-they smuggled a camera into the notorious Bilibid Prison, where Paco was incarcerated. They spent another two years of editing the ton of footage they had gathered. Several months into the editing process, Paco Larrañaga was transferred to Spain in 2009 under the Prisoner Exchange Treaty. They shot again for another month and went back into editing. Finally in 2011, the documentary was done-Paco Larrañaga was spared from certain death and sent to prison in his father's homeland. In truth, his story is far from over. The transfer to Spain does not solve Paco Larrañga's problems. Yes, he is alive and living in relatively better conditions in a Spanish prison-but he is still in jail. "We have to focus on this boy's innocence," says journalist Solita Monsod in the film.
ADVERTISEMENT - CONTINUE READING BELOW
From the premiere at the Tribeca Film Festival in 2011, where it won the audience choice award to the recent commercial release in theatres in Manila and Cebu, the film provokes strong reactions from the audience: anger, compassion, debate. The obvious thing, of course, is the injustice surrounding the case-not only towards those falsely accused but also for the tragic Chiong sisters whose true fates we will never know. (The body of Marijoy was recovered, battered beyond recognition, while the body of Jacqueline was never found.) The camera does not lie in this documentary and one can see the transparent emotions that come over some of the interviewees: the dead expression on the face of Dionisio Chiong, father of the victims; the implacable faces of various policemen who remember the details of the case only vaguely ("I should be careful," says one of them, as if to himself); or the bewildered sorrow of Paco's aging father; or the frustration of Mimi Larrañaga for her brother's case. The film captures so well the chaotic and often irrational nature of life on these islands: the strange judge and his suicide, the made-for-TV re-enactment of the alleged crime, and in one particularly precious sequence, the courtroom drama when all hell breaks loose as the sentence is read out loud. Suddenly a woman is screaming that she is channelling the spirit of one of the dead girls.
ADVERTISEMENT - CONTINUE READING BELOW
It may all seem unreal, even "Kafkaesque" to those who are far removed from the Philippines. But for those of us who are here to witness the deeply rooted culture of corruption and impunity, Give Up Tomorrow awakens us to the reality of how royally fucked up things are. People are killed every day and we never expect to catch the killers. No one is exempted from injustice. Anyone can become a victim. It is a chilling thought.
Thelma Chiong, mother of the missing girls, recently aired her views about the documentary. She does not think it will change opinions of about Paco's guilt and that they had the wrong title-because she believes that Paco Larrañaga has no tomorrow. Perhaps this is where she is wrong. Fifteen years after the arrest, Paco Larrañaga continues to serve out his sentence and maintains his innocence. With a film like this behind him, changing minds, and creating awareness-there is a chance that those who are in a position to make changes will step up and do it. If you are that person, watch this film and make that change happen.
ADVERTISEMENT - CONTINUE READING BELOW
***
Give Up Tomorrow is on extended run this week in Greenbelt 3 and SM Cebu. It opens on Friday in Eastwood Cinemas and Promenade Greenhills on October 12 to 14, on October 17 to 23 at the Gateway Cineplex. For more information, check http://www.facebook.com/giveuptomorrow?fref=ts






CONTINUE READING BELOW
Recommended Videos
Share this story with your friends!
---
Help us make Spot.ph better!
Take the short survey
Load More Stories