Wilson Phillips, Without the Angst
The group talks about their upcoming concert, the girls of <em>Saturday Night Live</em>, and doing a strip tease onstage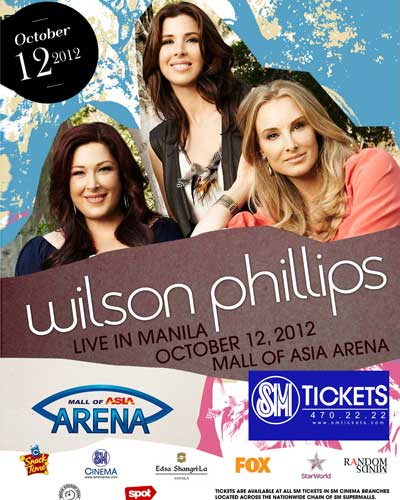 (SPOT.ph) They shot to fame with a song about knowing pain and holding on for one more day, so it was a fun surprise to learn that Carnie Wilson, Wendy Wilson, and Chynna Phillips of Wilson Phillips are pros at fielding questions with a candid, wry sense of humor.


The 90s pop trio is in Manila for a concert tonight, October 12, at the Mall of Asia Arena, and they spent a little time chatting with the press yesterday to talk about everything from their latest album, to their social networking habits, to the group's resident diva. Read on for more.
On what to expect from their concert
Chynna: A lot of love; we can't wait to connect with our fans in a way that we haven't been able to, ever. We've never been here and we can't wait to just meet them.

Carnie: We'll sing the hits, and we'll sing a variety-from all the albums that we've made. We're each gonna cook a special dish, we're gonna do acrobatics on the stage, we're gonna do a striptease...no, they'll do the striptease! (Gestures to Chynna and Wendy)

On their famous parents' influence on their music
Carnie: If it weren't for our parents, we wouldn't be in music. They gave us a love for harmony. Both the Mamas And The Papas and The Beach Boys had harmony in their music and that's really the core of our music, too.
ADVERTISEMENT - CONTINUE READING BELOW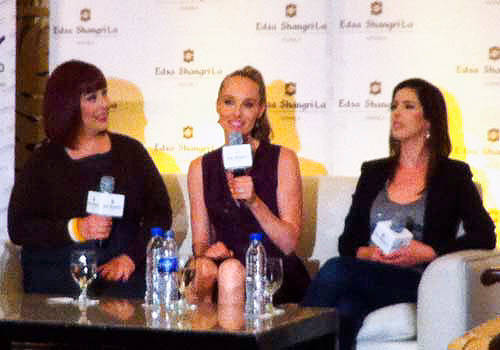 On what's it like to be married to a Baldwin (Chynna Phillips is married to actor William Baldwin)
Chynna: Intense. Funny; he makes me laugh. He's a lovely man. He's a great guy, he's a great dad, and he's a fantastic provider. He's just very committed to his kids and to his wife...you know, the other wife. (Laughs) He's a great guy. I love him very much.
ADVERTISEMENT - CONTINUE READING BELOW
On recording their latest album, Dedicated
Carnie: These songs are, in my opinion, some of the greatest songs ever written, and obviously very close to our hearts and our families, and they're beloved around the world. So we relied a lot on Rob Bonfiglio, my husband [and] our producer. He really took his time to feel it out and keep it organic and keep them somewhat true to the original versions, because you can't duplicate those. We didn't try to. We just thought of new harmonies, a few new arrangements but once we just put our vocals and our harmonies on them-and these tracks were pretty basic-that's where the magic came in. We tried to keep it simple; not over sing it or over produce it. "Good Vibrations" was another story. That was hard work. No music, just vocals. It was really, really, really tough and we were scared shitless to do it.


ADVERTISEMENT - CONTINUE READING BELOW
On whether they'll record another album
Chynna: We'll just keep coming back to the Philippines and sing here.
Carnie: We're hoping for an original record. We'll see how [the concert] goes.
Wendy: We've done several cover records in a row now, and I think it's time for an original record.
On what led to their appearance in the movie Bridesmaids
Chynna: We got a call from our management saying that we got an offer to have a cameo in a film. And we'd never been in a film before except when we were like four years old and we said, okay, why not? We had no idea what the plot was, what the storyline was, we just knew that Judd Apatow was producing the movie, and we knew these big actors were in there from Saturday Night Live and we were excited.
Carnie: We got to hang in the makeup trailer with all the girls. Everyone was having their makeup done at the same time and they were hilarious; we were laughing before we started filming.
ADVERTISEMENT - CONTINUE READING BELOW
On their favorite scenes from the film
Carnie: I like when she's shitting on the sink and she says, "Don't look at meeeeee!!!" Nothing is funnier than that scene, I'm sorry.
Chynna: I like when Kristen Wiig is driving by her boyfriend, and he's in the cop car, and she's watching him and hiding...it's very cute.
Wendy: There were so many funny scenes but when she was totally wasted on the airplane and insulting everybody? Very funny.
ADVERTISEMENT - CONTINUE READING BELOW
On what they were told to expect in Manila
Chynna: They prepared us for the love; they just said, "Oh, you're gonna have such a positive experience. Everybody there is so welcoming and so loving and so receptive. And that's been our experience thus far.


On the secret to their success
Chynna: The secret I think is definitely just the bond that the three of us share. The deep love that we have for one another and knowing that we have already lived a lifetime together and we have so many years ahead of us as friends. It's very emotional for us when we sing together; we start crying or we start laughing. You name it; the full spectrum of emotions comes up when we're singing on stage.
Carnie: At this stage of the music business, you don't make money anymore. We don't make money, we do this because we love to sing together.


ADVERTISEMENT - CONTINUE READING BELOW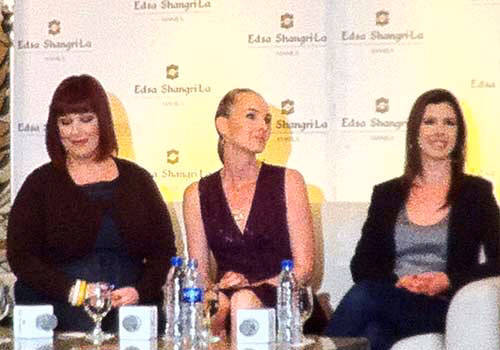 On the one question they least like being asked in their 22 years as a band
Carnie: "Who's the diva of the group?" They point to me. I don't know why. Why?
Chynna: "Do you feel like the only reason you have any success is because your parents are famous?" It just kind of puts a bad taste in your mouth. We've worked very, very, very hard for everything that we've achieved and we have never turned a blind eye to the fact that our parents are legends and they definitely helped open the door for us. We appreciate that and respect that.
Wendy: It's not annoying, but it's just funny to me that people ask, "Do you live together?" And I say, "No, we all have children, we're married."
Carnie: And they assume we're sisters! Someone said to me, "Are you Wendy Phillips?" And I just go, "Yeah..."
Chynna: Last night we were at the airport and the sign said, "Welcome, Mr. Phillip Wilson!" So we took a picture of it!

On whether they're active on Facebook or Twitter
Chynna: I'm big on Twitter. I do it every day. I love tweeting so anybody who wants to follow me, it's @chynnaphillips.
Carnie: I enjoy it. I think the whole thing's a big trip. It's a big mindfuck to me. I feel like it's a great opportunity for people to be able to connect but I also feel like there's a part of it that's really obnoxious, like "Look what I'm doing right now!" I think it's really trippy. I trip out...I almost feel like there's an invasion of privacy in a way, but it's really what you give to them. [For example,] the fact that we ran into Mini Me at the airport, we were very excited. So we tweeted a picture with Mini Me. And that was fun.
Wendy: I have to say I'm guilty of not going on Twitter or Facebook very often. Sorry about that. I'm a little busy!
Carnie: Four boys.
Wendy: But when I do, I actually do correspond with the fans and I get to know them.
Carnie: I miss the fan club and getting letters that people actually hand-wrote. Wendy and I used to sit and read hundreds of letters and call the fans, and they would never believe that we were calling them. I miss that. To me, that's the downside of [technology] today.
ADVERTISEMENT - CONTINUE READING BELOW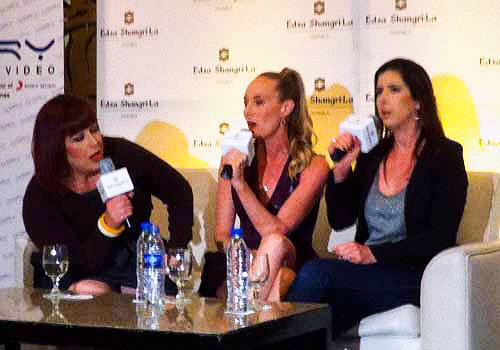 On the songs they love to perform live
Chynna: "You Won't See Me Cry." And "It's Only Life" is so fun live.
Carnie: I like "California Dreaming" a lot. That one to me is really powerful onstage. Really moving.


CONTINUE READING BELOW
Recommended Videos
Share this story with your friends!
---
Help us make Spot.ph better!
Take the short survey
Load More Stories