A Secret Affair's Anne Curtis, Derek Ramsay, and Andi Eigenmann on infidelity and second chances
The cast and crew talk about cheating, the popularity of adultery flicks, and Andi Eigenmann's <em>sampal</em>.
(SPOT.ph) Going by the box office tallies of The Mistress and No Other Woman, it might be safe to say that A Secret Affair will also be a massive hit. Not only is it the latest in a string of infidelity flicks, it proudly wears its progenitors on its sleeve. The trailer voice-over proudly proclaims, "From the producer and stars of the box-office hit No Other Woman" (not 100% true; Cristine Reyes was swapped out for Andi Eigenmann). It even continues the aforementioned movie's proud tradition of panalo one-liners. The current staff favorite? Jackie Lou Blanco's "I faked every orgasm," viewable in the uncut version of the trailer below.
Also of note: Jaclyn Jose's "You're just a bitch. I'm the queen bitch."
But, as the cast and crew of A Secret Affair were at pains to point out during a recent press conference, this movie is different. "It's more modern," says director Nuel Naval. "It's more for the young." The cast and crew sit down with Spot.ph to dish on the secret affairs behind A Secret Affair.
ADVERTISEMENT - CONTINUE READING BELOW
On the sudden popularity of adultery movies
Writer Mel Del Rosario: I disagree na "nauso." Yung issue of infidelity at yung mga love triangles, di naman iyan nawala. If you review the filmography of Viva, mga time nina Hilda, nina Vilma, yung Kapag Puso'y Sinugatan, yungBaby Maker-there's something about "triangle" love stories that appeal to Pinoys. Siguro mas napansin kasi big hit yung No Other Woman and then yung The Mistress.

On their movie roles
Anne Curtis: I really, really love Andi's role here! I wanted to do her role! But in a way it was challenging for me to play the other character, because I'm so used to playing a gray character. To do something more tame was so hard for me to control! Certain nuances, just the simple flick of an eyebrow, changes your character altogether. But I enjoyed playing the goodie-goodie. Filming the ending was very hard for me, in a sense that you know you want to cry already, but Direk wanted it to be almost controlled. Siyempre you want to cry pero bawal magpatulo!
ADVERTISEMENT - CONTINUE READING BELOW
Derek Ramsay: The big difference between this movie and No Other Woman is that here I'm a bachelor. I'm not tied down. In No Other Woman I started off happily married, very much in love. Here, I start off [as a] playboy, one-night-stands here and there...let's call it casual sex. But he wants to say goodbye to that life, he wants to be tied down and be married, but the mistake he makes is that love is not enough. Men f*** up all the time.
Andi Eigenmann: It was hard and it was challenging, but that was part of the reason I accepted this role. Gusto kong mababad sa mga tao na makatulong para mas gumaling ako at sa project na mate-test ang perseverance atsaka hard work. It's really out of the box for me because I've never done anything closely like this.

On the movie's sexy scenes
ADVERTISEMENT - CONTINUE READING BELOW
Director Nuel Naval: In the film, I showed two kinds of love scenes. Anne and Derek's love scenes were very romantic, very sensual, full of love and passion. Yung isang kind naman is wild and raw. Yun yung kay Andi and Derek. They do it anywhere.
Derek Ramsay: That other kind wasn't a love scene. Like I said, it was a (whispers into the recorder) f***!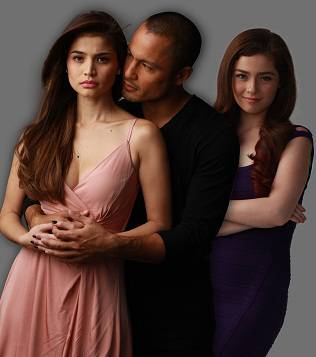 ADVERTISEMENT - CONTINUE READING BELOW
On infidelity
Nuel Naval: (Laughs) Personal question na 'to, a! As long as emotionally faithful ka sa isang tao...well, especially sa akin, the types of relationships that I've had, you don't expect na isa lang. Well, of course yun ang ideal! Pero alam mo yung, minsan, you get attracted to someone, pero ang mahal mo isa lang.
Derek Ramsay: Physical infidelity, emotional infidelity, magka-level lang iyan e. I think that if you make the decision of cheating on your special someone, not physically, but in here (points to the head), the relationship's gonna die anyway. Pumasok lang yan dun, mas masakit nga yun. Physical could be a mistake, but once it's here (points to head again), at mas lalo na dito (points to heart), then it's over.
Anne Curtis: I won't give the guy a chance to explain. Basta confirmed. Pag na-confirm ko nang bongga, wala na.
ADVERTISEMENT - CONTINUE READING BELOW
Andi Eigenmann: Of course, iisipin ng mga tao na "Awww, ang sama naman [ng character ni] Derek!" kasi he cheated and stuff like that. Pero they can justify it differently also. Each person does a certain thing for a reason and it's not because they're trying to hurt other people. If I were in [the situation of Anne's character], mas ma-a-understand ko siya.
On the big Derek-Andi sampal scene
Nuel Naval: It had to be real. I don't like faking it. Gusto ko pag tumama sa kanya, maramdaman niya. Pag alam ko di sinasagad ang sampal, kapag alam ko di nilalakasan, I do another take. Since it's film, andaming anggulo niya, so andaming beses sasampalin si Derek! Wow, and Andi, ang lakas niya talaga sumampal! Talagang bigay!
Derek Ramsay: Oh, yeah. Andi doesn't fake it. Sampal talaga kung sampal! I have a picture of her hand on my face after...siguro naka-tatlong sampal na siya nun. And then I text our Assistant Director: "Are you guys sure you want to shoot me today? Because I have this big red mark on my face." And then uminit, nag-rash pa yung buong cheek!
ADVERTISEMENT - CONTINUE READING BELOW
On snappy dialogue and creating Jaclyn Jose's one liners
Mel Del Rosario: In a script and screenplay, of course you have to start by building your characters and a solid story. And then pag na-build mo na yung character, eto, Anne['s character], sosyalera, [yung character ni] Derek, galing States, so Ingles-Inglesyan, sosyal-sosyalan. Pag pumupunta ka naman, kunwari, sa Fort, tapos yung mga ka-age nila yung andoon, lumakad ka lang sa Burgos Circle, chenelyn-chenelyn talaga sila magsalita!
Sa family naman [ng character] ni Anne, siya lang naman yung well-educated. Yung family naman niya dating magbababoy, may meatshop, napaunlad ang kabuhayan. So sila yung mayamang jologs. Kaya ganun ang diction ni Jackie.
CONTINUE READING BELOW
Recommended Videos
Share this story with your friends!
---
Help us make Spot.ph better!
Take the short survey
Load More Stories