MOVIE REVIEW: Argo
Can Ben Affleck join the ranks of legendary actor-turned-directors? Find out what movie guru Paul Daza has to say.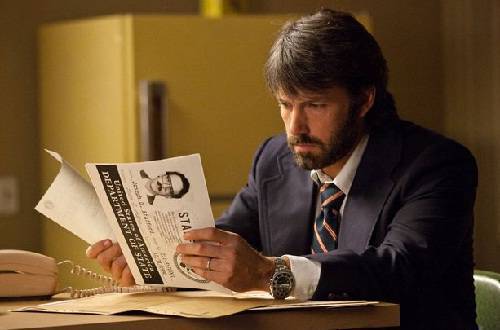 Ben Affleck plays director and lead for his latest film, Argo.
(SPOT.ph) Iran, November 1979. Hatred for the USA has reached its boiling point and Iranian revolutionaries storm the US embassy in Tehran and take 52 Americans hostage. During the melee, six Americans manage to escape and hide in the home of the Canadian ambassador. Based on a true story, Argo is a supremely suspenseful political thriller about the plan CIA "exfiltration expert" Tony Mendez (Ben Affleck) concocts to smuggle the six out of Iran. With the help of Oscar-winning makeup artist John Chambers (John Goodman) and movie producer Lester Siegel (Alan Arkin), Mendez's scheme is to convince Iranian authorities that the six American diplomats are actually a Canadian film crew scouting locations in Iran for a sci-fi adventure flick.
Watch the trailer here.

Pluses:
The fly-on-the-wall access to three fascinating real worlds. In telling its nail-bitingly good tale of the headline-hogging hostage crisis of 1979-1981, Argo transports its viewers to three heretofore hidden milieus: Iran, Washington DC, and post-Star Wars Hollywood. Because each of these forbidden worlds is fascinating in its own right, imagine a film based on a true story that shows you the machinations of all three milieus in one gripping package. Actually, you don't have to imagine it because Argo has done it magnificently. All you need to do is make the trip to the theater and soak in the violence, political intrigue, backstabbing and life-or-death decision making that went on in the corridors and offices of these impenetrable places.
ADVERTISEMENT - CONTINUE READING BELOW
The you-are-there cinematography and production design. Between director Ben Affleck and cinematographer Rodrigo Prieto, someone had the brilliant idea to use only half of each film frame that was used to shoot the Iran exteriors, then blow these up 200% during processing to increase graininess. The result is a film that looks decades more unsophisticated when compared to today's digitally-enhanced motion pictures, a look that gives Argo a documentary aesthetic and quickly immerses viewers in the depicted era. Add to this the flawless production design, costume design and hairstyling, and you have a film that's bound to get Oscar nominations in these categories come January.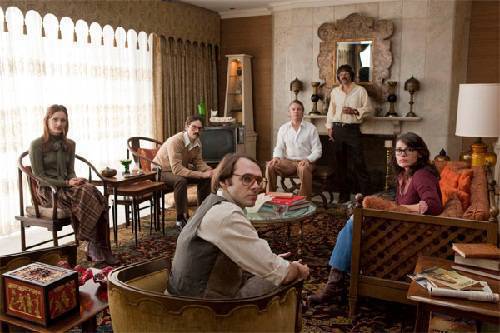 You'll find yourself back in the '70s and '80s.
ADVERTISEMENT - CONTINUE READING BELOW
The ominous sound effects. Argo makes superb use of "real" audio. Never has the sound of an antagonistic, chanting crowd been so frightening (the Iranian chant, "Allahu akbar! Marg bar Amrika!" is never translated in Argo, though I've since learned that it means, "God is great! Death to America!"), and never has the sound of people pounding on a car's windows been so terrifying. But the film's most unnerving sounds of all are those of an Iranian housekeeper making a simple observation about her master's houseguests, and that of an angry Iranian shop owner screaming at an American photographer.
Alan Arkin's portrayal of a foul-mouthed Hollywood producer. Through the movie producer who's played cracklingly well by Alan Arkin, Argo provides an amusing glimpse at how Hollywood ran itself in its post-Star Wars era. The scene where Arkin negotiates with a Writers Guild rep to buy the Argo screenplay is a comic gem, as are most of Arkin's precious few scenes.
ADVERTISEMENT - CONTINUE READING BELOW
The references to 1979-1980 pop culture. Argo does for late '70s pop culture what Ted did for the '80s, referencing The Muppet Show, The Love Boat, Star Wars and even the old Battlestar Galactica TV series. Marvel Comics fans will also get a kick out of the use of famed Marvel artist Jack Kirby's artwork, one of which is used to end Argo on a quiet, magnificent note.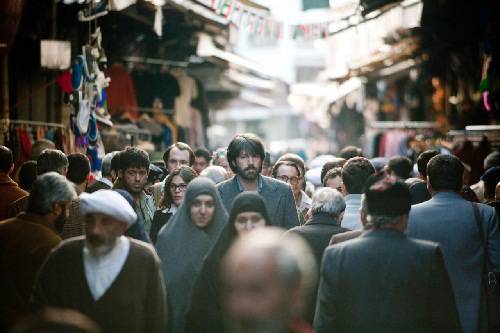 ADVERTISEMENT - CONTINUE READING BELOW
Argo is both suspenseful and dramatic.

Minuses:
The farfetched details. Having done quite a few chase scenes when he was "just" an action star in films like The Sum of All Fears and Pearl Harbor, you'd think that Ben Affleck would know how to direct a chase scene that's both suspenseful and believable. Sad to say, he only half succeeds in one of Argo's chase scenes, which begins quite suspensefully but becomes downright baffling when the proverbial cat catches up with the proverbial mouse. Affleck's staging of the scene might have been forgivable if this was a hyper-real James Bond movie, but given that the film is based on a true story, the lapse is enough to tarnish the film.
I was so intrigued by other details presented in Argo that that I was compelled to verify their authenticity. Alas, one of the movie's more attention-grabbing assertions-one that pertains to those assigned to reconstruct shredded documents-turns out to be a fabrication of the scriptwriter.
ADVERTISEMENT - CONTINUE READING BELOW

In brief: Argo is a winner of a thriller about how the USA and Canada joined forces to save six Americans from being killed in Iran during the hostage crisis of 1979. It's a film which proves that Ben Affleck has the talent to join the ranks of actors-turned-Oscar winning directors such as Clint Eastwood and Robert Redford. But though Argo is certainly one of the best films ever made that's inspired by a true story, the degree to which the filmmakers have Hollywood-ized some of the tale's details may turn off some viewers, especially history buffs.

RATING:
4½ out of 5 spots ••••.
Check out the movie schedule for Argo here.
CONTINUE READING BELOW
Recommended Videos
Share this story with your friends!
---
Help us make Spot.ph better!
Take the short survey
Load More Stories