10 Things We Learned from Walang Hanggan
We bid this <em>teleserye</em> adieu.
(SPOT.ph) After  10 months on the air, the ABS-CBN primetime teleserye Walang Hanggan comes to a close tonight-a heartbreaking inevitability we pray all 15,000 fans who cheered at the Araneta Coliseum last Sunday have come to  accept. There are millions more, not just the fans here in the Philippines but Filipinos working abroad, mourning the end of a habit, a devotion. This past Monday night, after realizing there were only five more episodes left of her favorite soap opera, a friend, an advertising copywriter who works at the second to the highest floor of the RCBC Tower in Makati, buried her face on her palms and said, "Akala ko ba walang hanggan!" Or at least that's what we thought she said (she had a bad toothache then and her molars were biting on a perfumed cotton ball).
Indeed, some good things never last. Although in the case of Walang Hanggan, it will just get dubbed in Malay, Vietnamese and Khmer. Outside Southeast Asia, it will also be shown in South Africa, but they have yet to decide which of its eleven official languages they're going to dub it in (Zulu sounds good to us, or Swazi). So in the end, the love of Marco (Richard Gomez) and Emily (Dawn Zulueta) shall live on, and the entwined hearts of Daniel (Coco Martin) and Katerina (Julia Montes) will go on. In other countries, of course. As for us Filipino fans, who have to live with this new void in our lives come Monday night, we will treasure the memories of this extraordinary drama that taught us not a few things about the difference between love and obsession, between forgiveness and revenge, between Cabernet and Merlot. Pass the Infinity wine, please.
ADVERTISEMENT - CONTINUE READING BELOW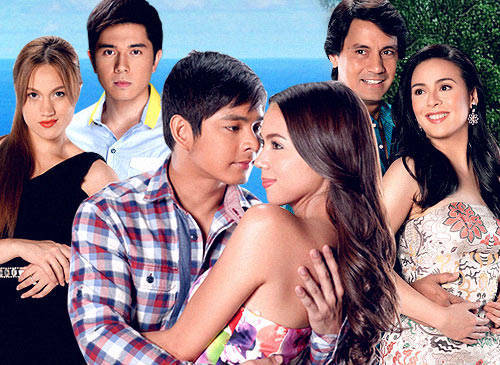 Just when we thought there was no ending to Walang Hanggan.
1) We learned that once-doomed love affairs can have a happy ending. And that when you throw an engagement ring in the vastness of hills and  greens, years after, it's highly possible your son will stumble upon it, pick it up and offer the same ring to his beloved.
ADVERTISEMENT - CONTINUE READING BELOW
2) But we also learned our imagination has its limits. We believe in our hearts that Coco Martin is a wonderful actor. We loved him in Kinatay-the  camera may be one kilometer away but we recognize his dreams and determination to live an upright existence just by watching him climb down a short flight of stairs. But Coco, who once memorably told us his 3-in-1 coffee tastes "Yammy!", as a sommelier? We'd need a whole bottle of his Infinity wine to believe that. But we buy it anyway-the Coco-as-wine-expert idea, not the wine-so we can move on with the story. That said, we still believe he's one of the best actors of his generation, and Walang Hanggan has a million and one Daniel moments that keep us believing.
3) That in a parallel universe, or at least in the universe of the Guidottis and Montenegros, the Internet is not your first source of answers. When the character Black Lily (Eula Valdes) entered the multi-layered plot a few months back, confusion set in in the mind of audiences when she introduced herself as Jean Bonifacio, a close cousin of Marco Montenegro's wife Jane (Rita Avila) who was supposed to have died in a plane crash. Is Jean actually Jane post-cosmetic surgery? None  from the business community in the teleserye, however, bothered to check her records, or at least  thought, "Why don't we just google the name of this bitch?"
ADVERTISEMENT - CONTINUE READING BELOW
4) That the idea of day-to-evening dressing didn't die with the '80s. We will miss Dawn Zulueta's boardroom outfits. Derecho na sa cocktails.
5) That getting knocked up by Richard Gomez will not guarantee you a tall son (see Coco and Paulo Avelino).
6) That it was possible to fall in love all over again with Richard Gomez, get past his Mad Against Drugs phase, and embrace him as one of the country's more competent seasoned actors. In Walang Hanggan, Goma also reminded us Piolo didn't take his place; that he remains the most beautiful man in the constellation of Philippine entertainment.
7) That we will watch anything Paulo Avelino is in.
8) That we love Helen Gamboa. If she hadn't done Walang Hanggan, we would never have been able to see her do the "Bang Shang a Lang" again (last Sunday at the show's thanksgiving extravaganza at the Smart Araneta Coliseum), and catch her gyrating to Gangnam Style. For a while there, we forgot her associations with a certain Tito Sotto.

9) That whether in the real world or the world of the teleserye, the entire PNP or SWAT teams could do with an overhaul in management or training. Ten months na, buhay pa si Miguel! Also: that the teleserye society can spend millions of money on weddings but scrimp on security and verifying marriage certificates.

10)  That no matter how gorgeous and glamorous and incredibly talented the lead stars are, it is the cunning and the evil manipulations of its villains, Miguel Ramos (deliciously essayed by Noni Buencamino) and Tomas Alcantara (a very competent Joem Bascon) that turn the wheels of the story and give the show its infectious energy and exciting pace. Honestly, while we are dreading the end, we can't wait to see all the pasabog tomorrow.
ADVERTISEMENT - CONTINUE READING BELOW
Photos from ABS-CBN; artwork by War Espejo
CONTINUE READING BELOW
Recommended Videos
Share this story with your friends!
---
Help us make Spot.ph better!
Take the short survey
Load More Stories