MOVIE REVIEW: The Three Stooges
Will this film adaptation get the approval of the franchise's fans? Read what movie guru Paul Daza has to say.
Sean Hayes, Chris Diamantopoulos and Will Sasso breathe life to the classic comedy trio.

(SPOT.ph) Infants Moe, Larry, and Curly were left at an orphanage run by nuns 35 years ago. And though Moe was given the opportunity to be adopted when he was 10, his devotion to his two fellow knuckleheads prevented the adoption deal from being sealed. Decades later, Moe (Chris Diamantopoulos), Larry (Sean Hayes), and Curly (Will Sasso) are still in the orphanage, working as its inept maintenance men. One day, they're told that the orphanage will be closed unless its inhabitants can raise $830,000 in 30 days. In their eagerness to do anything to raise the money, the eye-poking troika are embroiled in a murder plot involving a philandering wife (Sofia Vergara) and a friend from the three stooges' childhood.
Watch the trailer here.

Pluses:
The inspired casting of the title characters. Though I'm not a Three Stooges fanatic, I enjoyed a few of their black and white comedy shorts when these were shown on local television in the early '80s. To my untrained eye, actors Chris Diamantopoulos, Sean Hayes, and Will Sasso totally nailed and embodied Moe, Larry and Curly in their spot-on portrayals in the new movie.
ADVERTISEMENT - CONTINUE READING BELOW
The screaming, scheming "women." The movie may be called The Three Stooges, but the standouts are two female characters, the funnier of whom isn't even played by an actress! As Sister Mary-Mengele, comedian Larry David is the movie's most hilarious character, forever tormenting, and being tormented by the stooges. David makes no attempts to play the role as a woman-he doesn't wear prosthetics to make his face look more feminine, nor does he shave his hairy arms and legs or speak in a higher-pitched voice. He simply wears the nun's habit and screams his lines with exasperated, authoritative conviction, mining laughs whenever he's onscreen. The film's other "funnywoman" is Modern Family's Sofia Vergara, effortlessly playing a femme fatale who's funny, alluring, and deadly.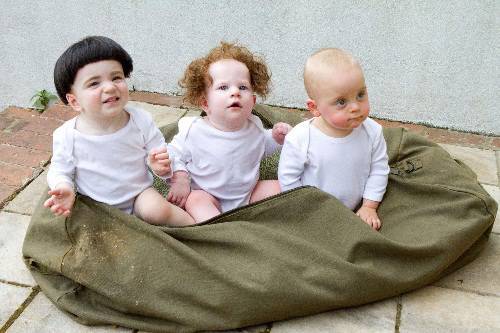 The story is about three babies left in an orphanage.
ADVERTISEMENT - CONTINUE READING BELOW
The movie's sweet, old-fashioned streak. Though it's set in a contemporary, mid-sized American city, The Three Stooges has a nostalgic, innocent tone that sets it apart from other comedies. Though there are gags about iPhones and the reality show Jershey Shore, these never upstage the surreal sentimentality established by the orphanage and its one-note inhabitants. Indeed, it's hard to believe that The Three Stooges is directed by the Farrelly Brothers, who invented the gross-out comedy in 1999 via There's Something About Mary. There are no gags in the rated PG-13 Stooges of the "sperm as hair-gel" or "withered boobs" variety, only scenes of good guys and bad guys being assaulted with heavy, metallic objects and having their armpit hairs pulled out.
The unexpected plot twists. In their bid to raise money to save their beloved orphanage from the wrecking ball, Moe, Larry, and Curly are hired to murder Sofia Vergara's "husband." The revelation of the identity of the plot's real author-coupled with the revelation of his/her motive for planning the crime-is quite the surprise. It's a clever plot twist that's ingenious enough to be the tentpole of a serious murder mystery.
ADVERTISEMENT - CONTINUE READING BELOW
The poor animal victims. More than the slapstick antics of the stooges themselves, what I found especially amusing was how their moronic behavior jeopardized the lives of aquatic and land-based creatures in this age of heightened animal welfare awareness (particularly of those kept in zoos). Among those caught in the crossfire of the goofy troika's well-intentioned shenanigans are a friendly dolphin, an aggressive lion, and a school of very unlucky salmon.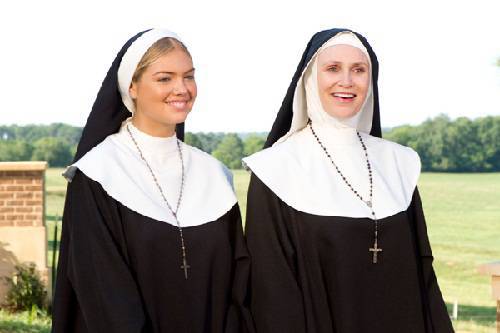 ADVERTISEMENT - CONTINUE READING BELOW
Jane Lynch lends her comedic chops to the franchise.

Minuses:
It wastes Jane Lynch and Jennifer Hudson. You'd think that a movie with an Emmy-winner (Glee's Jane Lynch) and an Oscar-winner (Dreamgirls' Jennifer Hudson) would exploit every ounce of talent it could from such talented performers. But no, The Three Stooges shortchanges these two terrific actresses by casting them as nuns who don't do much aside from react to Moe, Larry and Curly's mischievous, destructive behavior. Hudson, for instance, comes close to giving the show a welcome dose of Sister Act-inspired zaniness in one scene, until she's unceremoniously interrupted and disappears from the movie.
The relentless slapping and eye-poking. I'm sure die-hard Three Stooges fans will lap up the physical, sound effects-enhanced punishment the troika inflict on one another throughout the movie-these are probably what they're paying good money to see and hear. For me, though, 90 minutes of eye-poking, slapping, and hair-pulling was just too much. After a while, such sights and sounds became painful and numbing.
ADVERTISEMENT - CONTINUE READING BELOW

In brief:
The Three Stooges is silly, surreal slapstick that will appeal most to the threesome's die-hard fans. For non-fans, there are a few chuckles to be had from the movie's gifted comedians, and a murder plot that offers some surprises.

RATING:
2½ out of 5 spots ••.
CONTINUE READING BELOW
Recommended Videos
Share this story with your friends!
---
Help us make Spot.ph better!
Take the short survey
Load More Stories