Rob Kardashian and Kylie Jenner on socks and the perfect pair of jeans
Kylie Jenner and Rob Kardashian give fashion advice, their famous sisters, and why they love being Human.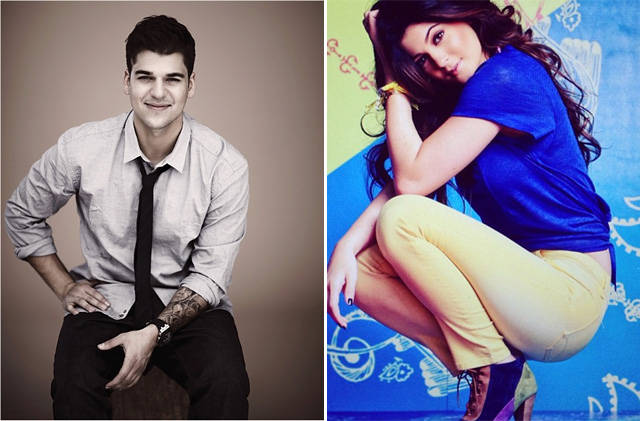 (SPOT.ph) When Rob Kardashian and Kylie Jenner first stepped into the room, the first thing that caught our eye was Kylie's bright yellow skinny jeans. They would make anyone else's legs look like a couple of stubby Mongol pencils but on her, the jeans made her already long legs seem even longer. Her nails were painted a rich black, the signature Kardashian nail color. Despite her towering height and the immense amount of pressure that comes with being a celebrity, it's hard to believe that Kylie is still the youngest of the Jenner-Kardashian clan at the ripe age of 15.
As for Robert, the only male Kardashian looked dapper in his sharp black blazer. However, if you had the will power to tear your eyes away from his gorgeous face, you'd notice a pair of red and white-striped socks ala the Cat in the Hat peeking through the bottom of his pants. The two siblings stood out amidst the sea of writers and photographers gathered inside the Manila Ballroom of Makati Shangri-La on Friday, October 26. Both Rob and Kylie are officially the newest endorsers of Human Denim Jeans and walked the runway on October 27 for the Human show at Manila Fashion Week.
ADVERTISEMENT - CONTINUE READING BELOW
On the Philippines
Rob: Yeah, we have a lot of Filipino friends in LA and it's pretty amazing to be here...it's pretty cool.
Kylie: Yeah, I was so excited about it. It's an opportunity to come here, of course. I've never been here and it's been amazing so far and everyone's been so welcoming. I loved it so far and we did the photo shoot today. That was so fun. And working with my brother, we came out here together and spent some time together. All of it's been amazing. I don't want to leave.
Rob: So we can go visit the beaches!
On Keeping Up with the Kardashians 
Rob: I just feel like we're a very relatable family. We're very real, we're very honest, open. We don't regret anything that we do on camera or off camera. We're just ourselves and I feel like that's why we've been around for so long and people just relate to us. We're a normal, real family.
ADVERTISEMENT - CONTINUE READING BELOW
Kylie: And what I've noticed also is people, they have favorites. Like, my sister Khloe is a lot of people's favorite. Or they're really mostly Kim, or they're really mostly Kourtney or my sister and I, who are younger. I feel like definitely people just relate and again, we don't hold back. We know our whole crew so we're so comfortable because we've known them for five years or six years now, for as long as we've been filming so we're so comfortable. So, we can just be ourselves.
On the Kardashian sisters
Rob: I see more of my sister Khloe definitely. Khloe is a very strong woman, very independent. Kylie's the youngest but she's being surrounded by so many women who are all very independent in my family. It's definitely made her grow faster than anyone else has at her age. She's 15 and she's just in a different time zone, it's crazy. I never could have imagined myself at her age doing all things that she's doing. I'm very proud of her. She's modelling campaigns, and tons of things. She has a book coming out. It's great. It's amazing. It's great to be part of this whole campaign. We're in a completely different country, something completely out of the States and it's just amazing to be involved in this culture and the Philippines.

ADVERTISEMENT - CONTINUE READING BELOW
On Rob's Dancing With the Stars stint
Rob: Cheryl (Rob's dance partner) is Filipino. She taught me everything I know. I just couldn't do it without her and the fans who voted. Definitely Filipino people can dance. And obviously, the fashion world is crazy here. They're definitely fashion-forward here.
On Arthur George, Rob's sock line
Rob: I've started my own sock line. It launches November 9. And I'm also working with other markets everywhere. And I'm also working on my own clothing line right now which is pretty cool. And I'm opening up a few clothing stores in the States and in another country: London. Yeah, it's pretty cool. It feels like we're all into fashion, getting into the fashion world right now.
On keeping up with the Kardashians (in real life)
Kylie: I think me and my sisters have a great relationship. Off camera, me and Khloe have sleep-overs all the time. I think they've taught me a lot, definitely about fashion. And I always had questions when I was younger and I haven't really evolved into my own style yet. I've learned a lot from them. They always give me advice for photo shoots and runway and everything. They're really amazing sisters. They taught me never to just believe what people say about you. Never pay attention to that. Just focus on what matters. Always be yourself. Never change for anyone.
ADVERTISEMENT - CONTINUE READING BELOW
My sister is going to Australia actually, she's doing her own thing. I mean, I love working with her but it's fun and it's great experience to do stuff on your own. I think everyone should do stuff apart from their siblings and I'm growing and learning from this.
Rob: It definitely gives me great ideas for my girlfriends on getting gifts and whatnot but some of my sisters are very high-end and it does make it difficult which is why I literally am creating a line which is more affordable because I see all these people and guys wanting to give their girlfriends certain gifts but they can't necessarily afford it or it's not in their price range or whatever. Human is that type of company where it's just very affordable but it's also cool and hip. Having all these sisters who are just very much in fashion made me want to get in fashion even more, which is what I've been doing currently. I am definitely more sensitive because I am surrounded by women. That's how I was raised. I didn't really have a father figure but I've definitely learned so much from all my sisters on how I should treat women and I've definitely learned a lot of great things. There are definitely a lot of pleasant things from having a bunch of women in my family. I'm very appreciative.
ADVERTISEMENT - CONTINUE READING BELOW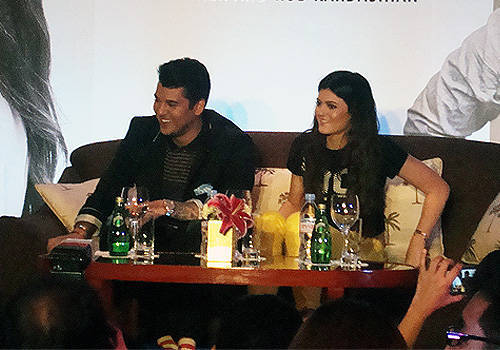 On Philippine Fashion Week
Kylie: I've done a couple of runway shows, usually in New York. I love it. I love the feeling. It's one of my favorite things so I'm so excited for it.
Rob: No, I've never been on the runway but I'll just be myself and walk.
ADVERTISEMENT - CONTINUE READING BELOW
Kylie: I'm excited to see Robert on the runway!
Rob: The crew (of their reality show, Keeping Up With the Kardashians) just messaged me, they're mad they're not here. I think we just kind of snuck off and left. I'm sure you guys are going to get footage of it though. I won't even listen to them! I'm going to keep on moving. I'm a man. I'm just going to walk and I'm going to turn around and I'll walk back. Or I'll dance! I can dance on the runway but only if Cheryl is there but she's not.
On their personal style
Kylie: For me, I don't really care about brands as much as I care about the look of the clothing. I think Human is amazing. I've loved everything so far. I went to the store yesterday and bought all the men's sweats in the smallest size and Rob bought them for his "friend."
ADVERTISEMENT - CONTINUE READING BELOW
Rob: I'm creating my own line as well and I feel like Human is very similar in that it's very affordable and that's something I go after especially in my business model. I'm very much into the high-end brands but obviously they're not very affordable for everyone and I don't agree with that. So obviously I'm creating something and I feel like Human is exactly the same in that it creates something that's affordable for everybody and it's also fashion-forward and I obviously enjoy wearing them.
Kylie: My sister and I are creating the exact same thing as well. We just finished the spring line and we're so excited about it. And it isn't exactly unaffordable for everyone but still everything we love and I'm really, really happy about it.
On what to wear to the mall
Kylie: I always get ready in five minutes but I like feeling put together. It's so hot in California. I think high-waisted shorts and a plain white top, a lot of jewelry and boots and a good purse to carry your wallet in. I am definitely a shoe person. I love shoes, I love heels. I'm obsessed. You can put plain stuff together and do a staple shoe.
ADVERTISEMENT - CONTINUE READING BELOW
On the first date
Kylie: I'm allowed to date but I don't date. It's a sad situation. Well, you don't want to seem like you care that much. You want to seem very low key in something like jeans, boots, plain shirt or even like, a graphic tee, and a cool leather jacket.
Rob: I approve of it. Definitely no heels though.
Kylie: No heels on first dates. Unless it's casual: like jeans, casual shirt, casual heels. I would wear flats, personally.
Rob: I'm just very low-key. Just look effortless. It's way cooler.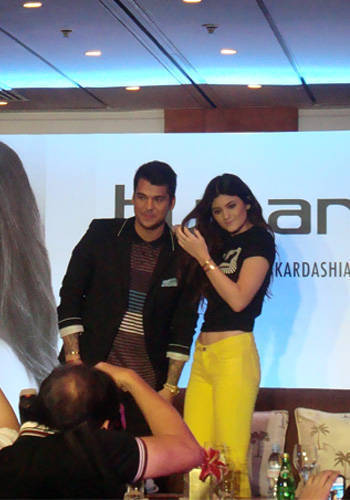 On what to wear at a party at a friend's house
Kylie: I love casual dresses. I have literally 10 plain black dresses. I would take a plain black tight dress and simple black boots. No heels. And if it's cold, a sweater and jewellery.
ADVERTISEMENT - CONTINUE READING BELOW
On what to wear on the plane
Kylie: I like this one. I always wear cute sweats. Here I wore army green sweats that are really tight on the bottom and really baggy around the waist. And I wore just a plain black shirt but it was all cut on the back and I tied a red flannel around my waist and I paired it with boots and socks. But it was really comfortable. You have to be comfortable because if you want to sleep or anything you can still look cute. I could never wear jeans. And always socks with boots.
Rob: Just sweats all the time. Right now, yes. Not a lot of my pants fit me right now so sweats is really what it is.
On what to wear for a fancy dinner with family
Kylie: He always wears sweats to family things.
Rob: But it's your family! You should feel comfortable.
ADVERTISEMENT - CONTINUE READING BELOW
Kylie: You can wear heels for this one. Either jeans or another casual dress.
On the perfect pair of jeans
Kylie: I love skinny jeans because you can tuck them into boots easily.
Rob: I have no jeans. Now I only have Human jeans because they're the only ones that fit me now.
Kylie: Skinny jeans and flared jeans!
On Human Genes
Kylie: I've definitely got a stock of them and I love them. I know people will be jealous when we get back home.

Rob: Honestly, the pants to me are very, very different. I want to go to the store and buy some pants. They will have your size, I promise you. Kylie bought them for herself. Get all the pants.
CONTINUE READING BELOW
Recommended Videos
Share this story with your friends!
---
Help us make Spot.ph better!
Take the short survey
Load More Stories