MOVIE REVIEW: Skyfall
It may be 50-year-old franchise, but James Bond still has it. Find out why from movie guru Paul Daza.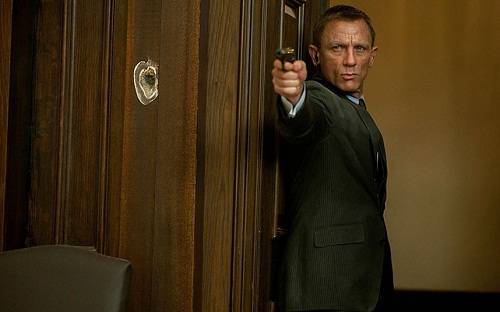 Daniel Craig is James Bond for the third time.
(SPOT.ph) Secret agent James Bond (Daniel Craig) is nearly killed in a deadly operation in Turkey, in which he fails to retrieve a hard drive containing the names of every NATO spy. This failure results in British agency MI6 being attacked in London, its agents targeted for death all over the world. In trying to help his disgraced boss M (Judi Dench) capture the villain behind the plot, Bond is led to a figure from his and M's pasts: the ruthless, cold-blooded Silva (Javier Bardem).
ADVERTISEMENT - CONTINUE READING BELOW
CONTINUE READING BELOW
Recommended Videos

Watch the trailer here.
Pluses:
The smart, streamlined script and superb direction. Scenarists Neal Purvis, John Logan, and Robert Wade have written the best, most coherent script yet for a 007 flick starring Daniel Craig, and American Beauty's Oscar winning director Sam Mendes has  realized it onscreen equally brilliantly. Unlike the headache-inducing Casino Royale and Quantum of Solace, Skyfall has just enough interconnected characters and clever plot twists to keep viewers focused on the story. Making his debut in the mega-budget, mega-adventure genre is director Mendes, who gives his complex characters as much weight as the extravagant action scenes, never sacrificing one element in favor of the other.
Javier Bardem's bisexual baddie. The No Country for Old Men Oscar winner makes an indelible impression in Skyfall, making his first appearance an hour into the movie while delivering a chilling monologue about rats and coconuts. As the menacing Silva, Bardem even gets to have some bondage fun with the tied-up Bond, making Silva quite possibly the franchise's first bisexual bad guy.
ADVERTISEMENT - CONTINUE READING BELOW
The deepening relationship between M and Bond. No, the characters played by Judi Dench and Daniel Craig, respectively, don't become a love team in Skyfall, but something better. In their third 007 outing together, Dench and Craig give the franchise and the superspy genre an unexpectedly powerful new ingredient: a touching maternal bond between the no-nonsense superior and her headstrong underling. It's a rich subplot that's as emotionally rewarding as the father-son bond forged by Sean Connery and Harrison Ford in Indiana Jones and The Last Crusade.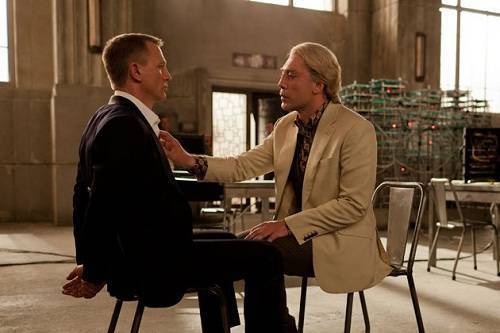 ADVERTISEMENT - CONTINUE READING BELOW
Oscar winner Javier Bardem plays the bisexual baddie.
The two new Bond girls. The first Bond woman we see in the picture, Eve (Naomie Harris), nearly kills our hero in the stunning chase scene that opens the film in Turkey. Following Eve,  there's French beauty Severin (Berenice Marlohe), who makes her first Skyfall appearance in a Shanghai skyscraper looking like a statuesque, glammed up Lea Salonga. In their other arresting scenes, these two "femme fatales" give Bond more than one type of a close shave, make steamy love to him in the shower, save his life and endanger it - though not necessarily in that order. Talk about multi-layered, multi-tasking women!
The two new  MI6 "good guys." The shakeup at British intelligence brings two new men into Bond's orbit: a  younger, more computer-comfortable Q (Ben Whishaw), and a new superior named Gareth Mallory (Ralph Fiennes). That these two men reveal themselves to be far more complex than Bond's (and our) first impressions of them make the many new characters in Skyfall as compelling to watch as the movie's explosive action sequences.
ADVERTISEMENT - CONTINUE READING BELOW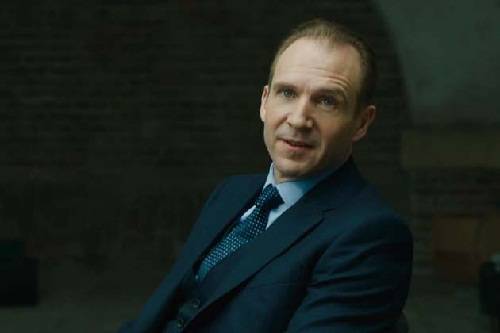 Ralph Fiennes joins the cast as Gareth Mallory.


The nods to the old-school Bond. 2012 marks the 50th anniversary of the 007 movie franchise, launched in 1962 with Dr. No starring Sean Connery as Bond. Of the many pleasures to be had in Skyfall, none will appeal more to the series' older fans than the homages to the 1960s installments. In addition to the reappearance of that decade's shiny  Aston Martin DB5, the film also winks at the old Q's deadly gadgets, Connery's Scottish accent, and other Bond canon minutiae. A lovable old codger played by Oscar nominee Albert Finney also reinforces the film's timely, tradition-trumps-innovation message.
ADVERTISEMENT - CONTINUE READING BELOW
The magnificent locations. While pursuing his prey in Skyfall, Bond finds himself in Turkey, Great Britain, Scotland, and China. There's even an unnamed, Boracay-like tropical island where he recuperates after cheating death, not to mention a charred building that looks like it survived an atomic blast where he meets the villain. Thanks to cinematographer Roger Deakins and production designer Dennis Gassner, all these locations are vividly and glossily captured in 007's latest globe-trotting adventure. Especially alluring are the sequences shot in Shanghai and Macau, which all but beckon to those with travel money to hop on the next flight to visit those cities.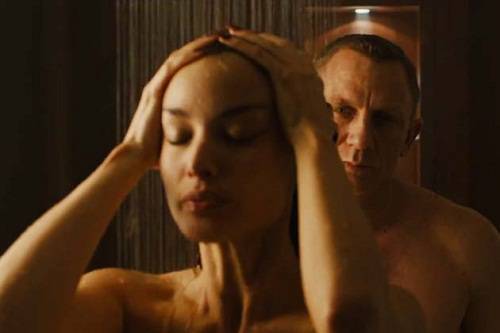 ADVERTISEMENT - CONTINUE READING BELOW
And, of course, the ladies. What James Bond film wouldn't feature gorgeous femme fatales?
Minuses:
The excessive demands on your ability to willingly suspend disbelief. One element of cat-and-mouse movie capers that's gotten out of hand in recent years is the super-smart villain who can predict exactly what the far-reaching consequences of his/her many dastardly actions will be. One sequence in Skyfall employs this troubling plot device, which in turn leads to another off-putting story convention: the character who somehow manages to accomplish a very complicated task in an impossibly short period of time.
In brief:
The 007 film franchise may be 50 years old, but Skyfall has found new ways to spin cinematic gold from its hero's enduring but sometimes unwieldy exploits. The 23rd film in the series, Skyfall, is a sprawling, enthralling entertainment that's hands-down one of the best Bond adventures ever made.
RATING:
4 ½  out of 5 spots ••••.
Check out the movie schedule for Skyfall here.
ADVERTISEMENT - CONTINUE READING BELOW
Are you sure you want to delete this list?

Load More Stories