A Secret Affair: Cheating Hearts Club
Another infidelity movie, and blogger Ria Limjap wonders: Why?
(SPOT.ph) Possible titles for other movies about infidelity:

1. Querida (glossy drama with young dramatic stars in their first "daring" roles)
2. Saving All My Love For You (a rom com, maybe with local starlet with Korean popstar)
3. Kulasisi (a sex comedy, obviously, with lots of cheeky humor)
4. The Kept Woman or The Kept Man (a gender-bending dramedy with Vice Ganda, please)
5. Ibang Babae (trilogy featuring edgy female directors, oh wait, that's been done)
6. Kabit! (The Musical!)
7. Martyr Ka Para sa Asawa Ko (melodrama with middle aged stars targeted for the senior citizen audience)
8. Sakal sa Kasal (indie homage to 1960s comedy classic Kasal or Sakal)
Watch the trailer here.


Goodness. Here is yet another romantic drama, another rhapsody on the theme of cheating, another movie about men, mistresses, and the angry missus (or, in this case, girlfriend.) First there was No Other Woman, which was campy at best and overwrought at worst; then there was The Mistress, which was strangely sanitized considering its plot (younger woman sleeps her way to security with older man, etc. etc.)
ADVERTISEMENT - CONTINUE READING BELOW

This time it's called A Secret Affair which is ironic, because if the affair between Anton (Derek Ramsey) and Sam (Andi Eigenmann) stayed a secret there would be no movie. It's basically a love triangle, with lovely Anne Curtis at the center. She plays Rafi, the martyr girlfriend who is perfect in all ways imaginable except that she is a bit of a doormat, feisty on occasion and yet annoyingly passive about her boyfriend's wandering ways. It's all very interesting because Rafi and Sam (who are, of all things, both sorority sisters and frenemies) fight over the conflicted Anton by exchanging bitchy lines in that classic Pinoy melodrama way. When Anton proposes to Rafi, Sam decides to steal him away with her underhanded slutty tricks but only because she really loves him. When Rafi catches Anton behaving badly, she dumps his smoking hot ass and takes a trip abroad to lick her wounds. When she comes home, they reunite and she moves in with him. Meanwhile Sam had already moved in (so to speak) while Rafi was gone and so now Anton is having sex with both of them, although technically he never really cheated on anyone. Obviously they live in a completely unreal, hyper glossy, Gossip Girl-type world where even the beautiful get cheated on and nobody cares about STDs and unwanted pregnancies.
ADVERTISEMENT - CONTINUE READING BELOW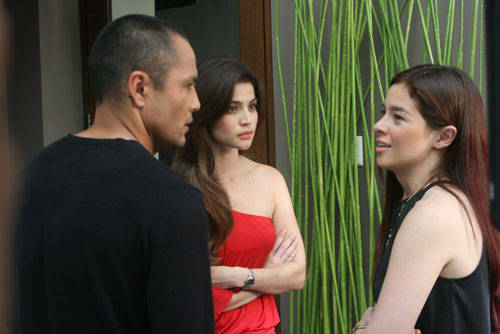 The movie troika of Derek Ramsey, Anne Curtis, and Andi Eigenmann

I heard it made more than No Other Woman on opening day. This is a fairly ridiculous movie, with terrible transitions and hammy acting. (Derek, whose character is a chef, is so emotionally upset he can't even garnish a dish with parsley.) Director Nuel Naval takes full advantage of his good-looking actors and captures them on camera with an extra coat of glamour. This movie dives straight into the cheese (opening sequence: a marriage proposal at a concert) but that won't stop it from making twenty million at the box office on its first day. Isn't that interesting? Why are we compelled to turn infidelity into a story line, this morbid fascination for what is taboo and yet widely practiced? Why do we always find scandal in non-exclusive sexual relationships, much more than grave injustice or vast corruption? And why does it always have to be a male-female-female triangle-why not a woman with two lovers?
ADVERTISEMENT - CONTINUE READING BELOW

Faced with no answers, I instead asked myself-why do men (or women) cheat? I had no answer for that too, only the knowledge that it happens not only in movies but in real life.

And then I stumbled on this insightful article about monogamy.
If only poor Rafi read this on the internet instead of spending time with her fabulous boyfriend. If only she reflected on the myths that support the expectation of monogamy and learned terms like "sexual habituation" and "cultural myth"-maybe she wouldn't have wigged out when she realized her boyfriend was cheating on her. Ah but in the movies, everything comes to a merciful end.
Recommended Videos
Load More Stories