Gig Guide: The Bar & Club Scene This Week
Your handy guide to the metro's hottest gigs and parties.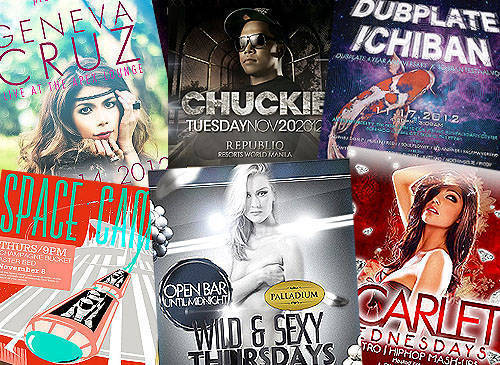 Wednesday, November 14
19 East - Freestyle
Saguijo - Dogtown "Side One" w/ Earl Limjoco, Gabe Piolo, Jensen Gomez, Kapnobatai, Lady Ransom, Mithi, Paraluman & Serve the Queen
B-Side - TheBingAustriaShow Presents: THIS IS OUR PLAYGROUND "Community Spin Jam & Flow Art Video Projections"
Bond Urban Pub - Stareoke Wednesdays, 10 p.m
Opus - District: Urban Beats in the City, 10 p.m. featuring Ace Ramos, Mars Miranda, and district DJs
Izakaya - Izakaya Dojo Wednesday, 10 p.m hosted by Ian Umali.
M Café - Manteca! Salsa Night every Wednesday (10 p.m.) and Sunday (6 p.m.) featuring classic foot stomping, hip shaking, salsa, merengue, bachata, cha cha, and guest DJs.
Prive Luxury Club - Stiletto, 9 p.m.
Eden Nightclub - Vixen Wednesdays
Izumi - Sakephonic Wednesdays, Ladies and Models Night feat. Deuce (Kat DJ and Patty Tiu)
Dillingers - CTRL ALT Delete Wednesdays 
7th High - Scarlet Wednesdays Presents: The Shot to Fame DJ Search Eliminations
7th High APEX Lounge - Soulful Wednesdays feat. Geneva Cruz
Uno Pizzeria - Aphrodite Wednesdays
Time in Manila - Femme Night with DBT, Cal and John Odin 
Reserve Liquor Lounge - Riot Wednesdays
Garage 88 - We Love House Wednesday
Excess Superclub - WARNER NIGHT feat. General Luna, Never the Strangers and Ebe Dancel
ADVERTISEMENT - CONTINUE READING BELOW
CONTINUE READING BELOW
Recommended Videos

Thursday, November 15
19 East - Juris
Saguijo - Revolver SNC [Straight No Chaser] w/ Earthmover, General Luna, Modulogeek
Opus - Groove Thursdays
Rocket Room - Space Camp at Rocket Room with Djs Champagne Bucket & Aster Bed
Bond Urban Pub - Girls Night Out, 10 p.m. 
Izakaya - KISS! KISS! BANG! BANG!. 10 p.m.
Libations - Lipstick Mafia, 10 p.m.
Palladium - WILD & SEXY Thursday presents Rockstar Night @ Palladium with DJ Vadim from Russia
Eden Nightclub - Backbeat Thursdays  
Dilingers - Thirst Days
Izumi - Rockizumi
Excess Superclub - Ladies' Night Out!


Friday, November 16
19 East - Nina & 4 Piece
Route 196 - Meiday
Saguijo - Kerplunk! Elements Night w/ Flooza, Inky de Dios, Lights in Transit, Motherig, S.H.A.G., Stereodeal, Talia Reyes
B- Side - BOOM BAP FRIDAY
Prive - Incognito
Excess Superclub - Filthy Fridays 
Fiamma - Fresh Fridays
Izumi - Fortress Friday feat. DJ Ron
Opus - Uber Disko
Palladium - Fabulush Fridays 
Candyshop - Sucette Fridays
Dillingers - Get Freaky 
Rocket Room - In Color : Arbie Won and Supreme Fist 
7th High - Heaven Fridays 
Eden Nightclub - Forbidden Fridays with DJ Andrew Chow
ADVERTISEMENT - CONTINUE READING BELOW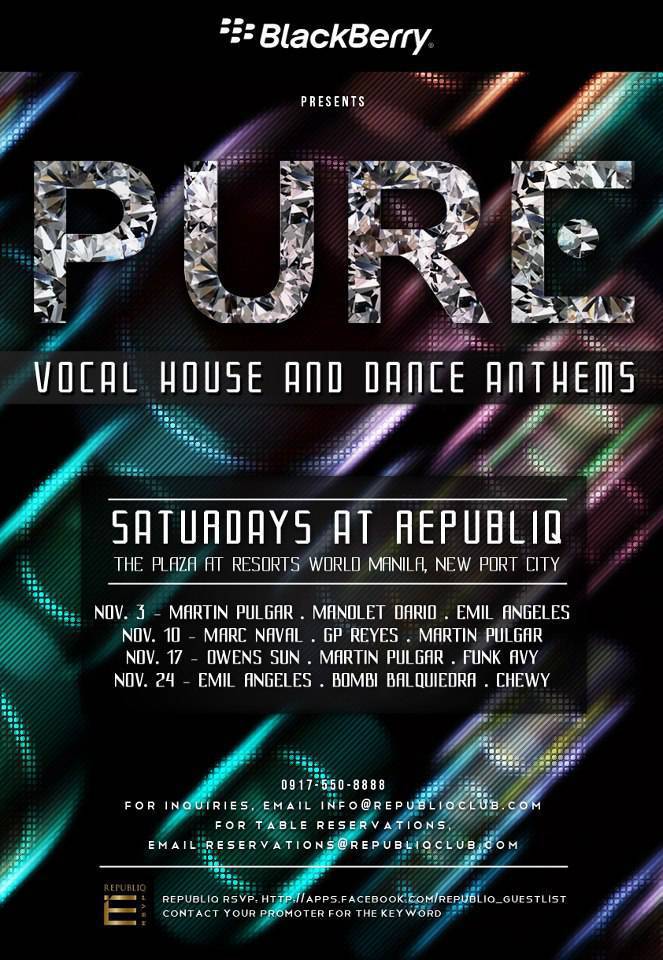 Saturday, November 17
Dillinger's - Saturday Swagger with DJ's Darrel D and Bad Boy Jeff
Route 196 - Terno Night @ Route 196 feat. Up Dharma Down
Arts in the City - DUBPLATE 4 YEAR ANNIVERSARY X ICHIBAN FESTIVAL 2
B-Side - SEVEN FOR SEVEN
Eden Nightclub - Saturday Surrender
Saguijo - Terno Inferno/Up Dharma Down "Turn It Well" Music Video Presentation w/ The Charmes, Encounters with a Yeti, Hidden Nikki, Maude, Musical O, Not Another Boy Band, Populardays, Sleepwalk Circus, The Sleepyheads
19 East - Side A
Republiq Club - Pure Saturdays
Fiamma - Stereo Static Saturdays, 10 p.m.
7th High - Indulgence Saturdays featuring DJs Buzz, Badboy Jeff, and Ron. 
Izakaya - Sake To Me Baby Saturdays featuring DJ Steal and Nina. Hosted by JP David.
Jill's - Jill's Straight Up Saturdays
Izumi - Suteki Saturday ffeat. DJ Jacob
Opus - Legendary Saturdays
Excess Superclub -  Saturday Xscape: BOOTYSHAKE TIME!!
Rocket Room - Supersonic with Liquid A & Jay Lobo
Republiq - Pure Saturdays
Prive - Stilletto presents: Prom Night
ADVERTISEMENT - CONTINUE READING BELOW
Sunday, November 18
B-Side - Irie Sunday: Dub Explosion Session
Chihuahua Mexican Grill - Hangover Sundays, 2 p.m.
The Rocket Room - Sun Dazed with DJs Miss Badkiss & Supreme Fist.
Monday, November 19
Izakaya - Moshi Moshi Mondays featuring DJs Buzz and Kim Marvilla. Hosted by April Sun and Gio Emprese.
19 East - MYMP
Route 196 - Guilty Acoustic Pleasures (G.A.P) with Kevin Roy, Mike Canlas, Kessenth Cheng
Izumi - Muteki Monday
Opus - Industry Mondays
Dillingers - Misfit Mondays
Time in Manila - Monday Fever
Distillery Jupiter - iCoutsic Mondays
Reserve Liquor Lounge - Rockeoke Mondays
Eden Nightclub - Jumpstart Mondays
Tuesday, November 20
19 East - Version 4.0 
7th High Lounge - Timeout Tuesdays
Republiq Club - Chuckie
Saguijo - Saguijo & Warner Music Presents "Green Day Night!" w/ Aminado, December Avenue, Freakchips, Hilera, Penguin, Sirens.
Bond Urban Pub - The Original Models Night featuring DJs Ace Ramos, Ron Poe, and Slick Jay.
Izakaya - Open Mic Tuesday with Guji Lorenzana and JanJay Coquilla
Dillingers - Hipstop Tuesdays
Beso - Viva Tuesdays 
Reserve Liquor Lounge - Twisted Tuesdays with the Zombettes
Distillery Jupiter - Ladies' Night
ADVERTISEMENT - CONTINUE READING BELOW
Are you sure you want to delete this list?

Load More Stories