Hitting A New High: The Cost of Watching Concerts in 2012
Manila went California dreaming with Katy Perry, party rocked with LMFAO, and spent one more night with Maroon 5, but how much have these shows drained the average concert-goer's wallet? SPOT.ph lists down the damage in an infographic.
(SPOT.ph) The year 2012 has been a great year to be a music fan in the Philippines. Since January, music lovers of all genres have been feasting on an unprecedented concert smorgasbord featuring artists from abroad: pop fiends screeched to Katy Perry and Lady Gaga, club-goers swayed to beats by David Guetta and Calvin Harris, alterna-hipsters bobbed their heads to Snow Patrol and Foster the People, even metalheads had Megadeth to thrash their bodies to. And then there's, erm, Creed. It's not just the 18 to 35 set that has a reason to celebrate; chaperoned tweens hollered for Greyson Chance and the Jonas Brothers, new wavers waxed nostalgic over Tears for Fears and Morrissey, and your mother is probably booking tickets to see Elton John as we speak.
While we cheer for this steady parade of foreign performers, our bank accounts have been grumbling in its wake. Tickets to these shows range from a not-unreasonable P2,500 that grants you a 24-song serenade by indie darlings Death Cab for Cutie to a staggering P25,840 that should put you within inches of Jennifer Lopez's legendary behind. Sure, you can always snag a dirt-cheap P530 ticket that lets you squint at the now-grown lads of Hanson from way up in the rafters, but for die-hard fans, seeing their favorite acts and long-time idols as just dots in the distance-when an opportunity like this might never come again-just won't do.


ADVERTISEMENT - CONTINUE READING BELOW
In this infographic, we list notable foreign acts who have regaled the Philippines with their presence this year, and reveal the dent each of their shows have made on the music fan's wallet. Which ones did you watch, or are planning to watch? Tell us in the comments!
Click the picture below to see the full size!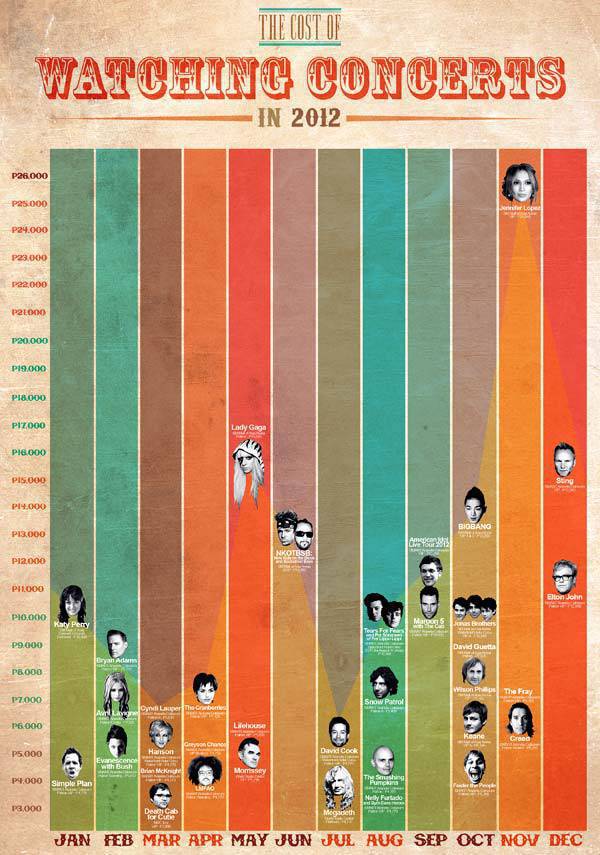 ADVERTISEMENT - CONTINUE READING BELOW
Recommended Videos
Load More Stories