Gig Guide: The Bar & Club Scene This Week
Your handy guide to the metro's hottest gigs and parties.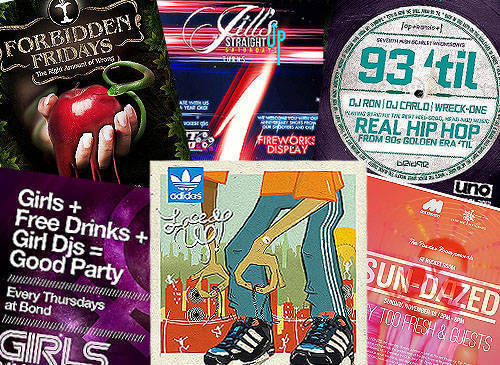 Wednesday, November 21
19 East - Freestyle
Saguijo - Pinoytuner Live!
Bond Urban Pub - Stareoke Wednesdays, 10 p.m
Opus - District: Urban Beats in the City, 10 p.m. featuring Ace Ramos, Mars Miranda, and district DJs
Izakaya - Izakaya Dojo Wednesday, 10 p.m hosted by Ian Umali.
M Café - Manteca! Salsa Night every Wednesday (10 p.m.) and Sunday (6 p.m.) featuring classic foot stomping, hip shaking, salsa, merengue, bachata, cha cha, and guest DJs.
Prive Luxury Club - Stiletto, 9 p.m.
Eden Nightclub - Vixen Wednesdays
Izumi - Sakephonic Wednesdays, Ladies and Models Night feat. Deuce (Kat DJ and Patty Tiu)
Dillingers - CTRL ALT Delete Wednesdays 
7th High - Scarlet Wednesdays Presents: 93 'Til
7th High APEX Lounge - Soulful Wednesdays feat. Geneva Cruz
Uno Pizzeria - Aphrodite Wednesdays
Time in Manila - Femme Night with DBT, Cal and John Odin 
Reserve Liquor Lounge - Riot Wednesdays
Garage 88 - We Love House Wednesday

Thursday, November 22
Saguijo - I Scream x Red Ninja w/ Curbside, Lions & Acrobats, Mad Hatter Day & Salamin
Route 196 - Jumpstart @ Route 196
Opus - Groove Thursdays
Rocket Room - Space Camp at Rocket Room with Djs Champagne Bucket & Aster Bed
Bond Urban Pub - Girls Night Out, 10 p.m. 
Izakaya - KISS! KISS! BANG! BANG!. 10 p.m.
Libations - Lipstick Mafia, 10 p.m.
Palladium - WILD & SEXY Thursday presents Rockstar Night @ Palladium with DJ Vadim from Russia
Eden Nightclub - Backbeat Thursdays  
Dilingers - Thirst Days
Izumi - Rockizumi
Excess Superclub - Ladies' Night Out! Presents: Evening of Fantasy with the MGST models
Time in Manila - Laced Up! With Tony Touch, Apollo and Vinroc
ADVERTISEMENT - CONTINUE READING BELOW

Friday, November 23
19 East - 70s Super Band
Route 196 - Assemble! CORPORATE LO-FI, MC DASH, DJ ARBIE WON, BEATBOX PHILIPPINES
Saguijo - Brgy. Tibay.
Prive - Incognito
Excess Superclub - Filthy Fridays 
Fiamma - Fresh Fridays
Izumi - Fortress Friday feat. DJ Ron
Opus - Uber Disko
Palladium - Fabulush Fridays 
Candyshop - Sucette Fridays
Dillingers - Get Freaky 
Rocket Room - In Color : Arbie Won and Supreme Fist 
7th High - Heaven Fridays 
Eden Nightclub - Forbidden Fridays with DJ Andrew Chow
Saturday, November 24
Dillinger's - Saturday Swagger with DJ's Darrel D and Bad Boy Jeff
Arts in the City - DUBPLATE 4 YEAR ANNIVERSARY X ICHIBAN FESTIVAL 2
B-Side - ManilaSoulClub and B-Side Presents: PARTY AT GROUND ZERO
Eden Nightclub - Saturday Surrender
Saguijo - ATP x Revolver x PULP w/ Brick City, The Butchercons, Dark Crayola, Diwata, Paranoid City, Soju, Taken by Cars & At Times Provoked
19 East - Side A
Republiq Club - Pure Saturdays
Fiamma - Stereo Static Saturdays, 10 p.m.
7th High - Indulgence Saturdays featuring DJs Buzz, Badboy Jeff, and Ron. 
Izakaya - Sake To Me Baby Saturdays featuring DJ Steal and Nina. Hosted by JP David.
Jill's - Jill's Straight Up Saturdays presents: Jill's Straight Up Saturdays Anniversary
Izumi - Suteki Saturday ffeat. DJ Jacob
Opus - Legendary Saturdays
Excess Superclub -  Saturday Xscape
Rocket Room - Supersonic with Liquid A & Jay Lobo
Republiq - Pure Saturdays
Prive - Stilletto presents: Prom Night
ADVERTISEMENT - CONTINUE READING BELOW
Sunday, November 25
B-Side - Irie Sunday: Dub Explosion Session
Chihuahua Mexican Grill - Hangover Sundays, 2 p.m.
The Rocket Room - Sun Dazed with DJs Miss Badkiss & Supreme Fist.
Monday, November 26
Izakaya - Moshi Moshi Mondays featuring DJs Buzz and Kim Marvilla. Hosted by April Sun and Gio Emprese.
19 East - MYMP
Izumi - Muteki Monday
Opus - Industry Mondays
Dillingers - Misfit Mondays
Time in Manila - Monday Fever
Distillery Jupiter - iCoutsic Mondays
Reserve Liquor Lounge - Rockeoke Mondays
Eden Nightclub - Jumpstart Mondays
ADVERTISEMENT - CONTINUE READING BELOW
Tuesday, November 27
19 East - Version 4.0 
Route 196 - Soulchild Productions presents: JULIANNE
7th High Lounge - Timeout Tuesdays
Republiq Club - Chuckie
Saguijo - Saguijo & Warner Music Presents "Green Day Night!" w/ Aminado, December Avenue, Freakchips, Hilera, Penguin, Sirens.
Bond Urban Pub - The Original Models Night featuring DJs Ace Ramos, Ron Poe, and Slick Jay.
Izakaya - Open Mic Tuesday with Guji Lorenzana and JanJay Coquilla
Dillingers - Hipstop Tuesdays
Beso - Viva Tuesdays 
Reserve Liquor Lounge - Twisted Tuesdays with the Zombettes
Distillery Jupiter - Ladies' Night
Prive - Weekday Warriors
Recommended Videos
Load More Stories