Gig Guide: The Bar & Club Scene This Week
Your handy guide to the metro's hottest gigs and parties.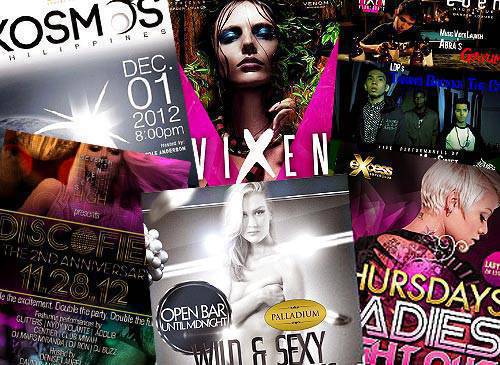 Wednesday, November 28
19 East - Freestyle
Saguijo - Killerkingkong Productions 3rd Anniversary
Route 196 - Strange Geometry
Bond Urban Pub - Stareoke Wednesdays
Opus - District: Urban Beats in the City
Izakaya - Izakaya Dojo Wednesday
M Café - Manteca! Salsa Night every Wednesday (10 p.m.) and Sunday (6 p.m.) featuring classic foot stomping, hip shaking, salsa, merengue, bachata, cha cha, and guest DJs.
Prive Luxury Club - Stiletto
Eden Nightclub - Music Video Launch of Abra's Gayuma and LDP's Taking Backkk The City
Izumi - Sakephonic Wednesdays, Ladies and Models Night
Dillingers - CTRL ALT Delete Wednesdays 
7th High - Discofied featuring Nyoy Volante, Glitters, and more
7th High APEX Lounge - Soulful Wednesdays
Uno Pizzeria - Aphrodite Wednesdays
Time in Manila - Femme Night
Reserve Liquor Lounge - Riot Wednesdays
Garage 88 - We Love House Wednesday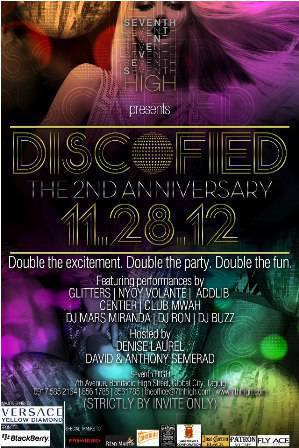 Thursday, November 29
ADVERTISEMENT - CONTINUE READING BELOW

Saguijo - Green Apple Productions "Blast-Off: Electronic x Instrumental Bands"
19 East - Juris
Route 196 - 2Dididoo Productions: BARBIE ALMALBIS plus other bands TBA
Opus - Groove Thursdays
Rocket Room - Space Camp at Rocket Room
Bond Urban Pub - Girls Night Out
Izakaya - KISS! KISS! BANG! BANG!
Libations - Lipstick Mafia
Palladium - WILD & SEXY Thursdays
Eden Nightclub - Backbeat Thursdays  
Dilingers - Thirst Days
Izumi - Rockizumi
Excess Superclub - Ladies' Night Out! MASHUP & TOP 40 beats by our EVENTs DJ, DjItch Iwey and Resident DJ Rodney Martinez with M.c. Boo Sacramento

Time in Manila - Laced Up! With Tony Touch, Apollo and Vinroc

Friday, November 30
19 East - Up in Arms: Juan Dela Cruz Tribute
Route 196 - Higad Prod @ Route 196: LTBA
Saguijo - Republikha w/ Bullet Dumas, Carlos Castano, Julianne, Kitchie Nadal, Peryodiko & Powerspoonz
Prive - Incognito
Excess Superclub - Filthy Fridays 
Fiamma - Fresh Fridays
Izumi - Fortress Friday feat. DJ Ron
Opus - Uber Disko
Palladium - Fabulush Fridays 
Candyshop - Sucette Fridays
Dillingers - Get Freaky 
Rocket Room - In Color : Arbie Won and Supreme Fist 
7th High - Heaven Fridays 
Eden Nightclub - Forbidden Fridays with DJ Andrew Chow
Time In Manila - 78 Orange + 135 Warehouse experience
Saturday, December 1
Dillinger's - Saturday Swagger with DJ's Darrel D and Bad Boy Jeff
Eden Nightclub - Saturday Surrender
19 East - True Faith
Route 196 - Attraction Reaction
Republiq Club - Pure Saturdays
Fiamma - Stereo Static Saturdays
7th High - Indulgence Saturdays featuring DJs Buzz, Badboy Jeff, and Ron. 
Izakaya - Sake To Me Baby Saturdays featuring DJ Steal and Nina. Hosted by JP David.
Jill's - Jill's Straight Up Saturdays
Izumi - Suteki Saturday feat. DJ Jacob
Opus - Legendary Saturdays
Excess Superclub -  Saturday Xscape
Rocket Room - Supersonic with Liquid A & Jay Lobo
Republiq - Pure Saturdays
Prive - Stilletto
ADVERTISEMENT - CONTINUE READING BELOW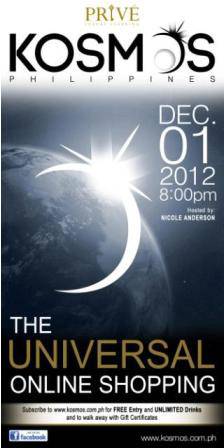 Sunday, December 2
Chihuahua Mexican Grill - Hangover Sundays, 2 p.m.
The Rocket Room - Sun Dazed with DJs Miss Badkiss & Supreme Fist.
Monday, December 3
Izakaya - Moshi Moshi Mondays featuring DJs Buzz and Kim Marvilla. Hosted by April Sun and Gio Emprese.
19 East - MYMP
Route 196 - DocDef Productions
Izumi - Muteki Monday
Opus - Industry Mondays
Dillingers - Misfit Mondays
Time in Manila - Monday Fever
Distillery Jupiter - iCoutsic Mondays
Reserve Liquor Lounge - Rockeoke Mondays
Eden Nightclub - Jumpstart Mondays
Jill's - Monday Mic Live
Tuesday, December 4
19 East - Urbandub, Queso, Franco & Powerspoonz
Route 196 - Cubism @ Route 196: LTBA
7th High Lounge - Timeout Tuesdays
Republiq Club - Chuckie
Bond Urban Pub - The Original Models Night featuring DJs Ace Ramos, Ron Poe, and Slick Jay
Izakaya - Open Mic Tuesday with Guji Lorenzana and JanJay Coquilla
Dillingers - Hipstop Tuesdays
Beso - Viva Tuesdays 
Reserve Liquor Lounge - Twisted Tuesdays with the Zombettes
Distillery Jupiter - Ladies' Night
Prive - Weekday Warriors
ADVERTISEMENT - CONTINUE READING BELOW
Load More Stories