The Splintr Year-End Party + The Bar & Club Scene This Week
Your handy guide to the metro's hottest gigs and parties.
Wednesday, December 12
Saguijo - Dogtown Music w/ Actually Not Here, Chicosci, Gabe Piolo, Greyhoundz, Indaybote, Jensen Gomez, Justin Time, Kuwago, Lady Ransom, Lions and Acrobats, Mayonnaise, Mithi, Monica Bautista, One Click Straight, Proclamation 22, Save Me Hollywood, Segatron & Wilderness
19 East - MYMP
Bond Urban Pub - Stareoke Wednesdays
Opus - District: Urban Beats in the City
Izakaya - Izakaya Dojo Wednesday
M Café - Manteca! Salsa Night, 10 p.m.
Prive Luxury Club - Stiletto
Izumi - Sakephonic Wednesdays, Ladies and Models Night
Dillingers - CTRL ALT Delete Wednesdays 
7th High APEX Lounge - Soulful Wednesdays
Time in Manila - Femme Night
Reserve Liquor Lounge - Riot Wednesdays
Garage 88 - We Love House Wednesday
B - Side - The Hijonation.com Website Launch featuring Cosmic Love, Wilderness, (S)crabble, The Hanging Experience and HIJO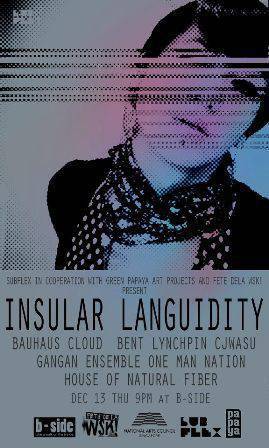 ADVERTISEMENT - CONTINUE READING BELOW

Thursday, December 13

Saguijo - Girl Scout! w/ Ernville, Gaijin, Tide/Edit, Up Dharma Down & Yolanda Moon
Opus - Groove Thursdays
Rocket Room - Space Camp at Rocket Room
Bond Urban Pub - Girls Night Out
Izakaya - KISS! KISS! BANG! BANG!
Libations - Lipstick Mafia
Palladium - WILD & SEXY Thursdays
Eden Nightclub - Backbeat Thursdays  
Dilingers - Thirst Days
Izumi - Rockizumi
Excess Superclub - Ladies' Night Out
Route 196 - Obation Productions feat PHONIC DIALOGUE, SURROGATE PREY, PLANE DIVIDES The SKY, KABUTE, SWITCH
19 East - Juris
B - Side - SUBFLEX X GREEN PAPAYA ART PROJECTS X FETE DELA WSK! Present INSULAR LANGUIDITY featuring BAUHAUS CLOUD, BENT LYNCHPIN, CJ WASU, GANGAN ENSEMBLE, TARA X aka ONE MAN NATION (Singapore) & HOUSE OF NATURAL FIBER (Indonesia)
Friday, December 14

19 East - Side A
Route 196 - Terno Night @ Route 196: UP DHARMA DOWN, The SLEEPYHEADS, The CHARMES, EWAY, MUSICAL O
Saguijo - Brgy. Tibay Xmas Party. Lineup TBA
Prive - Incognito
Excess Superclub - Filthy Fridays 
Fiamma - Fresh Fridays
Izumi - Fortress Friday feat. DJ Ron
Opus - Uber Disko
Palladium - Fabulush Fridays 
Candyshop - Sucette Fridays
Dillingers - Get Freaky 
Rocket Room - In Color : Arbie Won and Supreme Fist 
7th High - Heaven Fridays 
Eden Nightclub - Forbidden Fridays with DJ Andrew Chow
ADVERTISEMENT - CONTINUE READING BELOW
Republiq - The Money Makin' Tour featuring Atrak and special guest Dillon Francis
Time in Manila - Deep Dark Dirty: Special 6-Hour B2B Set By Time Residents
B - Side - BOOM BAP FRIDAY X SPLINTR.COM Present EAT YOUR BEETS 2012 featuring
ARTSTRONG, DON P, J-HOON, SUPREME FIST, PEOPLE'S FUTURE, RED-I, WE KILL YOU, SIMILAR OBJECT, EYEDRESS, RED-I (Live Set), SOULFLOWER, FLOOR DESTROYER and more
Saturday, December 15

Dillinger's - Saturday Swagger with DJ's Darrel D and Bad Boy Jeff
Eden Nightclub - Saturday Surrender
19 East - Deep Projek
Saguijo - Terno Inferno w/ The Charmes, Encounters with a Yeti, Hidden Nikki, Maude, Musical O, Not Another Boy Band, Populardays, Sleepwalk Circus, The Sleepyheads, Up Dharma Down, Yolanda Moon. More TBA
Republiq Club - Pure Saturdays
Fiamma - Stereo Static Saturdays
7th High - Indulgence Saturdays featuring DJs Buzz, Badboy Jeff, and Ron. 
Izakaya - Sake To Me Baby Saturdays featuring DJ Steal and Nina. Hosted by JP David.
Jill's - Jill's Straight Up Saturdays
Izumi - Suteki Saturday feat. DJ Jacob
Opus - Legendary Saturdays
Excess Superclub -  Saturday Xscape
Rocket Room - Supersonic with Liquid A & Jay Lobo
Republiq - Pure Saturdays
Prive - Stilletto
ADVERTISEMENT - CONTINUE READING BELOW
Palladium - Guest DJ Sabrina Terence
Route 196 - Sundown Muse
Time In Manila - Boom Tchak "Christmas Spesh"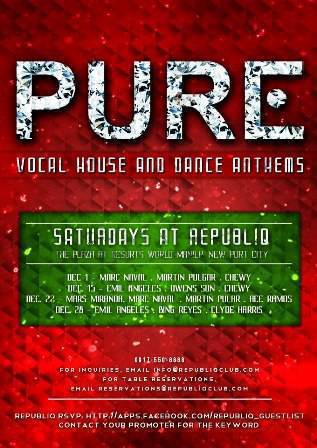 Sunday, December 16
Chihuahua Mexican Grill - Hangover Sundays
The Rocket Room - Sun Dazed with DJs Miss Badkiss & Supreme Fist
B - Side - Dub Explosion Session
M Café - Manteca! Salsa Night, 6 p.m.
ADVERTISEMENT - CONTINUE READING BELOW
Route 196 - RockEd Christmas Party
Monday, December 17

Izakaya - Moshi Moshi Mondays
19 East - MYMP
Route 196 - Ang Eighty-ist Nagpapasko Din: FOR The ROAD, JAZZ and MIKEY, The REMAINS, plus 80s Tunes from DJ POGZ PAZ. Entrance is FREE!
Izumi - Muteki Monday
Opus - Industry Mondays
Dillingers - Misfit Mondays
Time in Manila - Monday Fever
Distillery Jupiter - iCoutsic Mondays
Reserve Liquor Lounge - Rockeoke Mondays
Eden Nightclub - Jumpstart Mondays
Jill's - Monday Mic Live
Saguijo - Working Class Heroes w/ Aminado, Francis Rae, Never the Strangers, Not so Fast, Tanya Markova. More TBA
Tuesday, December 18
19 East - Juris
Route 196 - Christmas Party (Mega Group)
7th High Lounge - Timeout Tuesdays
Bond Urban Pub - The Original Models Night
Izakaya - Open Mic Tuesday
Dillingers - Hipstop Tuesdays
Beso - Viva Tuesdays 
Reserve Liquor Lounge - Twisted Tuesdays 
Distillery Jupiter - Ladies' Night
Prive - Weekday Warriors
Saguijo - Salamin Live! w/ Bought by Blood, December Avenue, Lions and Acrobats. More TBA
ADVERTISEMENT - CONTINUE READING BELOW
Recommended Videos
Load More Stories