Britney and will.i.am + More Fresh Tunes to Listen to This Month
Cap off 2012 with the latest from Depeche Mode, Vampire Weekend, Up Dharma Down, and more!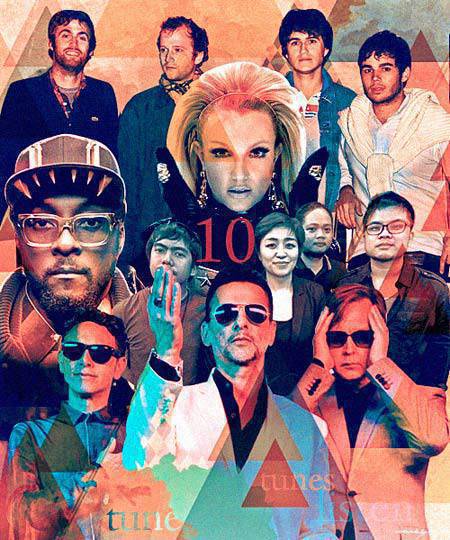 (SPOT.ph) In our December playlist, we feature Depeche Mode's untitled electronic single, Vampire
Weekend's grim track, will.i.am and Britney Spears' club collab, Wild Cub's indie-pop tune, and Foxygen's 60s-sounding release. Plus, get a load of OPM goodness from Up Dharma Down, The Youth, Giniling Festival, Ciudad, and Silent Sanctuary.
Song: "Angel of Love" (tentative title)

Artist: Depeche Mode

This new track from the iconic English band is a lush electronic creation that reminds fans of the good-old Depeche Mode sound. Vocalist Dave Gahan croons and growls through rich guitars and synths creating an overall gloomy single that still manages to pack a lot of power.

Fun fact: "Angel of Love" is off Depeche Mode's still-untitled 13th studio album, which is expected to drop early next year. The band has also announced the dates for their 2013 European tour, which will kick off in May.
Song: "Turn it Well"

Artist: Up Dharma Down

Love it or hate it, Up Dharma Down's latest single is solid proof of the local act's evolution and honesty. In this track, Armi Millare's vocals take the back seat to give way to a surprising 80s sound. Don't expect a heart-wrenching, emotional rollercoaster ride, and instead take delight in the musical growth and exploration that "Turn it Well" represents.

Fun fact: According to the band, it was their "first their time to play a set list that long" (with a total of 20 songs) during the launch of their third album, Capacities.
Song: "Unbelievers"

Artist: Vampire Weekend

The single's cheery riff clashes with its grim lyrics-"We know the fire awaits unbelievers/All of the sinners the same/Girl, you and I will die unbelievers/Bound to the tracks of the train"-and explodes to give birth to an ear-pleasing and loop-worthy ditty. It goes without saying that fans can't wait for their new LP.

Fun fact: Vampire Weekend debuted "Unbelievers" on Jimmy Kimmel Live, complete with deathly skeleton makeup, last Halloween.
ADVERTISEMENT - CONTINUE READING BELOW

Song: "Laruan"

Artist: The Youth

The Youth are making a comeback, and they're bringing their winning brand of Pinoy punk rock with them. Frontman Dodong Cruz's raspy vocals are filled with piercing emotions (enough to make a Youth fan tear up) as he sings to reminisce about fond childhood memories and a life that was once simple and carefree. We're sure the whole local music community is celebrating and saying, "OPM is not dead."

Fun fact: The Youth's new album, Pirata, contains tracks that were shelved for about a decade, according to mymusicstore.ph.
Song: "Scream & Shout"

Artist: will.i.am featuring Britney Spears

Pop favorites will.i.am and Britney Spears are out with an infectious, futuristic club anthem with simple rhymes and easy beats. Watch for Spears' robotic vocals, plus her signature "It's Britney, b*tch" drop.

Fun fact: "Scream & Shout" is part of will.i.am's forthcoming solo record titled willpower, which will also feature collaborations with other artists like Jennifer Lopez and Mick Jagger.
CONTINUE READING BELOW
Recommended Videos
Skip to 6:15 to hear "Ang Mayabang"
Song: "Efico (Ang Mayabang)"

Artist: Giniling Festival

A fitting song for the much-talked-and-joked-about apocalypse, "Efico (Ang Mayabang)" brings you images of destruction and out-of-this-world phenomena, while still imparting Giniling Festival's comical character. Vocalist Jeje Santos sounds a little serious as he sings against screeching guitars in this epic rock track.

Fun fact: The Efico EP is actually one continuous track composed of three songs.
Song: "Thunder Clatter"

Artist: Wild Cub

The Wild Cub duo from Nashville released their debut LP, Youth, last August and has since garnered positive reviews from indie-pop music lovers. "Thunder Clatter" is an irresistible love track with jangly music and saccharine-sweet lyrics that will get you hooked on first listen.

Fun fact: Film composer and singer/songwriter Keegan DeWitt and multi-instrumentalist Jeremy Bullock make up Wild Cub.
ADVERTISEMENT - CONTINUE READING BELOW
Song: "You Know the Answer, Just Follow the Leader"

Artist: Ciudad

Cuidad's latest music video is a feel-good (and goofy) interpretation of their indie-pop single "You Know the Answer, Just Follow the Leader." Generally upbeat with a dreamy outro, the band's latest offering features layered harmonies that create a sound very reminiscent of The Beatles.

Fun fact: The single and music video also features Ang Nawawala director Marie Jamora.
Song: "Shuggie"

Artist: Foxygen

Twenty-two-year-olds Sam France and Jonathan Rado of Foxygen take you on a musical ride with their single, "Shuggie." The 60s-sounding track, which keeps you hooked with its irregular tempo and reverbed vocals, is a hodgepodge of different musical influences.

Fun fact: Foxygen's new album, We Are the 21st Century Ambassadors of Peace & Magic, is expected to
drop on January 22, 2013.

Song: "Paalam"

Artist: Silent Sanctuary

The local pop-rock quintet's latest single is a heartbreaking composition with somber melodies and straightforward lyrics. "Paalam," which sticks to the signature sound of Silent Sanctuary, is sure to please fans.

Fun fact: Silent Sanctuary members include Sarkie Sarangay (guitar and vocals), Chino David (violin and backup vocals), Anjo Inacay (cello), Jason Rondero (bass and backup vocals), and Allen Calixto (drums).
Share this story with your friends!
---
Help us make Spot.ph better!
Take the short survey
Load More Stories