New Year's Eve Champagne Ball at Opus + The Bar & Club Scene This Week
Your handy guide to the metro's hottest gigs and parties.
Wednesday, December 26
Saguijo - Tubby Trousers "Decembeard" w/ Death to Puberty, Helen, Identikit, Legarda, Lochness, The Shocking Details & Slumbook
Bond Urban Pub - Stareoke Wednesdays
Opus - District: Urban Beats in the City
Izakaya - Izakaya Dojo Wednesday
M Café - Manteca! Salsa Night, 10 p.m.
Prive Luxury Club - Stiletto
Izumi - Sakephonic Wednesdays, Ladies and Models Night
Dillingers - CTRL ALT Delete Wednesdays 
7th High APEX Lounge - Soulful Wednesdays
7th High - Scarlet Wednesdays presents The Red Room featuring the music of DJs Carlo Atendido, Nampu Kawamoto, and Travis Monsod. PLUS! 50% OFF on tables and ALL ALCOHOLIC DRINKS
Time in Manila - Femme Night
Reserve Liquor Lounge - Riot Wednesdays
Garage 88 - We Love House Wednesday
Route 196 - Live @ Route 196: WYNNFORD plus other bands TBA
Freedom Bar - WICKED WEDNESDAY featuring: SS109, Slash n' Burn, Laura, Hello Margaret, Ayuda Force, Mission to Breathe, Nica's Pole, Yeshua, Along the Way, Cattleya, Crazy Family
19 East - Edge
70s Bistro - Reggae Mistress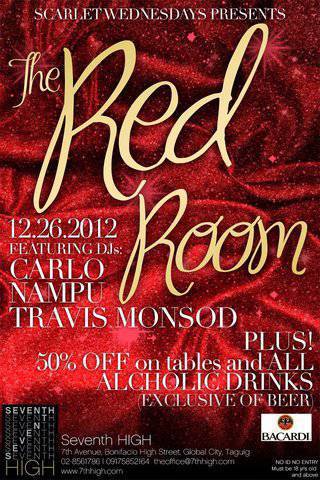 ADVERTISEMENT - CONTINUE READING BELOW

Thursday, December 27

Saguijo - L5R x Uno Productions. Lineup TBA
Opus - Groove Thursdays
Rocket Room - Space Camp at Rocket Room
Bond Urban Pub - Girls Night Out
Izakaya - KISS! KISS! BANG! BANG!
Libations - Lipstick Mafia
Palladium - WILD & SEXY Thursday presents CANDY ISLAND!
Eden Nightclub - Backbeat Thursdays  
Dilingers - Thirst Days
Izumi - Rockizumi
Excess Superclub - Filthy Fridays
19 East - Subprojekt & Siglo
Route 196 - Prod c/o Los Magno
Freedom Bar - REGGAE NIGHT featuring: Coffeebreak Island
70s Bistro - Silent Sanctuary
Friday, December 28

Saguijo - Guerrilla Music w/ Bone Pagligaran, The Chongkeys, Cunejo, Four Piece, Peso Movement, The Republicats & Rubberpool
Prive - Incognito
Excess Superclub - Filthy Fridays 
Fiamma - Fresh Fridays
Izumi - Fortress Friday feat. DJ Ron
Opus - Uber Disko
Palladium - Fabulush Fridays 
Candyshop - Sucette Fridays
Dillingers - Get Freaky 
7th High - Heaven Fridays 
Eden Nightclub - Forbidden Fridays with DJ Andrew Chow
Route 196 - Crossfade Prod: JOIN The CLUB, SILENT SANCTUARY, DECEMBER AVE., TALATA, DHRUVA,TARA, ELECTRIC PRINCESS, LUNA, THIRD TIME CHARM
Freedom Bar - FREEDOMANIA featuring: Wilabaliw plus other bands
19 East - Side A
70s Bistro - Brownman Revival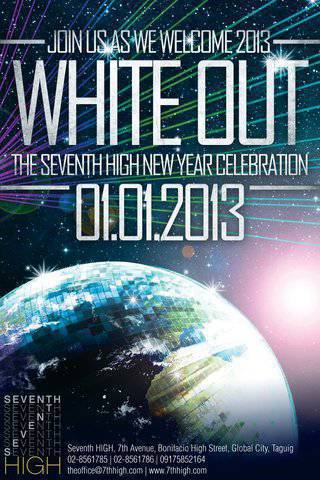 ADVERTISEMENT - CONTINUE READING BELOW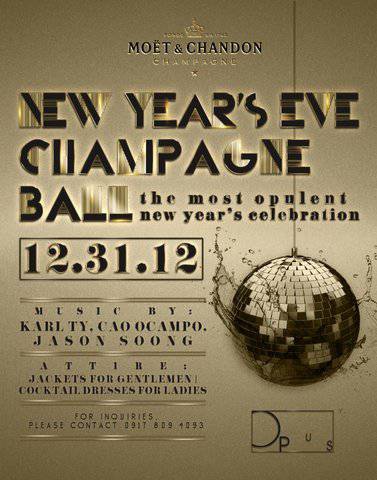 Saturday, December 29

Dillinger's - Saturday Swagger with DJ's Darrel D and Bad Boy Jeff
Eden Nightclub - Saturday Surrender
19 East - Nina and Lougee
Saguijo - Kalayo. More TBA
Republiq Club - Pure Saturdays
Fiamma - Stereo Static Saturdays
7th High - Indulgence Saturdays featuring DJs Buzz, Badboy Jeff, and Ron. 
Izakaya - Sake To Me Baby Saturdays featuring DJ Steal and Nina. Hosted by JP David.
Jill's - Jill's Straight Up Saturdays
Izumi - Suteki Saturday feat. DJ Jacob
Opus - Legendary Saturdays
Excess Superclub -  Saturday Xscape
Republiq - Pure Saturdays
Prive - Stilletto
Route 196 - Mary Moon: LTBA
Sunday, December 30
Chihuahua Mexican Grill - Hangover Sundays
The Rocket Room - Sun Dazed with DJs Miss Badkiss & Supreme Fist
B - Side - Dub Explosion Session
M Café - Manteca! Salsa Night, 6 p.m.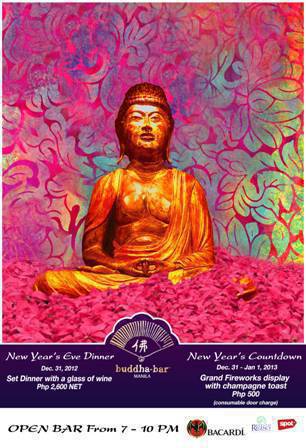 ADVERTISEMENT - CONTINUE READING BELOW
Monday, December 31

Izakaya - Moshi Moshi Mondays
Izumi - Muteki Monday
Opus - New Year's Eve Champagne Ball with music by Karl Ty, Cao Ocampo, Jason Soong, 10 pm
Dillingers - Misfit Mondays
Time in Manila - MONDAY FEVER! with DJs Marshall White | Matthew Carbonell & Brian Abat plus Maries & Jill on Vocals
Distillery Jupiter - iCoutsic Mondays
Reserve Liquor Lounge - Rockeoke Mondays
Eden Nightclub - Nokia presents the NEW YEAR'S EVE PARTY 2013 at EDEN NIGHTCLUB and VENOM LOUNGE
Jill's - Monday Mic Live
Republiq - Annual New Year's Ball with music by Mars Miranda, Marc Naval, Martin Pulgar, and Ace Ramos, 10 pm
Palladium - New Year's Eve Masquerade Ball with DJ Liz Candy
Buddha Bar - Countdown to 2013, Bacardi open bar
Tuesday, January 1
Time in Manila - Deep Dark Dirty: TIME Residents ALINEP & PAV PARROTTE in the Main Room
MATTHEW CARBONELL on The Roof, 1 am
7th High Lounge - Timeout Tuesdays
Bond Urban Pub - The Original Models Night
Izakaya - Open Mic Tuesday
Dillingers - Hipstop Tuesdays
Beso - Viva Tuesdays 
Reserve Liquor Lounge - Twisted Tuesdays 
Distillery Jupiter - Ladies' Night
Prive - Weekday Warriors
Load More Stories