Candy Island at the Palladium + The Bar & Club Scene This Week
Your handy guide to the metro's hottest gigs and parties.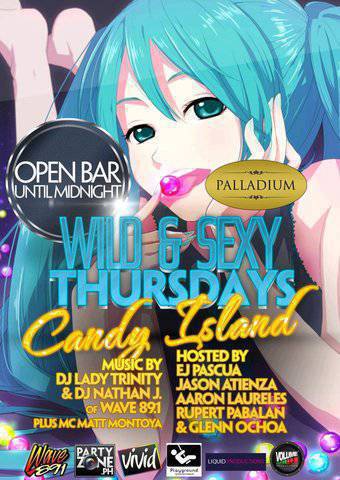 Wednesday, January 2
Saguijo - Soniclogo.TV w/ ADOBO UPPERCUT, ARMY OF ONE, DERANGED, LEM'S GUITAR, EN MEMORIAM, ROXSTARS & SCRABBLE
Bond Urban Pub - Stareoke Wednesdays
Opus - District: Urban Beats in the City
Izakaya - Izakaya Dojo Wednesday
M Café - Manteca! Salsa Night, 10 p.m.
Prive Luxury Club - Stiletto
ADVERTISEMENT - CONTINUE READING BELOW
Izumi - Sakephonic Wednesdays, Ladies and Models Night
Dillingers - CTRL ALT Delete Wednesdays 
7th High APEX Lounge - Soulful Wednesdays
Time in Manila - Femme Night
Reserve Liquor Lounge - Riot Wednesdays
Garage 88 - We Love House Wednesday
Freedom Bar - Wicked Wednesday featuring Toyo, Peligro, Red Light Go, Antimano, Glen Ermitanyo, Molave Drive, Iron Justice, Grade 3, Do It Again, Tragedy of the Common
Thursday, January 3

Saguijo - Yellow Room Productions w/ CIRCA, DIACHROMA, LIONS AND ACROBATS, MAYONNAISE, MIDNIGHT MEETINGS, PITIK & SILENT SANCTUARY
Opus - Groove Thursdays
Rocket Room - Space Camp at Rocket Room
Bond Urban Pub - Girls Night Out
Izakaya - KISS! KISS! BANG! BANG!
Libations - Lipstick Mafia
Palladium - WILD & SEXY Thursdays
Eden Nightclub - Backbeat Thursdays  
Dilingers - Thirst Days
Izumi - Rockizumi
19 East - Juris
Friday, January 4

Saguijo - Saguijo Presents: Suwabe Nights! w/ CHILLITEES, JULIANNE, THE MIGHTY MISCELLANEOUS, NYKO MACA PRESENTS GAFIEIRA & PINOY STORIES. Also Powered by: Revolver Productions
Prive - Incognito
Excess Superclub - Filthy Fridays 
Fiamma - Fresh Fridays
Izumi - Fortress Friday feat. DJ Ron
Opus - Uber Disko
Palladium - Fabulush Fridays 
Candyshop - Sucette Fridays
Dillingers - Get Freaky 
7th High - Heaven Fridays 
Eden Nightclub - Forbidden Fridays with DJ Andrew Chow
ADVERTISEMENT - CONTINUE READING BELOW
19 East - Side A
Route 196 - Crossfade Prod: DECEMBER AVE., YOUR IMAGINARY FRIENDS, TALATA, DHRUVA TARA, BAKESHOP, ELECTRIC PRINCESS, MIDNIGHT MEETINGS
Freedom Bar - Freedomania Friday featuring Kamikazee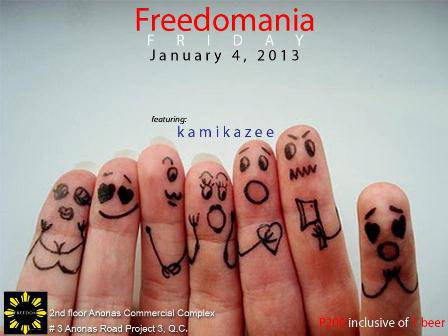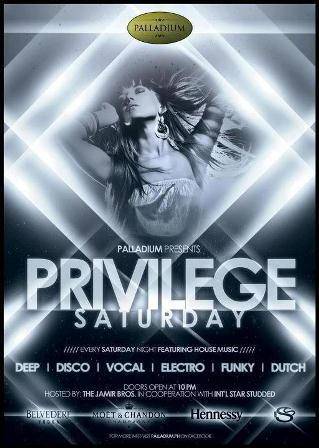 ADVERTISEMENT - CONTINUE READING BELOW
Saturday, January 5

Dillinger's - Saturday Swagger with DJ's Darrel D and Bad Boy Jeff
Eden Nightclub - Saturday Surrender
19 East - Up Dharma Down
Saguijo - Saguijo Presents: FLYING IPIS, IDENTIKIT, MOONWLK, STRANGER DANGER, TWIN LOBSTER, WILDERNESS. Maybe1More TBA
Republiq Club - Pure Saturdays
7th High - Indulgence Saturdays featuring DJs Buzz, Badboy Jeff, and Ron. 
Izakaya - Sake To Me Baby Saturdays featuring DJ Steal and Nina. Hosted by JP David.
Jill's - Jill's Straight Up Saturdays
Izumi - Suteki Saturday feat. DJ Jacob
Opus - Legendary Saturdays
Excess Superclub -  Saturday Xscape
Republiq - Pure Saturdays
Prive - Stilletto
Route 196 - 80's Night with GOO, RUNAWAY BOYS, BETRAYED
Sunday, January 6
Chihuahua Mexican Grill - Hangover Sundays
The Rocket Room - Sun Dazed with DJs Miss Badkiss & Supreme Fist
B - Side - Dub Explosion Session
M Café - Manteca! Salsa Night, 6 p.m.
Monday, January 7

Izakaya - Moshi Moshi Mondays
Izumi - Muteki Monday
Opus - Industry Mondays
Dillingers - Misfit Mondays
Time in Manila - MONDAY FEVER! with DJs Marshall White | Matthew Carbonell & Brian Abat plus Maries & Jill on Vocals
Distillery Jupiter - iCoutsic Mondays
Reserve Liquor Lounge - Rockeoke Mondays
Eden Nightclub - Jumpstart Mondays
ADVERTISEMENT - CONTINUE READING BELOW
Jill's - Monday Mic Live
Route 196 - Guilty Acoustic Pleasures feat. KEVIN ROY, MIKE CANLAS, KESSENTH CHENG
Tuesday, January 8
Saguijo - Dogtown First Anniversary! w/ GABE PIOLO, JENSEN GOMEZ, KAPNOBATAI, LADY RANSOM, MAD HATTER DAY, MITHI, SLEEP IS THE ENEMY & WILDERNESS
7th High Lounge - Timeout Tuesdays
Bond Urban Pub - The Original Models Night
Izakaya - Open Mic Tuesday
Dillingers - Hipstop Tuesdays
Beso - Viva Tuesdays 
Reserve Liquor Lounge - Twisted Tuesdays 
Distillery Jupiter - Ladies' Night
Prive - Weekday Warriors
19 East - MYMP
Load More Stories