MOVIE REVIEW: Jack Reacher
Our movie blogger points out the pluses and minuses of this Tom Cruise starrer.
(SPOT.ph) Five innocent people are gunned down by a sniper at a park in Pittsburgh one morning. After processing evidence at the crime scene, the police arrest Jack Barr (Joseph Sikora), a former marine. The case is all but closed until Barr scribbles, "Get Jack Reacher" on a piece of paper before he slips into a coma after a brutal beating. Reacher (Tom Cruise), a former army cop who served with Barr in Iraq, soon appears to investigate the massacre. Working with Barr's defense attorney Helen Rodin (Rosamund Pike), Reacher discovers that there's more to the case than meets the eye. Rated PG by the MTRCB, the movie is based on One Shot, the 9th Jack Reacher novel by Lee Child.


PLUSES

The chilling sniper sequence that begins the movie. In light of the horrendous massacre that left 20 school children dead in Connecticut a week before Jack Reacher opened in the USA, this riveting scene was reportedly seen as a minus by American moviegoers, who found it too realistic to stomach. Closer to home, the sequence will make local moviegoers think of the more recent but similarly senseless massacre in Kawit, Cavite. It's listed as a plus here simply because it's a superbly crafted, nearly silent sequence that puts the viewer in the killer's shoes for a few horrifying seconds. In terms of grabbing the viewer's attention from the get-go, the scene's visceral impact is comparable to that of the D-day invasion that opened Saving Private Ryan.          

The engrossing story. Having written the Oscar-winning screenplay of the brilliant twister that was The Usual Suspects, the director of Jack Reacher, Christopher McQuarrie, obviously knows a thing or two about concocting cinematic police investigations that keep the audience guessing until the very end. And while Reacher never quite reaches the mind-bending heights established by The Usual Suspects, it does have enough narrative twists and turns and colorful characters to keep you glued to your seat until the end credits roll.
ADVERTISEMENT - CONTINUE READING BELOW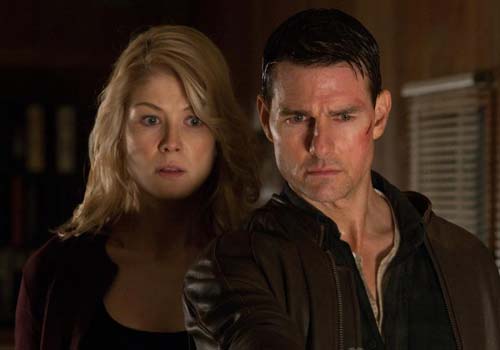 The self-mutilating Zec. Cinema's best villains each have some kind of disfigurement or possess a repulsive trait that makes them unforgettable. Javier Bardem's Silva in Skyfall had that sagging face, while Hannibal Lecter liked to feast on people he didn't like. One of Jack Reacher's baddies, The Zec (Werener Herzog), has two disfigurements, one of which is self-inflicted. In addition to having a creepy milky eye, Zec also has a few missing fingers. Where did the digits go? To make a long story short... he ate them. Self cannibalism? Even Lecter would find that too icky! Too bad, though, that Zec only has a few scenes in the film.
CONTINUE READING BELOW
Recommended Videos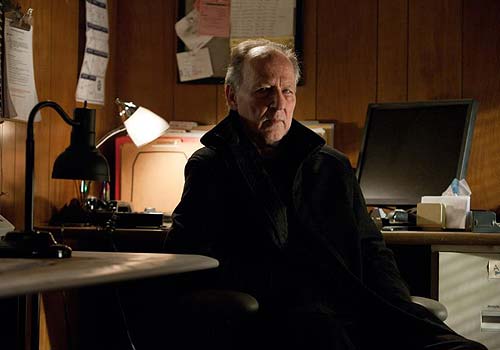 ADVERTISEMENT - CONTINUE READING BELOW
MINUSES

Tom Cruise as Jack Reacher. Much has been made of the fact that the 5' 9" Tom Cruise doesn't look at all like the 6' 5",  blonde and unattractive Jack Reacher described by author Lee Child in his books. Indeed, the film's underwhelming box-office returns in the USA have been blamed partly on the refusal of the books' fans to see Cruise as Reacher. Not having read any of the bestselling books, I asked a friend who's read One Shot her thoughts on Cruise playing Reacher. Her reply was that Child's Reacher does use his towering height and 250-pound frame to get the job done, and agrees with other Reacher book fans that Cruise is miscast in the role. She still plans to watch the movie though, but with lowered expectations. (I then offered that the best way to approach any movie IS with lowered expectations.)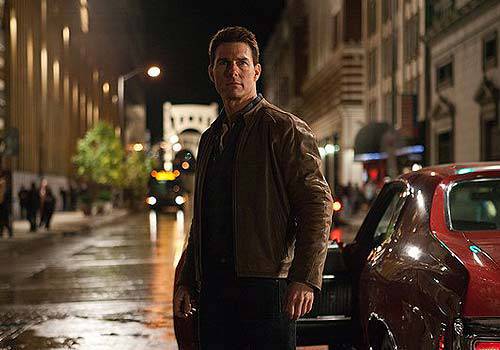 The leading lady as damsel in distress. When you first meet her in Jack Reacher, the character of Helen Rodin (Rosamund Pike) comes across as a strong-willed contemporary female. The beautiful but smart lawyer daughter of the District Attorney (Richard Jenkins), Helen defies her dad by offering to defend James Barr even though the entire Pittsburgh police force is convinced he's guilty. But as the story unfolds, the once-promising Helen sets back the women's movement by several decades, devolving into the proverbial 20th century damsel-in-distress. As if that wasn't bad enough, she's also given a scene where she's caught admiring a topless Reacher and anticipating a kiss from him. Yes, the scene is played for laughs and is very funny, but nothing that follows restores or salvages the character's initial promise. Despite a strong start, she ends the film merely as the chick who needs to be rescued by her leading man.  

The old school finale. The movie's "ode to old school" climax, in which our hero is forced to use low tech weapons in a gunfight against the bad guys, would have been more effective had Jack Reacher come out before the 007 adventure Skyfall. But it didn't, and so Jack Reacher's simpler but harder-to-swallow finale must endure being labeled as the poor man's version of Skyfall's more eloquent, more spectacular climax.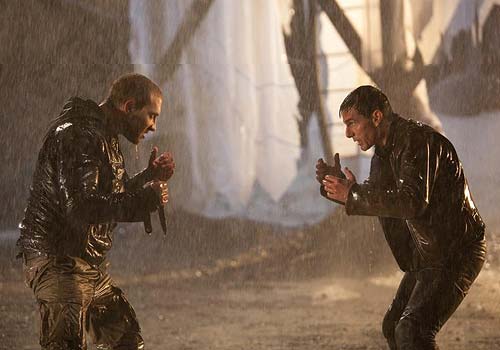 IN BRIEF: Jack Reacher is a smart and intriguing action thriller about a sniper massacre that's best enjoyed by those who haven't read any of Lee Child's bestselling Reacher novels. And though it's a thinking viewer's action flick, the movie also comes with enough fist fights, gun fights, and car chases to satisfy those looking for less cerebral cinematic fare.

Rating: 3½ out of 5 spots •••
ADVERTISEMENT - CONTINUE READING BELOW
Share this story with your friends!
---
Help us make Spot.ph better!
Take the short survey
Load More Stories