MOVIE REVIEW: Life Of Pi
<em> Life of Pi </em> deals with religion and spirituality but thankfully, does not feel like a sermon!
(SPOT.ph) A teenaged Indian boy named Pi (Suraj Sharma) and a hungry Bengal tiger named Richard Parker are stranded for more than 200 days in the Pacific following their freighter ship's sinking in a storm. Decades later, the adult Pi (Irrfan Khan) recounts his incredible odyssey of survival to a writer (Rafe Spall). The movie, based on the bestselling book of the same title by Yann Martel was published in 2001.

11 ACADEMY AWARD NOMINATIONS: Picture, Director, Screenplay Adaptation, Cinematography, Editing, Music Score, Original Song, Production Design, Sound Editing, Sound Mixing, Visual Effects.  

MTRCB Rating: G for General Audiences
PLUSES
Pi and Richard Parker. Because Suraj Sharma (the actor playing the teenaged Pi)  didn't receive an acting nomination from any of the major award giving bodies or critics groups, you may think that he only gave a so-so performance. This is hardly the case, since Sharma is effortlessly convincing as the boy whose fear of the carnivorous tiger keeps him alive. His work is even more impressive when you consider that Richard Parker was almost never present during filming...the tiger was created much later by an army of computer wizards on their hard drives. That viewers easily become emotionally invested in the relationship that's forged between the boy and the tiger is a testament to Sharma's natural performance and the visual effects team's flawless animation.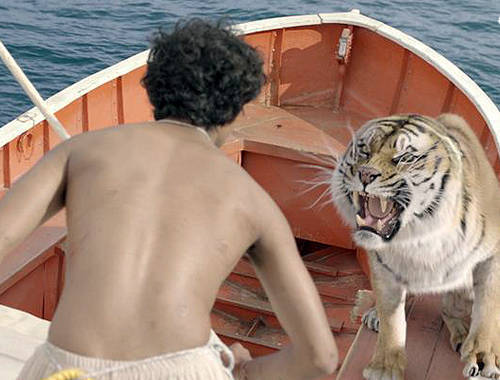 ADVERTISEMENT - CONTINUE READING BELOW
The graceful, feel-it-all script. What absurd incidents led to the nicknaming of Pi and the naming of Richard Parker? How does an Indian become a follower of Hinduism, Christianity, and Islam before he becomes a teenager? Is there really an island out there that's populated by thousands of meerkats? Funny and dramatic, gentle and profound, there's nothing rote or formulaic about Pi's cinematic journey from precocious little boy to teenaged shipwreck survivor. Despite its many meditations on life and death, living and loving, spirituality and religion, Life of Pi never feels like a sermon.    


The haunting, hallucinatory visuals. A flat, 2-D comic book illustration becomes a bewitching 3-D representation of the cosmos. A French woman swimming in a pool appears to be floating in the sky. A forest canopy takes the shape of a human being who's  either asleep or dead. These are just some of the many poetic images which director Ang Lee brings to vivid life from the pages of Yann Martel's bestseller. Yes, the film's beauty has made me curious about reading the book, but I doubt very much that my visualization of Martel's words will even come close to the sublime perfection of the images that Lee and his team of cameramen and effects wizards have conjured for our bedazzlement.
CONTINUE READING BELOW
Recommended Videos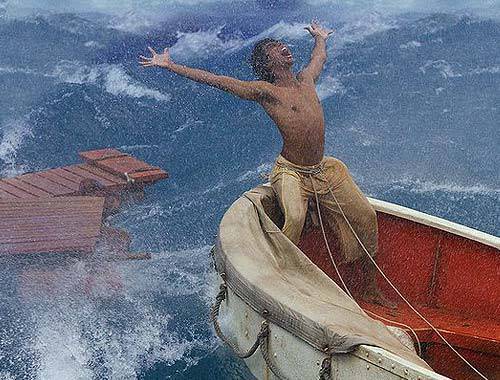 ADVERTISEMENT - CONTINUE READING BELOW
The ambiguous incidents. Of the many ingredients that were utilized to tell Pi's tale, I was especially captivated by the element of doubt that Ang Lee and screenwriter David Magee threaded into the narrative to make the viewer a more active participant in the story. Towards the end of the film, we are made to choose what we want to believe and  reject in Pi's story, through the writer the adult Pi has spent the whole day sharing his story with.

Manila is mentioned and the Philippines is seen in another Oscar nominee for best picture...yippee! Though Bwakaw failed to earn an Academy Award nomination for best foreign language film, we Pinoys can derive some consolation from the fact that Manila is actually talked about in Life of Pi. We also glimpse the Philippines in a stylized map tracing the path the ship bearing Pi and his family took, and later, a cameo by a butanding. If memory serves, the last time the Philippines was seen in an Oscar best picture nominee was in 1981's Raiders of the Lost Ark. As in Life of Pi, our islands were seen on a map in Raiders tracing Indiana Jones' journey to find the Ark of the Covenant. Any exposure our country can get at the Oscars is very much appreciated, thank you very much!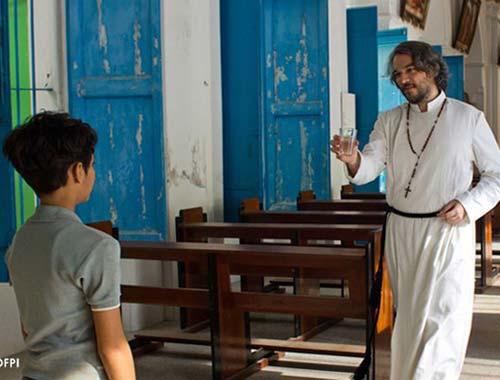 ADVERTISEMENT - CONTINUE READING BELOW
MINUSES
The Japanese insurers. I've seen Life of Pi twice, and both times I've yawned in the portion where a pair of Japanese insurance investigators are interviewing Pi about the shipwreck. If there's a scene that could have been trimmed to shorten Pi's 127-minute running time, it's this.

IN BRIEF: Exquisitely visualized and beguilingly well-told, Life of Pi is a transcendent, spiritual film that will stay with you long after the final fade out. Of the four films up for best picture at the 2013 Oscars that I've seen (Zero Dark Thirty, Argo, and Les Miserables are the others) Life of Pi is my personal favorite, though I'm not expecting it to win.  

Rating: 5 out of 5 spots for the 3-D version ••••• ; 4 ½ out of 5 spots for the 2-D version


Share this story with your friends!
---
Help us make Spot.ph better!
Take the short survey
Load More Stories