MOVIE REVIEW: Les Miserables
Are all the heart-wrenching scenes enough to trump Russell Crowe's singing?
(SPOT.ph) France, the 19th-century. As ex-prisoner and parole violator Jean Valjean (Hugh Jackman) tries to elude policeman Javert (Russell Crowe) through the years, he meets  Fantine (Anne Hathaway), a young woman forced into prostitution so she can feed her daughter, Cosette. When Fantine dies, Valjean takes care of Cosette (played as a child by Isabelle Allan, and as a young lady by Amanda Seyfried), a decision that will thrust him into the Paris uprising of 1832. Based on the sensational, long-running stage musical produced by Cameron Mackintosh, which in turn was based on Victor Hugo's sprawling novel.

8 OSCAR NOMINATIONS: Picture, Actor (Hugh Jackman), Supporting Actress (Anne Hathaway), Costume Design, Makeup & Hairstyling, Original Song, Production Design, Sound Mixing

MTRCB Rating: PG-13 for sex, violence, and thematic elements (e.g. prostitution)
Pluses

The groundbreaking "live" singing. Because he won the best director Oscar for The King's Speech in 2011, Les Miserables director Tom Hooper had the artistic clout to try something that had never been attempted in a movie musical: he was allowed to abandon the usual "lip synch" method of yesteryears and demand that his actors actually perform their songs live as the cameras rolled. And so, we have a musical where the crooning and warbling look and feel more authentic than ever before. Don't be surprised if succeeding silver screen musicals follow suit.      

Anne Hathaway's Fantine. Can the versatile actress who was Ella Enchanted, Catwoman, and everything in between be any more talented? Her devastating rendition of "I Dreamed A Dream" is Les Miz's poignant high point.      

Hugh Jackman's Valjean. He lost weight to look gaunt and ugly for the opening sequences, then gained the weight again for the rest of his scenes. The constant in his performance is his potent and remarkable singing voice. Jackman's Valjean looks and sounds so markedly different from anything the actor has ever done, you'll never even think of Wolverine while watching Les Miz.
ADVERTISEMENT - CONTINUE READING BELOW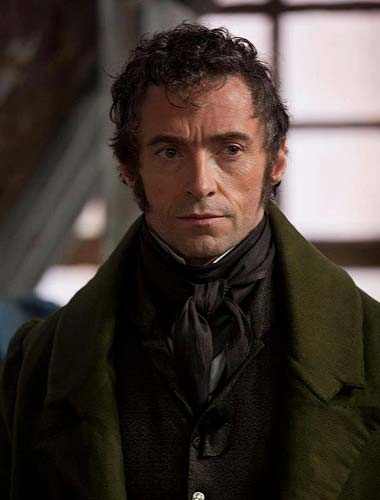 CONTINUE READING BELOW
Recommended Videos

The comic relief provided by Sacha Baron Cohen and Helena Bonham Carter. Yes, there's more than enough gloom, doom, and misery in the film's 157 minutes to justify the movie's title. Thank heavens then that Borat and Bellatrix (from the Harry Potter movies) are around to provide much-needed laughs as a thieving innkeeper and his just-as-greedy wife. The "Master of the House" production number is a rollicking delight.       

The authentically wretched production design. If the main objective of Les Miz's set designers was to make the squalor of impoverished, 19th century France leap off the screen, they certainly succeeded. Especially icky is a sequence that takes place in Paris' filthy sewers, one that out-retches the part in Schindler's List where a little boy hides from Nazis by jumping into a shithole.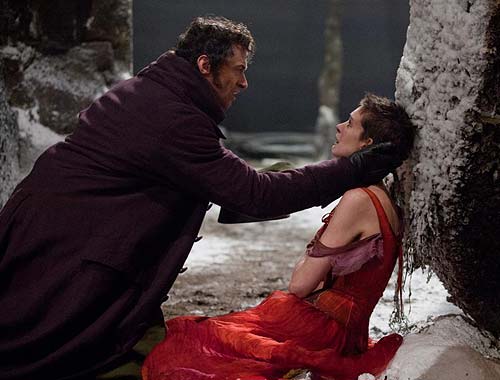 ADVERTISEMENT - CONTINUE READING BELOW
Minuses

The abundance of close-ups at the expense of panoramic shots. It's easy to remember the magnificent, wide angle images seemingly shot from God's point-of-view in Les Miz because there are so few of them. For what feels like 80% of the film, director Tom Hopper - who did not receive an Academy Award nomination for directing Les Miserables- photographs the actors with the camera just inches away from their faces. The upside of this creative call is that the audience sees every nuance of the actors' performances, a privilege they're deprived of when watching a stage production. The downside is that the viewer doesn't get to see much else aside from these expressive faces. Cinema's primary advantage over live theater- that of being able to put the viewer in the best positions possible from which to view the action- is thus not fully exploited here. Applying the "less is more" principle, less/fewer close-ups would have allowed moviegoers to see more of the film's Oscar nominated sets and costumes.

Russell Crowe's Javert. Everything you've heard and read about Crowe's bad singing is true. To hear the Gladiator Oscar winner sing with such difficulty compared to the pitch-perfect vocalizations of his co-stars is a painful reminder that films with perfect casts are very precious and rare. The damage that Crowe inflicts on Les Miz is akin to the damage that resulted when Francis Coppola cast his daughter Sofia in a pivotal role in The Godfather Part III. If anyone has called Les Miserables a flawed masterpiece, then Crowe is surely one of its flaws.
ADVERTISEMENT - CONTINUE READING BELOW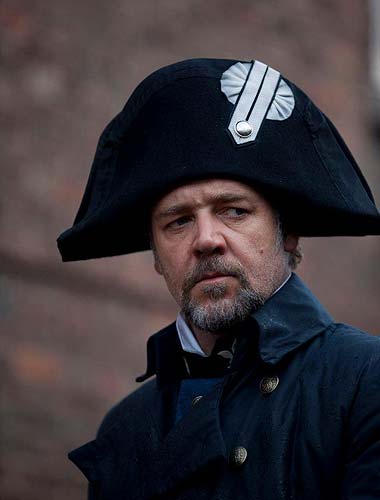 Cosette and Marius fall in love much too quickly. Not being a fan of the stage version of Les Miz, I don't know if this is a problem the film shares with its live theater ancestor, but Cosette (Amanda Seyfried) and Marius (Eddie Redmayne) appear to already be in love right after they exchange glances for the first time. Did their love bloom too fast in the cinematic retelling when certain scenes and songs from the stage production were eliminated?  (Also problematic is the film's inability to explain why Javert was so obsessed with capturing Valjean.)

IN BRIEF: Les Miserables has a couple of indelible, heart-wrenching scenes but the film in toto is not greater than the sum of its parts.

RATING: 3 ½ out of 5 spots •••     


Share this story with your friends!
---
Help us make Spot.ph better!
Take the short survey
Load More Stories