5 Reasons to Watch the Lingerie Football League
It's football...with women...in underwear!
(SPOT.ph) It's been tagged by NBC as the "fastest growing sports league in the United States." With uniforms like that, we certainly have no doubt about the Lingerie Football League's "fastest growing" potential...and we're not just talking about TV ratings.
Green-minded jokery aside, the LFL is exactly like its name sounds: hot women playing football in their underwear. (Will there ever be a male version, we wonder-like an MLFL, featuring Tom Brady in Speedos?) Broadcasting every Sunday at 10:30pm on the KIX Channel, we caught the first game yesterday to give you this list of why you've got to tune in to the games. Besides the obvious, we mean.
1. Okay, let's start with the obvious.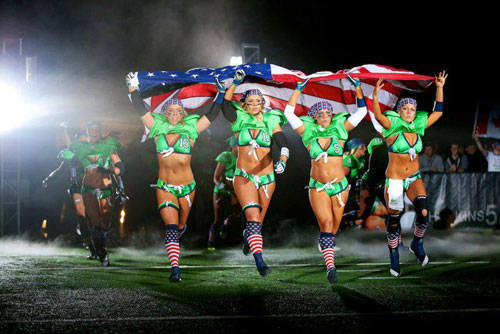 2. It could give American football more mainstream attention.
The LFL has arrived at just the right moment. Not only are the NFL playoffs gearing up, but American football's been getting major local push these past few years: the ArenaBall League cleans clocks and knocks lights out during its regular season run from June to September (catch their games on Saturdays in UP Diliman and the Marikina Sports Complex), while the Philippine Punishers-our very first international football squad-just mopped up the Beijing Guardians and Saipan Sharks in two hard-fought matches last year. If it takes off on Philippine TV, the LFL would just be the sweet, sweet icing on the bone-crushing football cake.
ADVERTISEMENT - CONTINUE READING BELOW
Hey, if it took a controversial underwear ad to push rugby into the local limelight, maybe girls in their underwear would do the same for American football.
3. It's an easy-to-watch way to learn the intricacies of football.
Unlike its not-so-full-contact cousin, American football has a complex layer of rules that go beyond "get the pigskin to the other side while mowing down everyone in your way." Basically a turn-based affair to score a goal, the offense has four tries-or downs-to run the ball downfield to score a touchdown, or kick the ball through the posts for a lesser-scoring field goal. The result is a stop-and-start sport that's thick with strategy and athleticism.
CONTINUE READING BELOW
Recommended Videos
It's quite a handful, and you'll definitely need to watch a few games to pick up the finer points, especially since a couple of rules have been modified for the LFL. But with players like these, we're sure you won't mind.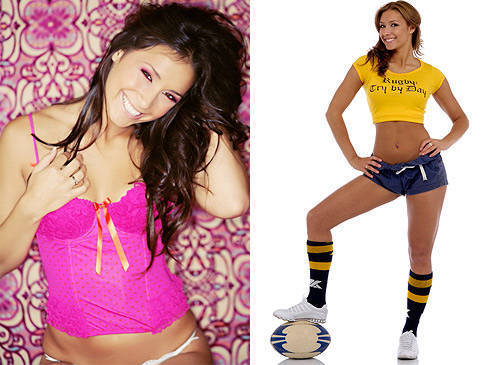 Stephanie Manou from LFL Canada's BC Angels
ADVERTISEMENT - CONTINUE READING BELOW
4. You'll better appreciate the athleticism you need in football.
There's a common stereotype that football players are as slow and heavyset as tanks. The LFL ladies prove the theory wrong, showing that flexibility and agility are as equally important skills as dogpiling or quarterback-crushing. Playing in lingerie definitely helps. "We can maneuver a lot better," confides LFL Canada superstar Stephanie Manou in an interview with Spot.ph, "We have a lot more movement because we are less constricted."
Still, their underwear-esque uniforms do have their built-in disadvantages. "Having less equipment leaves us open to a lot of injuries," says Manou. "During the last season, I broke my nose, which I'd never broken before, and two fingers."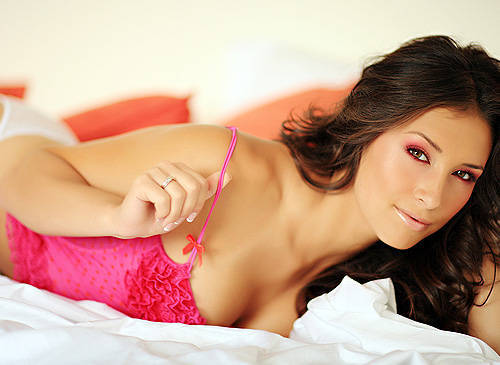 Well...it's mostly about the lingerie. Stephanie Manou again in a publicity photo from the LFL.
5. You'll realize that it's not just about the lingerie.
Some call it good fun, others call it objectification-no matter how you cut it, the LFL does hang its gimmick on having good-looking women parade around in less clothes than is usual in American football. No one's more aware of that than the players. "Before I committed to the team, a big thing for me was ensuring that the league was about sport than entertainment," says Manou.
ADVERTISEMENT - CONTINUE READING BELOW
Still, it does attract a certain kind of fan, who may be more keen to rudely ogle the femmes than to watch the football. "But that's actually what makes the game so great," says Manou. "We attract those people who are interested in the lingerie, but as soon as they watch the game and get to see it live, it becomes completely about the athletics."
Catch the Lingerie Football League every Sunday at 10:30 p.m. on the KIX Channel.
Share this story with your friends!
---
Help us make Spot.ph better!
Take the short survey
Load More Stories