5 Reasons to Watch The Alabang Housewives
We weigh in on the wacky two-woman reality show.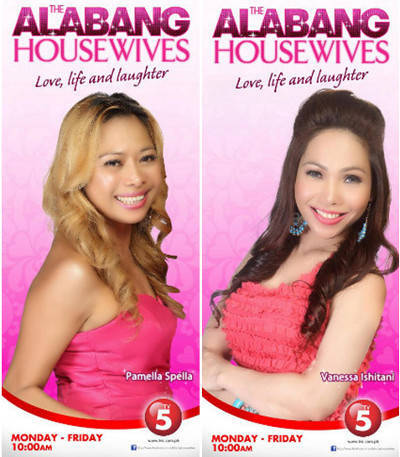 (SPOT.ph) That they got their very own reality show-or what passes for it in these parts-is a testimony to the scene-stealing powers of former Amazing Race Philippines contestants Pamela Spella and Vanessa Ishitani. As pundits have repeatedly pointed out: "They lost the race, but they gained a show."
The two housewives from Alabang are best friends. Spella is described in press releases as a beauty consultant who is the wife of an Italian, with whom she has two sons. Ishitani, who has two kids by her estranged Japanese husband, is tagged as a businesswoman.
Bayani San Diego Jr. of the Philippine Daily Inquirer inferred: "The duo, simple lasses who married well-off foreigners, are not the least shy about their ultimate ambition: showbiz stardom." He also said that "they could well be the love twins of Melanie Marquez, Mura, Madame Auring, Ariel and Maverick and Mommy Dionisia cultured on a Petri dish."
That said, here are five reasons why we're intrigued.
1. They're real. Though it may be argued that Spella and Ishitani don't embody the typical "Alabang housewife," there's no doubt that they-in all their glittery finery-are authentic. They love being loud and don't mind making fools of themselves. They suck out the "marrow of life" (with apologies to Henry David Thoreau) with such gusto that you can't help but be won over by their exuberance.

2. They don't let it all hang out. We're allowed to peek into their lives-and that's it. This isn't akin to U.S. train wreck TV offerings like Teen Mom or Being Bobby Brown. So far, The Alabang Housewives, which debuted on January 14, have not exposed Spella and Ishitani's families to the spotlight. Save for split second spots in the show's opening billboard (OBB in broadcast-speak) and brief shots of photographs, Spella and Ishitani's loved ones stay pretty much out of sight. Much like Maverick and Ariel before them, the two ladies are sent to do tasks or interview people. The viewers are supoosed to just sit back and let the humorous situations unfold.

ADVERTISEMENT - CONTINUE READING BELOW
3. They like each other. If you're expecting frenemy encounters or outright urban cattiness and backstabbing ala The Real Housewives of Beverly Hills (and all its painful variations), you'll be disappointed. Short of finishing each other's sentences, Spella and Ishitani have the kind of combo chemistry that can only arise from years of hanging out together. The format they follow is more like Paris Hilton and Nicole Richie's The Simple Life.
4. They're egalitarian. It doesn't matter who they encounter-be it market vendors, Marian Rivera, Nora Aunor, Brillante Mendoza, or MMDA Chairman Atty. Francis Tolentino. Spella and Ishitani treat everyone with the same unabashed cheerfulness. In fact, they're so cheerful and hyperactive that you'd think they're high. Think of them as Asian incarnations of Romy and Michele.

CONTINUE READING BELOW
Recommended Videos
5. They shine. Working with the tagline, "Love, life and laughter," Spella and Ishitani are not shy about shiny things. They're into bling-y accessories and glittery clothes. Then again, that's not the only reason that they stand out. They seem to be genuinely nice people. They teach the snobbiest of us a very important lesson: "Nice girls come in all sorts of interesting packages."
Images used are all TV5 publicity photos.
Share this story with your friends!
---
Help us make Spot.ph better!
Take the short survey
Load More Stories