How Much Do You Need Kailangan Ko'y Ikaw In Your Life?
Sure it boasts of big names like Anne and Robin and Kris. But is ABS CBN's new, star-studded affair worth risking life and limb in the MRT just to get home in time for?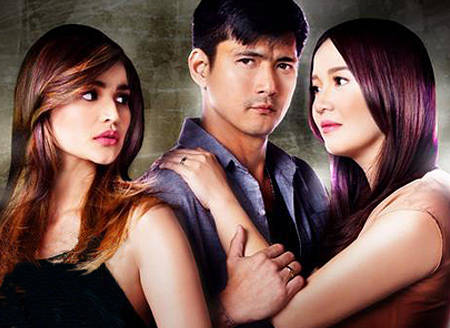 (SPOT.ph) In Kailangan Ko'y Ikaw, Anne Curtis' character Ruth is so hell-bent on becoming a model in New York that she stages her own kidnapping to extort money from her father to finance her dream. In real life, of course, short girls like Ruth, the name of Anne's character, don't stand a chance even on the runways of New York, Cubao.
But this is a teleserye. People come back from the dead in teleseryes. Your mother will turn out to be your daughter's sister in teleseryes, and Sam Milby and Paulo Avelino will fight tooth, nail, abs, and dimples just to win Angeline Quinto's heart. This is the reason people risk their lives every week night taking the MRT, where it is possible to die from getting squeezed to death or just from inhaling the aroma of the city's commuting public: to make it home in time for an hour's worth of unbelievable.


Sadly, Kailangan Ko'y Ikaw offered very little over-the-top propositions in its first week that would make it worth buying a stored-value-ticket for. Nor did it hint that things will eventually get exciting. From the poster alone, we already know that Anne and her sister Roxanne, played by Kris Aquino, will both fall in love with the lone leading man, Robin Padilla-even if Roxanne pretends to be all nice and supportive of her rebellious sister's pursuits in the beginning. Second, we already know that Robin and Tirso Cruz III have a past-and not the kind of past we're interested in (like maybe Tirso was once Robin's Mrs. Robinson). In the soap, Tirso, a former security guard, has something to do with the death of Robin's father. Big deal.


ADVERTISEMENT - CONTINUE READING BELOW
It's also safe to assume that since Anne's family is in the guns and ammo business, there will be more car chases and kidnapping in the future (and because Robin is in the cast and he plays a straight-as-an-arrow police investigator). And finally, by the end of Week 1, we would be too insensitive not to see that ultimately it's not a modeling career in New York that Ruth wants but approval from her adoptive father. Boo-hoo! (And yes, hindi siya tunay na Manrique!)


There are mildly amusing scenes here and there (a pa-cute moment between Robin sidekick Smokey Manaloto and Kris's Girl Friday Karla Estrada). And there is a mildly sexy, slightly charming flirtation scene between Anne and Robin, when she drops by his house and insists on sitting too close to him. Robin shows us why women still fall head over heels for him, now if only Anne's efforts at pa-cute didn't come across insincere and a bit tired. All in all, the show's energy falls way below teleserye proportions. The actors-except Tirso and Ian Veneracion-deliver pa-lowkey performances, and nothing close to mind-blowing happens to make you think you're watching the new Lav Diaz.


CONTINUE READING BELOW
Recommended Videos
So what else can we expect from Kailangan Ko'y Ikaw assuming we're still left with nothing better to do before Kahit Puso'y Masugatan whose plot has been stretched too long, and whose cast members have grown in such an astonishing number they're soon going to call it ASAP? (To be fair, it has in the process become interesting in a comical sort of way, just look at Iza Calzado's disobedient wig.) Probably more music video segments of Anne Curtis vogue-ing and making love to the camera. Probably more shots of Ian Veneracion and his ¾ sleeved polos, and Kris wearing sequined Fitflops. Probably they're going to give Kris more challenging scenes sure to showcase her wide range as an actress.
ADVERTISEMENT - CONTINUE READING BELOW
But probably it might be a good idea, too, to skip this one for a week or, better yet, two. Because it's usually when you stop watching that the network bosses get nervous and order a bunch of rewrites (a botched effort at which is probably the reason for the early demise of A Beautiful Affair). So when you tune back in two weeks after, Kailangan Ko'y Ikaw will start blowing your mind with a pile of incest twists, loads of zinger dialogue, and a bunch of people coming back from the dead. Who knows, maybe Anne Curtis will come back from New York a more interesting character, or taller, or as a fashion model very curiously resembling BB Gandanghari. We'd take the train for that any day.  


Share this story with your friends!
---
Help us make Spot.ph better!
Take the short survey
Load More Stories