Seduction : You've Got Me Fired Up
Oh hey, another mistress movie! SPOT.ph blogger Ria Limjap gives you the lowdown.
(SPOT.ph) Poor Richard Gutierrez. He's pretty as a picture-like the rest of his famed showbiz clan-but he's not much of an actor, even in the hands of a maestro like Peque Gallaga who directs him in Seduction, the latest offering from Regal Films. He is undoubtedly handsome (in the style of his good old dad) but hammy; certainly photogenic but inexpressive (unlike his mother, who is wonderfully expressive!) In this movie he plays a young man with a savior complex, a hunky fireman caught between a skank and a prude, a Madonna and a whore.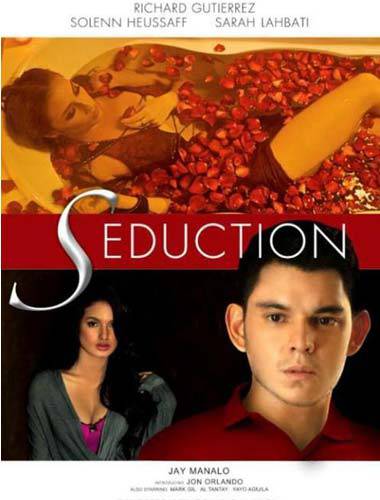 Thankfully the producers paired the Richard with gorgeous Solenn Heussaff and lovely Sarah Lahbati, who make up the rest of this good-looking love triangle-guess who plays the half French, half Pinay, ummm, seductress and guess who plays the Nice Girl. Guess who Avram (Richard Gutierrez) falls in love with and guess who he fucks without a second thought. I mean, it's not rocket science to figure out the seduction that goes on in this nicely photographed but ultimately cheesy romantic drama which has none of the edge of Scorpio Nights-although it has its own sexy use of kulambo or mosquito net.
ADVERTISEMENT - CONTINUE READING BELOW
You'll know what I mean when you see it. Should you? It's entertaining, yes, but I fear slightly ridiculous because of the literal conflagration that settles the score in the end (in other words, medyo OA sa fire effects) and Richard's wretched preening, his one-note Zoolander stare that really wears thin in a heavy melodrama, especially acting with people like Mark Gil playing the sick dad and Vangie Labalan in a classic manang turn. He's much better as a physical actor, someone who needs to run through forests or ride horses and his best scenes are when he's trashing a room.
CONTINUE READING BELOW
Recommended Videos
Oh well, I guess people will watch it for Solenn, who plays Sophia, the glamorous heiress/party girl who struts her stuff so blatantly there's no way Avram (Richard) can possibly resist. She's so early Cherie Gil, carelessly charming in her beauty and confidence. Who cares if her nose is slightly Gallic and becoming increasingly bony as she ages. They give her an emerging-from-the-water shot, with slicked hair and wearing an orange bikini, and it is truly a highlight in this movie. I also really appreciated her crazy girl piano playing and her devil-may-care attitude that comes so naturally. Only Solenn can get away with saying lines like "video type diary kinda thing" (or something that sounded like that) and lie on a hospital bed and smoke a cigarette beside her oxygen tank, all in silhouette.  Brava, she's so feisty.
And then there's Sarah Lahbati, who is apparently pretty feisty, too. She's half-Moroccan but grew up in Switzerland and has been sort of toiling away at GMA for a few years now until she very recently gave them The Finger and then fled to Switzerland. Before her great escape, they managed to snag her into this movie and cast her as Trina, the Sweet Girl, the conservative girl-next-door, umbrella carrying type whom Avram eventually chooses over the insane and self-destructive nymphomaniac rich girl. (How that works out, I'll never understand.) I was rather hoping Sarah would turn out to be the bunny boiler, but in this movie they have nicely managed to capture her wide eyed look of dewy innocence and luscious lips but not the psychotic female who also surely lurks inside her. This girl could become a real actress and a big star--if she stuck around. Or perhaps, if they let her stick around.
ADVERTISEMENT - CONTINUE READING BELOW
While the story Seduction will not really get your engines going-the predictability is almost funny-it is visually a big fluffy treat. The lead actors are all young and hot, so there are lots of flattering beauty shots for the actresses, and at least two love scenes involving Richard (who surprisingly enough hardly ever goes completely shirtless in this movie) and his leading ladies-a sedate bathroom make out session with Sarah Lahbati dressed in an atrocious peach satin robe and a fireside tumble with the nubile Solenn. I tried to forget the moribund plot and the uneven and irritating musical score-how I wished for silence so that I could focus on the classic Gallaga images, the wet nymphet, lovers through a mosquito net, the fine voyeuristic understanding of power and lust, and the great fire that threatens to consume us all.
Share this story with your friends!
---
Help us make Spot.ph better!
Take the short survey
Load More Stories