10 Fresh Tunes to Listen to This Month
Tracks by Justin Timberlake, Johnny Marr, The Strokes, Identikit, and more!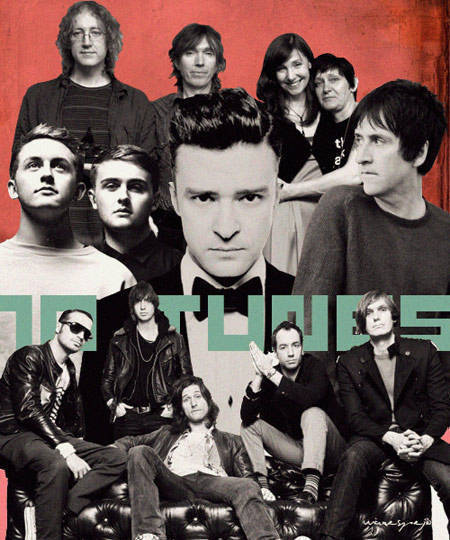 (SPOT.ph) This month, indulge in the latest musical offering of pop star Justin Timberlake. Take a listen to Johnny Marr's catchy political single and The Strokes' synth-heavy track. My Bloody Valentine are also out with a slow, lush tune, while UK's Disclosure and AlunaGeorge team up to produce an addicting electronic ditty. For your dose of local music, check out Identikit's newest single, Ibarra's heavy rock album opener, Yolanda Moon's piano-driven release, Sheila and the Insects' "anti-love song," and She's Only Sixteen's fresh tune.
Song: "Suit & Tie"
Artist: Justin Timberlake
We're still waiting for JT's music video for his first single in seven years. But for now, we can put his sexy shuffler on loop. "Suit & Tie" is a slick, jazzy, '70s-sounding track featuring the dapper pop star's tailored falsetto and top rapper Jay-Z's crisp verses.
Fun fact: It has been reported that David Fincher will be directing JT's "Suit & Tie" music video.
ADVERTISEMENT - CONTINUE READING BELOW
Song: "Me and My Japanese Bike"
Artist: Identikit
Indie rockers Identikit's new single, "Me & My Japanese Bike," is a loveable indie track that's reminiscent of good old '90s rock. The screeching guitars, pumped riffs, and playful vocals come together to create a familiar tune.
Fun fact: The band just launched its debut full-length album titled Out of the Floodways and Into Your Homes.

Song: "Upstarts"
Artist: Johnny Marr
The former Smiths guitarist's latest single features wicked guitars, stomping drums, and protest singing. You'll get the political hint with lyrics like, "Oh, I see this running down / Defiance comes, oh / The underground is overground/ The overground will pull you down."
Fun fact: Marr's forthcoming album titled The Messenger is expected to drop on February 25.
CONTINUE READING BELOW
Recommended Videos
Song: "Neon Genesis"
Artist: Ibarra
Ibarra's Death + Rebirth opener titled "Neon Genesis" is a heavy and powerful track headlined by sonic guitars and angsty vocals. Yet there's a very solemn feel to it that can easily get you hooked.
Fun fact: Ibarra are from Baguio, and according to their band profile, they are "fresh out of the mountains, set out to take old and new ideas, and mold them into music that cuts straight to the chase." Check out their fb page.
Song: "One Way Trigger"
Artist: The Strokes
You might need to wait one-third into the new Strokes' single to hear their familiar sound. In this evolving tune, vocalist Julian Casablancas polishes the synth-heavy and pulsating sound with his signature warbling falsetto and the occasional baritone.
Fun fact: The Strokes' forthcoming album, Comedown Machine, is set to come out on February 26. It can be pre-ordered through the band's official store.
ADVERTISEMENT - CONTINUE READING BELOW
Song: "Path"
Artist: Yolanda Moon
Yolanda Moon's "Path" will make you want to sit back and close your eyes as you get lost in its twinkling piano melodies and soft vocals. Warm, cozy, and comforting, we dare say this is one track with which you'll fall in love.
Fun fact: Yolanda Moon are under Terno Recordings along with bands Up Dharma Down, Hidden Nikki, Maude, Radioactive Sago Project, and more.
Song: "She Found Now"
Artist: My Bloody Valentine
After 21 long years, the alternative rockers from Ireland have released their follow-up effort to Loveless. m b v features the opening track, "She Found Now," a lush, crawling tune filled with distorted guitars and the hushed vocals of Kevin Shields.
Fun fact: The band's website reportedly crashed due to server overload a few hours after they posted the record. m b v can be purchased as digital download through their website.
Song: "Pretty Loser"
Artist: Sheila and the Insects
Cebu rockers Sheila and the Insects bring you their new single titled "Pretty Loser," an "anti-love song" that could very well be the anthem of this month's anti-Valentine army. The snappy lyrics are oddly adorable: "If by chance you end up alone / Well, I think I might take you in for free."
Fun fact: Sheila and the Insects are Orven Enoveso (vocals and guitars), Ian Zafra (lead guitars) Wesley Chiongbian (bass), and Vince Yap (drums).
Song: "White Noise"
Artist: Disclosure feat. AlunaGeorge
Two rising music duos in UK have teamed up to bring you this addicting mix of electronic beats and melodies. Aluna Francis' high-pitched, bubbly yet edgy voice coils and wraps itself around the popping, synth track.
Fun fact: Disclosure are brothers Guy and Howard Lawrence, while AlunaGeorge are Aluna Francis and George Reid.
ADVERTISEMENT - CONTINUE READING BELOW

Song: "Dying to Meet You"
Artist: She's Only Sixteen
Indie-garage rock quartet She's Only Sixteen's "Dying to Meet You" is an upbeat, dance-like-crazy track with its fast guitars and Strokes-esque sound. The band is quickly gaining a following, so you might want to keep your eyes peeled for what they have in store.
Fun fact: The band's musical influences include The Strokes, Vampire Weekend, Radiohead, and Muse, among others. Learn more about the band here.
Share this story with your friends!
---
Help us make Spot.ph better!
Take the short survey
Load More Stories