Tearjerkers: 10 Telenovela Tandems
To celebrate the month of pairs, we pick our favorite dramatic duos.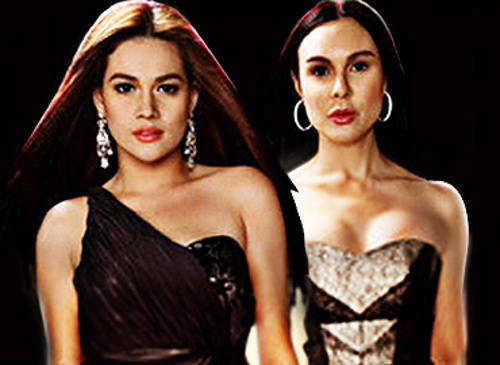 (SPOT.ph) More than the love teams, soap operas are powered by characters who are either willing to die for each other or hate each other's guts. Sometimes, they're frenemies. But, more often than not, they exist in extremes. We did a review of some of our favorites and identified the team-ups that really hit the spot.
Mara and Clara
Who they are: The slant-rhyming stars of an eponymous local teleserye that aired from 1992 to 1997 starring Judy Ann Santos and Gladys Reyes. It was then remade in 2010 with Kathryn Bernardo and Julia Montes in the title roles. Mara is the daughter of syndicate Gary and labandera Susan. Clara, on the other hand, is the spoiled daughter of the rich couple for whom Susan and Mara work. After revelations of bribery, extortion, and a couple of deaths, Clara was discovered to be the real daughter of Gary and Susan, while Mara, whose twin died during their kidnapping as infants, was actually the Del Valles' daughter. The 2010 remake has been ruffled up a bit and varies significantly from the original-though both ended in happily ever after.
ADVERTISEMENT - CONTINUE READING BELOW
Chemistry: Rivals who lived each other's lives? Priceless! No one has perfected the paawa face as much as Judy Ann Santos and novice b*tches are still taking lessons from Gladys Reyes (with Mara Clara as Lesson No. 1). Their yin and yang was so convincing that it spawned other projects where the two were pitted against one another.
Why we love them: There's a reason why Filipinos have never warmed up to US drama Switched at Birth. It's all too familiar. Mara Clara started the whole stolen-and-separated-at-birth trend that seems to be the standard setup for local teleseryes. Fortunately, in this case, no one had amnesia.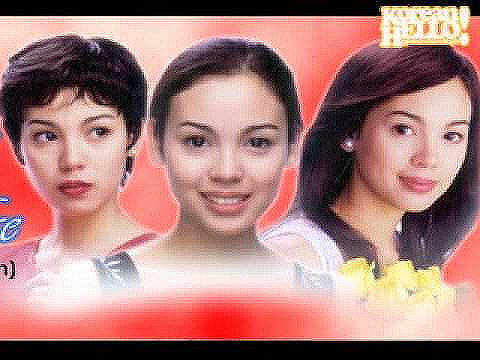 Rosenda, Rosario, and Rosemarie

Who they are: Separated triplets with three different lives and three different haircuts and all played by Claudine Barretto. Wicked Rosenda with a sassy pixie cut she stole from Bella Flores; sweet Rosario with classically long kawawang-bida locks, wildcard Rosemarie with an in-between blunt bob. The story can get confusing if you're not paying attention so try to keep up: Dolores gives birth one stormy night to triplets, but her former lover, who conveniently happened to be the attending physician that evening, stole one of the babies (Rosemarie) and hid her in the United States. While Rosemarie was away, Rosenda had to contend with living with her perfect sister, Rosario, whom everyone absolutely adored. A confrontation between the tweens ensued and Rosario fell off a cliff, was adopted by a poor but loving couple, conveniently forgot her past, and became a singer.

Chemistry: Triplets who never really got a chance to love or hate each other as they were separated from the start. The Rosario and Rosenda rivalry is all too common for twins, but unfortunately it left Rosemarie in the dust, soaking in leftover storylines. Seeing as Claudine Barretto plays all three, their chemistry was absolutely imperative if not inherent. Barretto managed to seamlessly convey the mean sister, the nice sister, and the other sister in one super soap opera.

Why we love them: Filipinos love twins (and we have a few of them on this list) and this one trumps all of them by casting "triplets"! Saan Ka Man Naroroon packs up every bit of soap opera cliche in the book: separated at birth, named after a song, amnesia, car accidents, someone falling off a cliff, drastic plastic surgery, love triangles, sibling rivalry, bad haircuts and equally bad singing. Saan Ka Man Naroroon also culminated in a (triple) wedding as is the custom in Filipino teleseryes.

ADVERTISEMENT - CONTINUE READING BELOW

 

 


David Garcia and David Garcia of Tayong Dalawa

Who they are: Best friends who turned out to be half-brothers who turned out to be twins who turned out to be in love with the same woman! David Garcia's not exactly an uncommon name so when the two little David Gs in Tayong Dalawa met and become friends, the fact that they had the same name (which was, apparently, also the name of their fathers), was dismissed as mere coincidence. The plot thickened, however, later in the story. In their youth, and unknown to each other, they both met and fell in love with a girl named Audrey (later played by Kim Chiu). Audrey's family was vacationiong in Tagaytay when she got in an accident and was saved by JR (David Garcia A later played by Gerald Anderson). JR introduced himself as David Garcia Jr. When Audrey woke up in the hospital later, Dave (David Garcia B later played by Jake Cuenca) took credit for the rescue, prompting a romance between him and a grateful Audrey.

Years later, after passing Audrey between them, the two brothers made up, and just when things were starting to get better, a third David Garcia Jr. appeared.

Chemistry: We give Anderson and Cuenca an A+ each. Their portrayals as bronemies were both heartbreaking, touching, and gripping. Does anybody remember the episode where Dave gives one of his kidneys to JR? Their chemistry was so unbeatable that it didn't even require a romantic ending. Yes, Tayong Dalawa breaks all laws of local drama by not ending with a wedding.

Why we love them: Let's just get it out of the way: two dashing men in one soap opera? Yes, please! Their convincing chemistry takes a backseat to the romance between Gerald and Kim's characters, unfortunately.

ADVERTISEMENT - CONTINUE READING BELOW

 

 

 


Jade and Yuan of My Binondo Girl

Who they are: The first (and legitimate) children of Papa Chen with legal wife, Zheny (Ai Ai delas Alas). After a disappointing female first-born, Papa Chen went to great lengths to ensure that his second child would be male. However, when Zheny learned that her daughter would have to be sent away due to China's strict one-child policy, the very pregnant English teacher took Jade and returned to the Philippines.

Later in the story, Chen became a thriving restaurateur and returned to the Philippines to expand his business and to find his long lost son. Unknown to him, Yuan had died at birth. Jade, seeking her father's acceptance, pretended to be her dead brother and soon played apprentice in the family business.

Chemistry: Zero. Seeing as Kim Chiu plays both characters and one of them happened to be dead, they had no scenes together.

Why we love them: Chiu's version of the Coffee Prince is charming and relatable. We've never pretended to be the opposite sex to please our fathers, but we know the lengths a child can go to to seek parental approval. We feel it's our moral obligation, however, to tell Kim Chiu that she should stick to being a girl.

 

 


Victoria and Gelai of Magkaribal


Who they are: Two sisters separated by tragedy. Magkaribal features sisters Victoria (Gretchen Barretto) and Gelai (Bea Alonzo); one is a famous style guru swearing revenge on an old enemy while another is an aspiring fashion designer who's forgotten most of her troubled past.

ADVERTISEMENT - CONTINUE READING BELOW

When their mother passed on, Victoria, to keep her little sister alive, had to prostitute herself. After the hospital where Gelai was confined burned down, Victoria, heartbroken and alone, swore revenge on the person responsible for their mother's death and consequently the reason her family was ripped apart: national stylista Vera (Angel Aquino). As fate would have it, the sisters met again, this time as adults: Victoria as the newly crowned fashionista and Gelai, a simple seamstress and budding designer who was taking over the recently reformatted fashion industry under Victoria's reign.

Chemistry: We had a hard time accepting that glamorous Gretchen with her perennially raised eyebrows was innocent Bea's older sister.

Why we love them: Fashown na kung fashown! Who doesn't love Magkaribal with lines that are dripping with campiness and wit and costumes that every girl would love to have in their closet?

 

Amor Powers and Claudia Buenavista of Pangako Sa 'Yo


Who they are: They're rivals in every sense. In Pangako Sa 'Yo, Amor (Eula Valdez) and Claudia (Jean Garcia) fell in love with Eduardo (Tonton Gutierrez), a hacienda heir. Eduardo loved Amor but his mom hated her for being poor. His mom did everything to ensure that Amor got out of the way so Eduardo could marry the better-connected Claudia. Eduardo married Claudia and Amor left town. Amor got rich and she came back to seek revenge on Claudia and everyone else who hurt her. Somewhere in the mess, Amor had a love child by Eduardo, a daughter who ended up getting "misplaced." And, yes, that's not even half the story.

ADVERTISEMENT - CONTINUE READING BELOW

Chemistry: They're two sides of the same coin. They match each other in terms of beauty, ruthlessness, and their all-consuming capacity to love their own. Heck, they would have made such great allies if they didn't want to kill each other.

Why we love them: The confrontations between Amor and Claudia are always staged so stylishly. We want to think that if we confronted our most bitter rival, we'd manage to control our temper and dish out acerbic one-liners instead of just, say, pulling her hair. That would be too cheap for the likes of Amor and Claudia.

 

 

Marimar and Fulgoso of Marimar


Who they are: Marimar (Ella Cruz as the younger persona and Marian Rivera as the older persona) is a beachside babe who has amnesia and Fulgoso is her dog. However, this mistress-pet relationship is a spontaneous one. Marimar just happened to meet Fulgoso on the beach one day and they became inseperable from then on. Marimar later fell in love, regained her memory, and got into some trouble with glamorous villains. Fulgoso stayed with her all the way.

Chemistry: Their relationship is based on unconditional love. That is, Marimar's unconditional love, as Fulgoso is depicted as a "thinking canine" whose thoughts are heard by the audience. He can be grumpy or exasperated by his mistress' antics, but he never leaves her side.

Why we love them: They look so adorable together. We also like the fact that this violates ho-hum telenovela template of a devoted amiga. This goes to show that a furry pal is best.

ADVERTISEMENT - CONTINUE READING BELOW

 

 

<>Santino and Bro of May Bukas Pa
<> <>Who they are: May Bukas Pa's Santino (Zaijian Jaranilla) is an orphan who is adopted by monks. One day, Santino reveals that he has a friend whom he calls "Bro." The mostly-unseen-to-viewers Bro (Love Thadani) is supposedly Jesus Christ. Both Santino and Bro appeared to be residents of the fictional town of Bagong Pag-Asa, where they helped a seemingly endless stream of people. <>Chemistry: Despite the "Bro" tag, theirs is a sort of father-son relationship. But Bro is a non-traditional "dad figure" as he's not afraid to let Santino make his own mistakes. Besides, Santino's mistakes (if they can be called that) are never done with bad intentions. Case in point: He made the mistake of wanting to please everyone in town. <>Why we love them: It's a cute little boy and Jesus. How could anyone not love this duo? <>  <>  <> <>Alexander and Javier of Minsan Lang Kita Iibigin
<> <>Who they are: Separated at birth, Minsan Lang Kita Iibigin's twins, Alexander and Javier (both played by Coco Martin), end up on opposite sides of the ideological fence. Alexander's a military man, while Javier was raised with insurgents. The crazy thing is, both brothers are just caught in the crossfire of two warring half-sisters Rosa (Amy Austria) and Allondra (Lorna Tolentino). Allondra was later revealed as the twins' mother, as she gave birth to them while she was in a coma. <>Chemistry: They become bronemies. Javier later becomes somewhat corrupted by the shock of life in the city, while Alexander is perpetually torn by his duties to the country and his family.

ADVERTISEMENT - CONTINUE READING BELOW

<>Why we love them: Alexander and Javier seem like two different people and it's great to watch them play off each other. We want to see them in a smackdown just so we can see them reconcile later on. <>  <>  <> <>Mateo and Lucas in Imortal
<>Who they are: In Imortal, these two start out as very close friends, almost brothers. Mateo (John Lloyd Cruz), who belongs to a clan of vampires (though he doesn't know it at first), gets adopted the family of Lucas (Rico Blanco). Lucas' father, Simon (Matthew Mendoza as the younger persona and Johnny Revilla as the older persona), took in Mateo after he saw the boy wandering the streets and demonstrating extraordinary strength. <>Chemistry: Lucas idolizes Mateo so much that they also develop the same taste in women. They both end up falling for Lia (Angel Locsin). At some point, they become enemies. <>Why we love them: It's a joy to watch their early bromance. One could easily see Lucas' need to be just like Mateo. It's a complicated sort of hero worship. <>  <>Art by Warren Espejo
Load More Stories