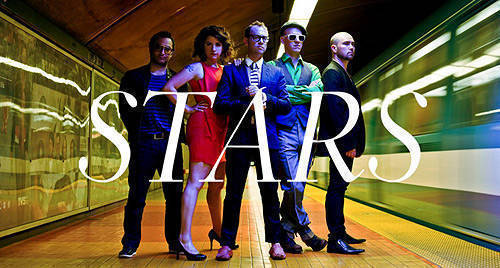 (SPOT.ph) So, did yesterday's festivities trigger feelings for old flames you thought you had banished to oblivion?


When it comes to post-breakup reflections, few bands can accompany your pained remembrances quite as eloquently as Canadian indie rock band Stars. The critically-acclaimed five-piece group made up of Torquil Campbell, Amy Millan, Evan Cranley, Chris Seligman, and Pat McGee has earned a faithful following among indie music fans worldwide for open-hearted indie pop songs such as "Ageless Beauty" and "Your Ex-Lover Is Dead." These songs swing from bright and shimmering to sad and sweeping; exactly how you feel, no?


A recurring theme in Stars' music is the anguish of modern love-perfect for single folks who most probably spent the Day of Hearts communing with a tub of ice cream while giggling couples wave their huge bouquets just outside.


For the first time in the Philippines, you can catch Stars perform their lovelorn odes live on Saturday, February 16 at the Metrotent, Metrowalk Plaza, Meralco Ave., Pasig City. We run down five ex thoughts that will likely creep in, and the Stars songs that will serve as a fitting soundtrack.
ADVERTISEMENT - CONTINUE READING BELOW
1. "Your Ex-Lover Is Dead" (Set Yourself on Fire, 2004)
For when: You run into a former love, and you both act like everything's just dandy
The song tells the story of two former lovers who unexpectedly meet, triggering thoughts of past grudges they had long since buried. While the pounding drums and grandiose accompaniment make it a compelling listen, the sentiment behind "Your Ex-Lover Is Dead" grips you tighter: it underlines how we are all scarred by our failed relationships, no matter how many years have passed. As vocalists Campbell and Millan chant in unison, "I'm not sorry I met you, I'm not sorry it's over, I'm not sorry there's nothing to save," you couldn't agree more.
2. "On Peak Hill" (Nightsongs, 2001)
For when: You stumble upon a sweet text or a photo of the two of you during happier times, and the memories come rushing back
ADVERTISEMENT - CONTINUE READING BELOW
Recommended Videos
The song's light, tinkling melody reminds you why you fell hard in the first place: because while the love lasted, it felt magical. But its too-familiar words quickly bring you back down to earth:  "I need some time,' you said to me; that's when I knew you were gonna make me lonely."

Even your post-breakup mission is reflected in the song. "I'll get more done, I'll have some fun, pretend you're not the only one," Campbell declares, putting on a brave face-the same one you're wearing now.


3.  "One More Night (Your Ex-Lover Remains Dead)" (Set Yourself on Fire, 2004)
For when: You realize, with not a little bitterness, how much of an A-hole your ex was
The song describes two people in a ruinous relationship, on their last night together. He's suffocatingly desperate, she's emotionally cold-it's a sad and ugly dynamic that even finds its way into their lovemaking. "He starts with her back, because that's what he sees / When she's breaking his heart, she still f*cks like a tease." Keep an ear out for the sudden crash of guitar and drums-the swift flash of rage sounds just like yours.
ADVERTISEMENT - CONTINUE READING BELOW
4.  "Walls" (The North, 2012)
For when: It's late at night and you're alone. You hate to admit it, but you miss your ex
"Do you love me?" Campbell asks, to which Millan replies, "What am I supposed to say?" As you listen to this heartbreaking exchange, you recall the similar helplessness that wracked you before your own bond went kaput.

"Walls" is a prime pick for one of those late-night ruminations, with a bass beat that creeps and broods into the chorus. In the dark, when you've got no one but your relationship demons to keep you company, seek solace in a song that understands.
5. "Dead Hearts" (The Five Ghosts, 2010)
For when: Years down the line, you recall, with sad resignation, how good it used to be
Judging from the music video and the album it comes from, it's easy to conclude that "Dead Hearts" sings of the dearly departed. But since it was used to heart-wrenching effect in the 2011 Sundance hit Like Crazy, the song took on tear-jerking new meaning.

You could say that "Dead Hearts" paints a picture of former lovers looking back at a once-happy relationship, while taking full responsibility for the faults that drove them apart. If you've ever felt that your heart's been nothing but a numb old thing since your great love went up in flames, then play this tune and let that tear roll down your cheek.


ADVERTISEMENT - CONTINUE READING BELOW
Share this story with your friends!
---
Help us make Spot.ph better!
Take the short survey
Load More Stories