SPOT.ph's Most Dramatic Pinoy Movie Break-Ups
Movies are the best dumping grounds.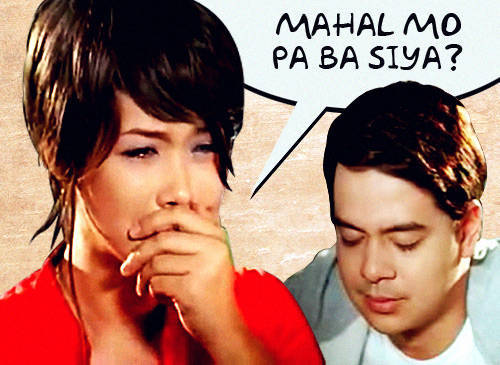 (SPOT.ph) There's a practiced formula in Filipino romance films: boy and girl fall in love, boy and girl break up (someone dies, someone finds someone else, someone tries to meddle, someone's parent disapproves), boy and girl end up together again. The conclusion is obvious and constant; it's the before part that requires a lot of hours in the drawing board. But after all that work, the only thing anyone will remember is the happily ever.


Not us, though! We appreciate the sad part that comes before the cheese. You know, the drama that causes us to tear up, the break that makes love sweeter the second time around, the scene that's usually singlehandedly responsible for turning the entire story around.


We think it's about time these heartbreaking moments get some credit, and-because the Valentine frenzy is over-it's the most opportune time to celebrate these gutwrenching scenes with another top 10, not of mushy cheese, but of the biggest and best dumping scenes in local movie history.
10. Ngayong Nandito Ka (2003)

What went down: Garie (Kristine Hermosa) and Rocky (Jericho Rosales) are in love and are the lead singers of an up-and-coming rock band. Unfortunately, Rocky, whose father is involved in illegal logging activities, is set to marry Angela, whose parents are politicians. Ignoring his parents' wishes, Rocky prepares to leave for Japan with his band when his father suffers a stroke. The band, including Garie, leaves, but with the promise that Rocky would follow after six months. Garie soon loses contact with him. Unknown to her, Rocky is deep into wedding planning, heeding his parents' wishes after his father's near-death experience.

How it went down: A few days before his wedding, Rocky finally calls up a relieved Garie, but the conversation turns sour when she finds out about his impending nuptials. Garie, at a loss for words, breaks down as Rocky hangs up. Upset with his decision, Rocky ends up drunk during his wedding day and before the ceremony could even begin, he pukes up a storm on his bride's gown. Years after, Garie resurfaces as Margaret, a hotshot interior designer with a rich boyfriend who, in a twist of fate, ends up being Rocky's newest client. Rocky, by the way, having wrecked the marriage that would guarantee him wealth for all eternity, has become a struggling furniture manufacturer. He eventually fights for Garie, but she chooses her current boyfriend, Derek. Derek, however, intervenes, and plays cupid for the other two.

Clincher: "Alam mo, noong iniwan mo ako, naging miserable ang buhay ko. Ang sabi mo 'di mo alam 'yon. Hindi mo kasi naranasang maglakad sa kalye ng Japan na hindi mo alam kung saan ka pupunta. Nag-TNT ako...Anim na buwan. Laging may takot sa dibdib ko na baka mahuli ako. Pero ayoko lang umuwi ng Pilipinas, dahil ayokong makita ka!"

Lesson learned: The last time we checked, last night's dinner wasn't invited to the wedding. If you don't want to get married, simply don't show up and send a farewell text message or something. There's no need for gastro-pyrotechnics.
ADVERTISEMENT - CONTINUE READING BELOW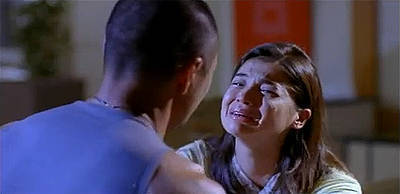 CONTINUE READING BELOW
Recommended Videos
9. No Other Woman (2011)

What went down: Ram (Derek Ramsay) is happily married when he meets the alluring Kara (Anne Curtis), a rich heiress. He is no match for her charms and is instantly entangled in her web. After a hot and steamy affair, Ram returns to his loyal wife, Cha (Cristine Reyes), and breaks up with Kara, who has already fallen in love with him despite her initial promise of no commitment.

How it went down: Ram, in a strange way to prove his loyalty, brings her wife to the resort owned by Kara's family. There, Kara tells Cha about her affair with Ram, causing Cha to go mad with rage. Cha confronts her husband who, in turn, confronts the now near-obsessed Kara. He ends it with her, professing his love for his wife. Cha then storms in and starts a wild girl fight. The couple drive back home and Cha moves out. As Ram tries to win her back, Kara returns, begging him to take her instead. It's a two-part series of dumping: Ram leaves Kara and Cha leaves Ram.

Clincher: "Gagawin ko ang lahat huwag mo lang akong iiwan."

Lesson learned: If you don't want your wife to leave you, don't do anything to make her want to leave.
ADVERTISEMENT - CONTINUE READING BELOW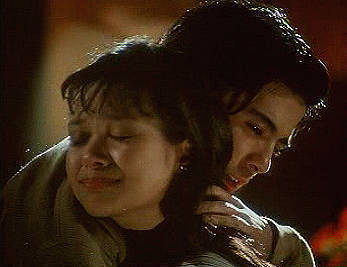 8. Sana Maulit Muli (1995)

What went down: Overly dependent Agnes (Lea Salonga) moves to the United States in search of greener pastures and to reunite with her mother, leaving her successful ad exec boyfriend, Jerry (Aga Muhlach), behind. Agnes struggles with her new life as a domestic helper and frequently makes distress calls to Jerry, who's gotten smitten with one of his officemates, and becomes more and more detached. The two grow apart. At an ad seminar in the US, Jerry makes a detour to visit his ex-girlfriend and, seeing how confident she's become, decides to win her back. Seeing as his visa is only valid for the seminar, Jerry has to stay as a TNT, leaving his financial security in the Philippines to become a kitchen hand. Agnes' closeness with a colleague and her newfound independence push Jerry to return to the Philippines.

How it went down: Though she's changed, Agnes still truly loves Jerry. Unaware of Jerry's emotional insecurities, she suggests one night that they get married, which Jerry rebuffs by saying that he's going back home. Agnes, showing a semblance of her old self, begs him to stay with a "Bakit mo ako sinasaktan? Huwag mo akong iwan..." Jerry, however, has made up his mind and leaves the next day.  

Clincher: "Kailangan eh... hindi naman dahil sa iyo kung hindi dahil din sa akin... Pero hindi naman lahat ito para sa akin kung hindi para din sa iyo, babes...Kahit ilang beses tayo magpaalam sa isa't isa tandaan mo palagi na wala akong minahal at wala rin ako sigurong mamahalin tulad ng pagmamahal na ibinigay ko sa iyo, babes..."

Lesson learned: Long-distance relationships are much harder without cell phones and the Internet.
ADVERTISEMENT - CONTINUE READING BELOW
7. Labs Kita, Okey Ka Lang? (1998)

What went down: Ned (Marvin Agustin) is in love with his best friend, Bujoy (Jolina Magdangal), but because he is afraid that a romance might destroy their friendship, he doesn't pursue it, and instead courts Bujoy's cousin, Mary Ann. Unknown to him, Bujoy also has feelings for him, but sets them aside as she supports Ned's budding relationship with Mary Ann.  

How it went down: Bujoy, no longer able contain her feelings, blurts them out to a confused Ned who had just told revealed he was officially with Mary Ann. He responds by telling Bujoy that he has loved her all these years, but didn't want to jeopardize what they had. Further aggravated by this, Bujoy calls him selfish for not fighting for his feelings and yells at Ned to get out of her way. Ned confesses that he cannot live without her-a sentiment she ignores as she throws her "friendship ring" at him then drives off.

Clincher: "Mahal mo ako pero hindi mo naman kayang ipaglaban 'yong pagmamahal mo sa akin. Gusto mong maniguro! Ned, hindi ka lang isang duwag, makasarili ka!"

Lesson learned: Don't fight your feelings; let them flow.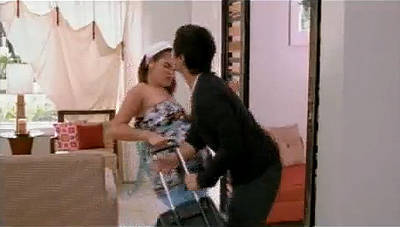 ADVERTISEMENT - CONTINUE READING BELOW
6. Kasal, Kasali, Kasalo (2006)

What went down: After a whirlwind romance, Angie (Judy Ann Santos) and Jed (Ryan Agoncillo) elope and proceed with all the necessary marital customs-moving out, having kids, the whole shebang. However, as pregnant Angie refuses to give in to Jed's emotional and, er, physical demands, he seeks it elsewhere-and ends up in the arms of beautiful and seductive Mariel.

How it went down: Angie discovers a suspicious text message in her husband's phone from a Mariel who calls him "Babe" and asks him to pick her up for a planned lunch date. Angie picks Mariel up from her office and threatens to make a scene if she doesn't come with her to meet Jed at the restaurant together. There, Angie confronts the two and storms off. Jed runs after her and tries to stop her as she packs to go to her mother's house. After a tug-of-war with her stroller, Angie knees Jed and drives away. Weeks later, they attempt to reconcile over lunch, but Angie, annoyed that Jed seems to blame her for his affair, tries to walk out again, but her water breaks. At the hospital, as she's being wheeled into the delivery room, Angie threatens not to give birth if Jed continues to follow her inside.

Clincher: "Anong akala mo sa akin, kare-kareng nakapalayok?!"

Lesson learned: If you're truly, sincerly, genuinely apologetic for your misdeeds, especially when they involve adultery, try not to compare your wife to afritada and pochero.
ADVERTISEMENT - CONTINUE READING BELOW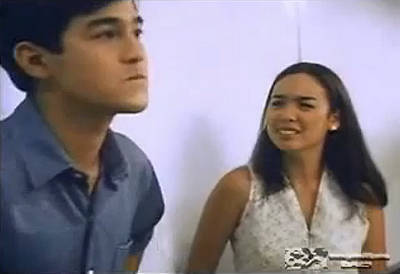 5. Dahil Mahal na Mahal Kita (1998)

What went down: Good boy falls for bad chick. Bad chick, for good boy's sake, changes her ways. Bad boy hung up on recently reformed bad chick tries to win her back by planting a pseudo sex tape of the two of them. Good boy goes berserk. Actually, the "cheating" sex scandal just aggravated a long list of issues like Miguel's mother's disapproval of Mela, Miguel (Rico Yan) not inviting Mela (Claudine Barretto) to his birthday party, Miguel's exceptionally high standards, and Miguel's meddling wannabe girlfriend.

How it went down: After seeing an inebriated Mela with the conniving Ryan (Diether Ocampo) on tape (and at the school auditorium of all places!), Miguel takes his already distraught girlfriend inside an empty classroom and goes crazy, yelling, spitting, throwing chairs around. After the hullaballoo, Miguel realizes his mistake of immediately judging his girlfriend who, by the way, moved heaven and earth for him, but Mela rejects his apology and returns to her bad-girl habits.

The clincher: "I make things hard for you? Ano bang nagawa mong madali para sa akin?... Ang kapal ng mukha mo. Binigay ko sa yo lahat. Wala akong tinira para sa sarili ko. Lahat ng gusto mo sinunod ko. Pero kahit na anong gawin at sabihin ko, hindi mo pa rin matanggap ang nakaraan ko. Maramot ka. I sincerely loved you. I sincerely believed and hoped na ikaw na nga 'yong lalaking makakapagbibigay sa akin ng respeto't pagmamahal na hinahanap ko. Pero hindi. Kagaya ka rin nila... Alam mo kasi, you never know how much I hurt and how much you hurt me."

Lesson learned: Go for the person who loves you regardless of what you wear and accepts who you are without question. We mean no disrespect to the late and great Rico Yan, but Mela should've chosen Ryan, who loved her without condition.
ADVERTISEMENT - CONTINUE READING BELOW
4. My Big Love (2008)

What went down: Pastry Chef Macky (Sam Milby) has the biggest crush on restaurant heiress Niña (Kristine Hermosa). He leaves flowers and chocolates at her front door and starts an e-mail relationship. Niña convinces herself that she likes him and agrees to go out on a date. There's only one problem: Macky is morbidly obese. Niña gets the shock of her life when she sees that the "man of her dreams" is all of  300 pounds.

How it went down: Think Shallow Hal. Macky's chair collapses as soon as he sits on it; Niña, her inherent good manners taking over her shock, leans over to help him. Her 100-pound frame, however, is no match for a man thrice her size, and she ends up on the floor, slipping on pieces of wood and on Macky himself. The whole spectacle is recorded and quickly uploaded on YouTube, making the popular Niña a laughingstock. She walks out and never speaks to Macky again until a couple of years later.

Clincher: "Oo I'm obese. I'm not healthy. Sigurado I'll die young." Okay, so it's not exactly a line from the breakup scene, but it still hit the nail on the head.

Lesson learned: Be nice to people regardless of what they look like; they may end up becoming one of the country's most eligible bachelors.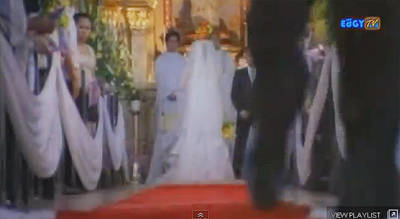 ADVERTISEMENT - CONTINUE READING BELOW
3. My Amnesia Girl (2010)

What went down: Apollo (John Lloyd Cruz) and Irene (Toni Gonzaga) are the quintessential couple-the sweet, romantic-comedy-type that really are just destined for each other. Apollo apparently believes in this so much that he proposes to Irene in a fashion similar to Ed Harris in Stepmom. However, he gets cold feet on his wedding day and bails.

How it went down: Irene, looking gorgeous in her gown, happily acknowledging guests as she walks down the aisle, receives a major slap in the face when she reaches the end of the altar. Apollo, who suddenly realizes he isn't ready to take the leap into marriage, runs off with neither an apology nor a note.

The clincher: Like we said, no words, no explanations, just the sight of his back running away like his life depended on it. Those are the worst kind.

Lesson Learned: If you have cold feet, wear socks!

2. One More Chance (2007)

What went down: After a torturous breakup with Basha (Bea Alonzo), his girlfriend of five years, Popoy (John Lloyd Cruz) learns to love again through free spirit and musician Trisha (Maja Salvador). Though Popoy could have made it work with his new girl, frequent encounters with Basha-including one that ended intimately-prevented him from truly moving on. Trisha finally ends the relationship in a civil but dramatic meeting over coffee.

How it went down: The breakup is symbolic of a previous scene where Trisha gives Popoy a framed copy of a song she's been composing for him. During one of their dates in a coffee shop, she gives him another sheet of paper, saying that she's done with the song. The lyrics go: "I love you and I will tell you every day. Every day until you forget the things that hurt. And how I wish I could take them away. If only it could be done." Which, obviously can't be done, since he's still so hung up on Basha. In the end, Popoy tells Trisha that he could not bear to hurt her by telling her his true feelings. Instead, she asks him to close his eyes so he wouldn't see her cry. As he does, Trisha takes this as a cue to walk out. 

The clincher: "Poy, walang madaling paraan para gawin 'to, kasi ang sakit na. Sabihin mo na lang 'yung totoo."

Lesson learned: A civil dumping is possible. Our grade school teachers weren't kidding. Honesty really is the best policy.


ADVERTISEMENT - CONTINUE READING BELOW
1. Ikaw Pa Lang Ang Minahal (1992)

What went down: Adela (Maricel Soriano) falls head over heels in love with David (Richard Gomez) despite warnings from her her father, Maximo (Eddie Gutierrez), that he is only after her inheritance. David flakes on their planned elopement, pushing her to commit suicide. Adela's father rescues her and sends her abroad. She returns to be at her father's death bed and reunites with David only to break up with him again, this time in a splendid fashion.

How it went down: On the day of their wedding, David is impatiently waiting at the church for Adela, when she storms in wearing a then-fashionable red dress and matching high heels instead of a wedding gown, and armed with a speech she probably composed along the way. At the altar, Adela enumerates David's faults and his intentions to get rich quick with her money while an intrigued crowd looks on. After slapping and sufficiently humiliating him, Adela walks away, throwing a wad of cash behind her.

The clincher: "Likas na makamandag ang dila mo, pero bingi na ako sa matatamis mong pangako. Hindi ko na kailangan ang sakit sa buhay ko...Isa kang bagay na walang silbi kundi ang bilhin, gamitin, at pagkatapos isuka sa tabi para lamunin ng ibang hayop na katulad mo."

Lesson(s) learned: (1) Parents know best. It would've been cheaper and less painful if Adela had just listened to Maximo. (2) Coins are better for money showers, but guests would probably prefer the bills.
ADVERTISEMENT - CONTINUE READING BELOW
Share this story with your friends!
---
Help us make Spot.ph better!
Take the short survey
Load More Stories