MOVIE REVIEW: Anna Karenina
Wright and McGarvey spins Tolstoy's fantasy into a visual feast
(SPOT.ph) Adaptations are a rather daunting undertaking, but with the success of both Pride & Prejudice and Atonement, Joe Wright's visual reading of Leo Tolstoy's Anna Karenina was automatically on our watchlist.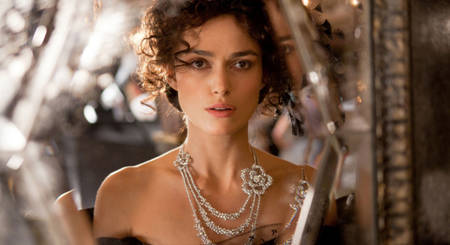 For the unfamiliar, Anna Karenina is about the eponymous character and her descent into lust, love, and lunacy. The married Madam Karenina (Keira Knightley) is pursued by a young Count Vronsky (Aaron Taylor-Johnson), a seductive mix of well-groomed facial hair and the promise of tragic passion that oh-so-many find thrilling.
Wright, along with his cinematographer Seamus McGarvey (Atonement, We Need to Talk About Kevin), opens the movie spectacularly. They employ a similar technique to Lars von Trier's Dogville of a stage-like set but instead of chalk outlines, they dive right into the full effect of curtains being raised and doors being opened to a different dimension. It is extravagant and a perfect way to present the theatrics of high society hypocrisy, especially with the insertion of Konstantin Levin's (Domhnall Gleeson) rustic perspective. He dares to enter the stage, only to be cast out and forced to look down from the grid above. Wright and McGarvey clearly put some thought into styling this film as this was an obvious foreshadowing of the fact that Levin is, indeed, above the borgeous problems.
ADVERTISEMENT - CONTINUE READING BELOW
Dario Marianelli stamps (hopefully, you'll get this reference upon viewing the film) himself into the scene as well, the music is weaved right into the Wright and McGarvey's imagining of Imperial Russia in 1894.
The lush scenes completely cover the fact that Tom Stoppard's screenplay is brittle. We know just enough about the characters to spare an ounce of care and it's a shame they weren't explored to their full potential. The film requires the audience to invest in the plot with little motivation and relies heavily on the performance of the actors to command you to feel for them.
CONTINUE READING BELOW
Recommended Videos
Unfortunately, Taylor-Johnson's Count Vronsky is unconvincing and impassive in scenes that might have benefitted from him showing passion and desire. The rest of the cast picks up his slack, though, and we must once again mention how endearing Domhnall Gleeson is as Konstantin Levin. Keira Knightley as Anna Karenina moves from enthralling to grotesque, both facets forcing you to look. Alexi Karenin (Jude Law) is played with delicate subtlety that our hearts broke as he spoke, "I thank God the curse of love is lifted from me."
We're a little disappointed that the contrast between Anna Karenina's misery with that of her brother, Prince Stepan Oblonsky (Matthew Macfadyen), was not stark. The siblings commit the same crime but meet very different fates. Is it a waste of good material? The novel is rich with imposingly big themes but we will not be caught comparing one medium with the other. We're almost certain that Wright's decision to have the plot take a backseat was deliberate because he just wanted to be dazzling. There are 10 other Anna Karenina films out there and to be frank, if you wish to invest in Tolstoy: read his book. Wright's stylized version of Karenina is stunning and was made to simply be watched.
ADVERTISEMENT - CONTINUE READING BELOW
SPOT.ph Rating: ••• 3½ out of 5 spots
Photo from Focus Features. Anna Karenina opens in Manila exclusively in Eastwood, Lucky Chinatown and Newport Cinemas on Wednesday, February 20.

Share this story with your friends!
---
Help us make Spot.ph better!
Take the short survey
Load More Stories